Media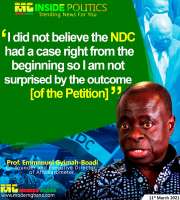 Relevant Links
Media Links
Family support Hmm! Being the only boy from my village who studied at the university in the big city and also getting a scholarship to study outside the country, the whole village decided to help and support me. I have a day before leaving, one man was sent to bring the things to me in Accra. Guess what, they managed to get 3 billy goats, one big bag of cassava, some plantain, dry and fresh fish, fresh tomatoes, onions, pepper, palm oil, and some fresh palm wine to take outside the country with no cash. After presenting the items, the messenger now said he needed money to pay the transportation from and to the village . and also people sent personal messages that I should not live without saying proper goodbye through the messenger. Please advise me, the driver and the messenger is still here.


Author: A.K. Amekudzi
---
---
Top Stories
5 hours ago

Ministerial approval: NDC MPs outsmart Asiedu Nketia who wanted them to take pho...
5 hours ago

US Vice President Kamala Harris arrives in Ghana today
6 hours ago

'I didn't say I'm the messiah, I don't have those spiritual connotations; but I'...
6 hours ago

'Arrest any youth caught eating in public' — Kano State's Hisbah Board tells rel...
6 hours ago

Minority fiasco: Will NDC ever deliver for Ghanaians — Franklin Cudjoe quizzes o...
6 hours ago

Koku Anyidoho defends NDC MPs who voted to approve ministerial nominees
7 hours ago

Kenya police chief bans new opposition protests
7 hours ago

Chad's president signs pardon for 380 rebels sentenced to life in prison
7 hours ago

Replace worn out cylinder hoses, rubber seals regularly — NPA urges public