Media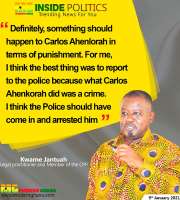 Relevant Links
Media Links
"Dum Sor" A cold store owner was at the ECG office ( Legon ) this morning very angry! shouting and complaining about the "dum sor", "dum sor" issue, and that all the things in his freezer are going bad. the District manager heard him and came out of his office and without a word, he put his arm around the man's neck in a friendly manner and walked him through the back door, he opened the door and pointed to a working 1200kva generator set that powers the ECG office and calmly asked the man, "do you need to be told?".


Author: A.K. Amekudzi
---
---
COMMENTS
Stephen | 8/18/2020 12:56:57 AM
Wow! then I think we should check the president's office as well oh
REPLY
Top Stories
5 hours ago

Ministerial approval: NDC MPs outsmart Asiedu Nketia who wanted them to take pho...
5 hours ago

US Vice President Kamala Harris arrives in Ghana today
6 hours ago

'I didn't say I'm the messiah, I don't have those spiritual connotations; but I'...
6 hours ago

'Arrest any youth caught eating in public' — Kano State's Hisbah Board tells rel...
6 hours ago

Minority fiasco: Will NDC ever deliver for Ghanaians — Franklin Cudjoe quizzes o...
6 hours ago

Koku Anyidoho defends NDC MPs who voted to approve ministerial nominees
7 hours ago

Kenya police chief bans new opposition protests
7 hours ago

Chad's president signs pardon for 380 rebels sentenced to life in prison
7 hours ago

Replace worn out cylinder hoses, rubber seals regularly — NPA urges public