Media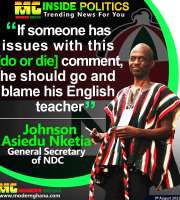 Relevant Links
Media Links
Ghana police and the driver A trotro car was stopped by the police this afternoon not knowing the police has mean the driver since 1987... So the police seeing the driver said, haaa!!! Wonie, will deal with you today u never forget in your life. Police to driver, give me your national health insurance card.... From passengers, eii police you are now checking national health instead if driving license. So from police, mato bomb!!!


Author: Popo 0249106271
---
---
COMMENTS
benjamin opoku | 4/19/2019 11:58:16 AM
Not funny at all

REPLY
Esmeralda | 10/23/2019 10:12:36 PM
Nice

REPLY
issa | 11/22/2019 10:24:35 PM
omg

REPLY
Top Stories
6 hours ago

Ministerial approval: NDC MPs outsmart Asiedu Nketia who wanted them to take pho...
6 hours ago

US Vice President Kamala Harris arrives in Ghana today
7 hours ago

'I didn't say I'm the messiah, I don't have those spiritual connotations; but I'...
7 hours ago

'Arrest any youth caught eating in public' — Kano State's Hisbah Board tells rel...
7 hours ago

Minority fiasco: Will NDC ever deliver for Ghanaians — Franklin Cudjoe quizzes o...
7 hours ago

Koku Anyidoho defends NDC MPs who voted to approve ministerial nominees
8 hours ago

Kenya police chief bans new opposition protests
8 hours ago

Chad's president signs pardon for 380 rebels sentenced to life in prison
8 hours ago

Replace worn out cylinder hoses, rubber seals regularly — NPA urges public