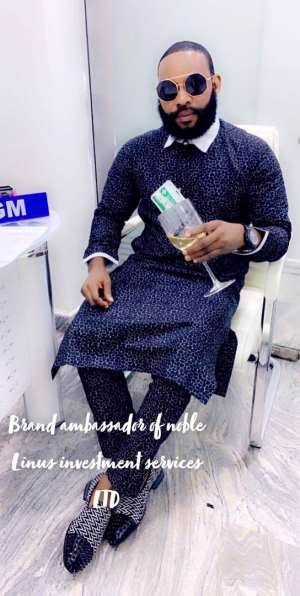 One of Nigeria's youngest Celebrity Chef and Enterpreneur, Dr. Kelly Sampa has been appointed as a brand Ambassador of one the leading solution and investment agency, Noble Linus Investment Service. He was Unveiled as a brand Ambassador with the presentation of a pantomime energy wristwatch few days ago after signing all the necessary documents with Noble Linus Investment Services.
The handsome and influential Enterpreneur fashionista appreciated the noble responsibility presented to him by Noble Linus Investment Services. He assured the management of Noble Linus Investment Services of his committments to meetup the requirements and expectations of his Ambassadorial appointment for the Brand.
Noble Linus Investment Service has remained one of the few solution and investment agencies, focused on protecting and enhancing the best interests of Investors. The organization has continue to maintain integrity, honesty and transparency as its core values. With the appointment of Dr. Sampa as a Brand Ambassador, the fruition for the vision of building a preeminent investment company is certain.
According to reports from testimonials of Noble Linus Investment Services, it's been confirmed that its services have remained thorough, professional, innovative and proactive especially with resolute responses to provisional solutions for clients.
Dr. Kelly Sampa has been amongst the most vibrant and prospective Enterpreneur in FCT. His Influence and affluence has kept him in the spotlight of several brands across Nigeria. Dr Kelly has bagged multiple award in Nigeria and has remained unequivocally committed to supporting humanity through his philanthropic gestures and monumental impact in communities within the FCT.