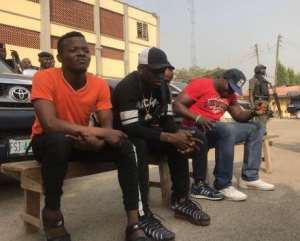 All is not well with singer, Small doctor, as he is currently in police detention for illegal possession of fire arm as well as threatening the Nigerian Police.
The singer, who happens to be the brand ambassador for the Police brought shame upon himself for allegedly threatening police officers with a gun.
According to the Lagos State commissioner of police, Edgal lmohimi, he revealed, while parading the musician along with three other persons, that Small Doctor was arrested on allegations that he threatened a police officer who was on traffic duty along Oshodi, Lagos
He said: Small Doctor was arrested and taken to the state CID for questioning. He was alleged to have fired a gun; the pellets from the gun injured four people who were rushed to the hospital l. Small Doctor will be charged to court for prosecution.