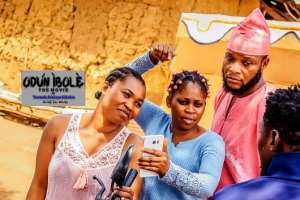 Award winning filmmaker, Yewande Adekoya is back with another bang on the movie scene as she brings together Nollywood veterans to tell a story of culture, values, standard and tradition in Odun Ibole.
Yewande is synonymous to detailed analysis of Yoruba culture as well as sparking up conversations among movie lovers and culture custodians with her ingenious output.
Adekoya's dynamism in storytelling and cultural exploration is well documented in her most recent movie, Iyawo Adedigba- which made great numbers at the cinema.
Therefore, all doubts are cleared in anticipation of her latest project, Odun Ibole which would further elevate her reputation and set new records in the movie industry.
Odun Ibole stars: Yewande Adekoya, Rasaq Olayiwola, Fausat Balogun, Abiodun Ishola Thomas, Yinka Laoye, Tawa Ajisefini, Damola Olatunji, Toyosi Adesanya, Afeez Eniola, Abiodun Ajayi, Funmi Sonola ( Iya Shapon), Seun Balogun, Ifagbenga Agoro, Babatunde Bernard, Yinka Quadri and many more