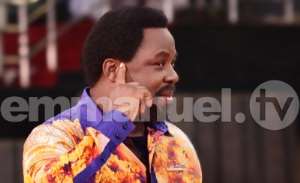 12 years ago, the spirit of God gave Prophet TB Joshua a message to the world. That message was repeated on two different occasions (on 16 October, 2011 and 29 December, 2013) after it was first revealed to the man of God in December, 2008. One thing that stood out clearly in those prophecies was the fact that the world would be enmeshed in an economic crisis that would render some countries' mineral resources redundant. For the sake of specificity, it will be very important to refer to the December 2008 version of the prophecy, being the very first: "There will be economic crisis. You are to cut your coat according to your size. Those of you that have surplus – whatever you can do now to live moderate…The only way you can be saved – if your treasure is in the hands of God. There will be economic crisis – it's coming and it's everywhere. You will be forced to be humble. There will be economic war because there is not enough money to fight war. There will be crisis in the economy. Countries that rely on mineral resources like oil, they should quickly look beyond oil…".
Since 2008/2009, the world has been enmeshed in an economic crisis that has resulted in the collapse of many businesses. Many have lost their jobs while insecurity and criminality have been on an upward swing. Countries that are endowed with different kinds of mineral resources are not left out of the quagmire. Many borrow to survive while others are on the brink of national annihilation due to internal strife occasioned by youth restiveness, especially in the developing countries of the world.
The catastrophic fall in the price of crude oil and the availability of alternative energy sources birthed by advancement in science and technology has made it extremely difficult for oil producing countries to sell their products at the international market. The major economic implication of the scenario is that, there has been a shrinkage in the revenue accruable to such countries. Such a development has led to austerity and general hardship. Governments are no longer able to take care of their citizens as there are pay-cuts, decline in infrastructural development, increase in crime rate, hopelessness and loss of confidence in government.
In Nigeria for example, the economic backlash is already being felt as the country's budget which was built around $57 per barrel of oil is now undergoing a review in the wake of falling oil price. Beyond Nigeria, most world economies are also grappling with the effects of COVID -19 which has led to restrictions in all forms of social gathering. Businesses cannot open to the public. Airlines, hotels, eateries, grocery shops, schools and sports clubs have all been shut down in order to curtail the spread of the global pandemic. This ugly development has also given birth to protests by those who have unfortunately found themselves at the receiving end of all the negatives that have come with the economic crisis.
In Malawi, the young population is not favourably disposed to the idea of social restrictions suggested by the government whose plan for a lockdown has been overruled by the court. In Nigeria, the youths have hijacked the lockdown and have used it as an avenue to express their frustrations. Because most of them live by the day on the proceeds of their jobs as bus conductors, artisans and hawkers, they see the lockdown as an attempt by the government to render them jobless and broke without providing the necessary palliatives.
And just as Prophet TB Joshua had predicted, they will embark on all kinds of protest and can even physically attack those they consider to be affluent. Since the lockdown went into effect in Nigeria, a couple of criminal gangs have been terrorising residents of Lagos and Ogun States, robbing innocent people and inflicting injuries on them. Residents of these states, in their resort to self-help due to the perceived inefficiency of security agencies, have formed themselves into vigilante groups, in order to provide security for themselves.
Some countries who had paraded themselves as world powers are not spared from the economic crisis as commercial activities have been crippled by COVID – 19, forcing them to make provisions for economic stimulus packages to mitigate the effects of the no-show in terms of economic activities. Individuals, non-governmental organizations, governments, and religious bodies have come together to provide palliatives for the people but the big question is: How many people will they give to, bearing in mind the magnitude of the human population, especially in developing countries of Africa and South America?"
However, in the face of the economic crisis the world is presently grappling with, Prophet TB Joshua has also offered a solution out of the mess: "we have to return to the farm – fishing cattle rearing. This is where we are coming from. We are to return there". Already, many world leaders are turning to agriculture because they have since realised that the overdependence of mineral resources is doing more harm than good.
Iwelunmor Patrick, a Public Relations and Media Practitioner, writes from Lagos.