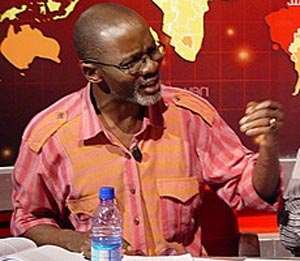 Gabby Okyere
Greetings Gabby,
There is a limit to arrogance. By haughtily refusing to give an honest account of your rule over the last three years, you and your party show your contempt for accountability. You are fond of constantly demanding explanation from John Mahama and the NDC for your misrule in the past three years. This has been your party's iron-clad defence against the visible failure of the Akufo-Addo rule. Your misleading statements and outright lies will not stop the good people of this country from voting your party out of office in the coming election. I just read your response to Mr Mahama's advice to your government- you only spewed unadulterated lies and shed crocodile tears by weaving lies and concocting stories to build a narrative. This is not what the people of Ghana want to listen from you and your government. At the last lap of your term, you want the people of Ghana to buy your massive failures as refined gold?.
Gabby, the spate of your fabrications, arrogance and lies have become a sickening source of worry for well-meaning Ghanaians including some in your party.
Your response to Mr Mahama's advice was reckless, irresponsible and highly provocative. Your style of communication which is anchored on lies has negatively impacted the polity, especially hundreds of young Ghanaians in your party who now engage in insults, propaganda and false information dissemination thinking that such is what party publicity is all about.
Gabby, are you saying Ghana's power crisis began in 2012 under Mr Mahama? The first time the country experienced power crisis was in 1983-1985 followed by 1998-2000. The country returned to the power crisis situation between 2006 and 2007 under Mr Kufour's Npp administration. What you should be asking yourself is - why the problem continued throughout all the administrations before Mahama fixed it permanently in 2016. The situation in the past were attributed to low level of water in the country's hydro dams to rupturing of the West African Gas Pipeline that supplies Nigerian gas to fuel our thermal plants. The 1997-98 crisis compelled the Rawlings administration to inaugurate the 220 megawatts Aboadze Thermal plant, T1 In June 1999, a hundred megawatts steam turbine came onboard T1 to make a combined cycle plant that generated 330 megawatts.
When Ghana fell into same situation between 2006 and 2007 which was triggered by poor rainfall which resulted in reduced inflow into the Volta lake and non-availability of sufficient reliable thermal power generators at the Aboadze power plant to complement the reduced generation from Akosombo, the Kufour administration apart from busing pastors to Akosombo to pray for rains, purchased 126MW diesel generator units and six million fluorescent lamps. It also bought Valco, as part of its strategic measures. Load shedding was announced and Ghanaians endured that terrible situation from August 2006 to September 2007. President Kufour delivering his 2007 state of the nation address, said his government was taking short to medium term measures to tackle the crippling power crisis. He said that arrangement would provide a total power far in excess of the shortfall at the time. He also assured the nation that the VRA was going establish a 300 megawatts plant at Tema and another emergency plant to supply 126 megawatts of power by August that year. The Bui hydroelectric dam project was also announced. President Kufour appealed to the public to be economical in the use of electrical appliances and also conserve energy within public offices and installations that was an admission that our consumption rate had increased contributing to the pressure on the system.
Gabby, all governments before the Mahama administration added few megawatts to what they inherited but these efforts were short and medium-term based. President Kufour gave that important advise because, our consumption rate had increased, the number of industries and other businesses including banks etc had increased. Governments had extended electricity to our rural communities, use of electrical appliances in our homes had increased, more schools had been established, more government agencies had been created. We were consuming far more than the amount of megawatts we were adding to our stock causing pressure and imbalances.
When the power crisis resurfaced under Mahama which was caused by fault on the West African Gas Pipeline that resulted in the cutoff of natural gas supply from Nigeria to the thermal plant in Ghana and also partly by some of the decades-old problems, President Mahama assured the nation that; this time, it wasn't going to be implementation of short to medium term measures to solve the crisis, but long term measures to fix the problem permanently. People like you (Gabby) doubted him. Atuabo Gas and other projects were completed to support the existing plants. The administration made an unprecedented investment in the power sector culminating in the stable power Ghanaians are enjoying today.
President Akufo-Addo was happily bragging around that Ghana is now a net exporter of electricity. Have you asked yourself how that became possible? Government was able to give Ghanaians that lockdown electricity tariffs package because of the investment the previous administration made in the power sector. How many megawatts of power have you added to what you inherited from the previous administration? It is all about dubious review of contracts, establishment of family companies to take over the power sector, to offering of questionable waivers to companies of cronies and friends.
Gabby, what was/is wrong with the advice the former President gave? The energy minister's statement in connection with the three months free electricity vindicates the former President. Our utility companies for years have been crying over lack of funds and state institutions refusal to pay their bills. The huge debts affect operations of these companies. That is the prevailing reality so, why the attack.
Mahama plunged the country into power crisis? How did he do that? Asked people to build more houses, caused West African Pipeline crisis? Established more companies to increase consumption rate, introduced more electrical appliances into the country including mobile phones etc? So, compare what Mahama did when the power crisis hit the country with what the first NPP administration did. With these facts, it is left up to the Ghanaian to make an informed decision as to which political party deserve the highest office- not your propaganda, distortion of facts and deliberate attempts to cover your shame by constantly attacking the former President.
Gabby, the mood point, however, is that these are antiquated polemics that have no significance to our development. To draw parallels in a distraction and old primitive tactics designed to extract political advantage at the cost of practical truth.
Gabby, I am daring you to match Mahama's achievements in government with the record of Akufo-Addo. Mahama raised Ghana's economy to continental reckoning, in infrastructure notably hospitals, roads, railways. He set in play a new integrated infrastructure programme which involved building first-class roads, ultramodern hospitals, airports. Today, power supply is stable, policy regime before COVID-19 was predictable and the world was eager to explore trade with Ghana because of the prudent measures the administration courageously implemented.
Author: Andrews Krow