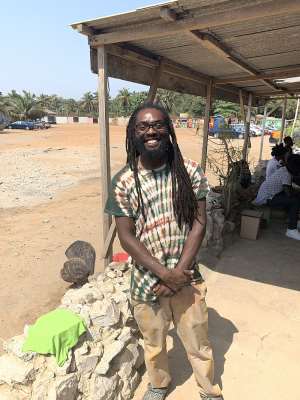 Titus Busbee at Labadi Beach Gift Shop
Welcome to the first installment of "Beyond the Return, Black Americans in Ghana". As I meet various Black Americans living or visiting Ghana, I will ask each guest 4 questions regarding their stay in Ghana. Each question is geared to help our international and domestic audience create an experience in Ghana that will be fullfiling and rewarding for everyone involved. We believe this series will help improve Ghana / Black American relations and continue to allow Ghana to be a lighthouse for members of the Diaspora worldwide.
The first article of our new series Beyond the Return, Black Americans in Ghana. We are featuring Titus Busbee. Busbee is a Black American From Alabama who has now been living in Ghana for over 1 year. Titus and his twin brother Tyress have been working in the agricultural sector as farmers.
1. Most Pleasant Surprise
"The biggest surprised for me thus far has been the fruitfulness of the land. You hear about it, but to experience it yourself it an amazing experience. It's like as soon as you put the seeds in the ground they start sprouting and producing. Agriculture business is big business in Ghana, and an investment opportunity for anyone interested in that sector".
2. Biggest Disappointment
"The constant reminder that you don't have a tribe. Its like every few days someone makes a comment that reminds you that you are an American living in Ghana and you don't have a tribe that you naturally belong to". it's also a constant pressure to marry so you can finally belong.
3. One Positive Tip
Do research before you arrive. Come here having an idea what to expect. Network with people who have already traveled to Africa specifically Ghana. They can help your transition and make the initial phases of your stay more pleasant as they help you prepare.
4. One Tip of Caution
Take the rose color glasses off. The same awareness you have in the America about people, places and situations, keep that same awareness or street smarts in Ghana. Just because you are a Black American returning home to Africa, doesn't mean everyone appreciates you, or have the best wishes for you. Just like in America they are people who will take advantage of you or do things without your best interest in mind.
Have you or someone you know visited Ghana, and would like to be apart of our on going series "Beyond the Return, Black Americans in Ghana" ? Answer the four questions above and send a high-quality photo of you In Ghana (preferably horizontal. (Only you in the photo, no kids, no pets, no spouse) to my Instagram page www.instagram.com/Rashad_McCrorey and I just may include you next article. We may not be able to use every submission or post your article in a timely manner but we will create as many articles as we can and post them as often as we can.