Coronavirus Is Slowing Down In Asia But Rising In Europe And North America
The U.s. President Is Feared To Have Contact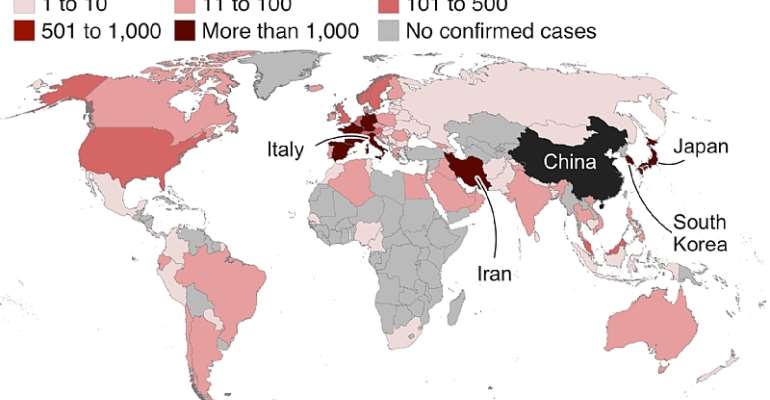 There are 108,000 confirmed cases and 3,821 deaths related to the novel coronavirus worldwide by Tuesday March 10. The worst hit country is China, where the COVID-19 infection was first identified in the city of Wuhan in December 2019.
On 30 December 2019, three bronchoalveolar lavage samples were collected from a patient with pneumonia of unknown etiology – a surveillance definition established following the SARS outbreak of 2002-2003 – in Wuhan Jinyintan Hospital. This strain of virus was later identified as Covid19.
South Korea is the worst hit country outside China and elsewhere. In both China and South Korea, it appears the battle against the virus is showing dividend.
However, despite signs of improvement in Asia -- with China and South Korea recording a slowdown in the number of new cases -- the situation in Europe and North America appears to be worsening.
China appears to be winning the war on coronavirus with new cases dropping to just 44 - suggesting the state's hardline approach is working. The new figures show its spread is slowing with 99 fresh infections reported on March 6, the lowest increase since January, while yesterday that number fell to just 44, with 27 new deaths recorded.
South Korea confirmed three new deaths and 438 additional cases of the novel coronavirus on Wednesday, 4 March, according to the South Korean Centers for Disease Control and Prevention (KCDC).
The three deaths bring the nation's death toll to 35, and the latest cases bring the total number of infections to 5,766, according to the KCDC.
On the contrary, Europe and North America are seeing increases in infections and deaths. Italy is the worst hit area outside Asia. Ninety-seven people have died of the novel coronavirus in the last two days from Sunday 8 March to Monday 9 March in Italy, bringing its total number of deaths to 463. The country has 9,172 cases so far, the most of any European country.
Schools, universities, theaters, cinemas, bars and nightclubs in Italy are closed. Religious ceremonies, including funerals and weddings, and sporting events are suspended or postponed. Restaurants and bars are allowed to be open from 6am to 6pm, and malls and markets could open on weekdays if they could assure a meter (three feet) of distance between each client.
Public transport is restricted. Movement ban is carried out on main highways and along smaller roads by the Carabinieri (military police) and municipal police forces, while railway police, health authority workers and civil protection staff using thermoscan appliances will enforce the travel ban on the state's railways.
Travelers, including those departing or arriving in the containment regions by airplane, have to be checked to see whether they have a self-declared travel exemption.
Checks are also introduced for cruise ship passengers arriving in Venice, who will not be able to disembark to visit the city, but will only be able to return to their place of residence or country of origin.
The toughest responses implemented outside of mainland China to get the Covid-19 pandemic under control. The Prime Minister, Giuseppe Conte, said the move was taken in order to protect the population, and especially the most fragile individuals. Many residence want to leave the country. Long line of cars were seen at Italy-Switzerland border crossing at the Ponte Chiasso customs post north of Milan, on Monday.
One Michele De Marsico told CNN at a Milan train station on Sunday that he was trying to work out how to return to southern Italy. "I was worried, so I came here to the train station to check out the situation," said the 55-year-old.
The restrictions could take a toll on Italy's already fragile economy. Italian tourism representatives warned last month that 200 million euros ($260 million) in bookings had been canceled since the outbreak was first announced.
The Italian government is preparing measures to support workers and firms across the country, particularly in sectors and areas most affected by the outbreak to try to prevent "lasting damage to the supply side of the Italian economy and permanent employment losses."
Ireland's government canceled all St. Patrick's Day parades, including Dublin's.
Germany, France and Spain each have well over 1,000 cases, and France's culture minister, Franck Rister, announced that he had tested positive for the virus. Switzerland, the Netherlands, Britain, Sweden, Belgium and Norway each have more than 200.
The French government announced a ban on almost all public gatherings with more than 1,000 people, and said that the Champions League soccer game between Paris Saint-Germain and Borussia Dortmund on Wednesday would be played without fans in the stadium. A France-Ireland rugby game scheduled for Saturday was postponed.
Germany's status as the only country with a large outbreak but no fatalities came to an end, with its first two coronavirus deaths on Monday March 9.
The virus continues to spread across the U.S.
The United States faces an accelerating pace of new coronavirus case reports as well as the prospect of more sweeping measures to fight the spread of the virus. On Monday, March 9, the national total of infections surpassed 700 and the death toll hit 26; it was the seventh consecutive day with more diagnoses than the previous day.
A number of new cases have raised concerns about transmission in public places. In Kentucky, a patient who tested positive had worked at a Walmart in Cynthiana, near Lexington, officials said. In Washington, D.C., a church rector who gave communion and shook hands with parishioners at Christ Church Georgetown was identified as a patient, prompting officials to urge hundreds of parishioners to self-quarantine. The church organist later tested positive, a church spokesman said Monday night.
But U.S. officials are not yet talking about locking down whole cities, as China and Italy have done.
"I don't think you want to have folks shutting down cities like in northern Italy — we are not at that level," Dr. Anthony S. Fauci, the leading American expert on infectious diseases, said in an interview. "Social distancing like in Seattle is the way to go."
*The US President is feared to have got Contacts with the Virus*
Four congressional Republicans, including two who were recently with President Trump, have said they would self-quarantine for two weeks after coming into contact with an attendee of a conservative conference who has tested positive for the coronavirus.
Representatives Matt Gaetz of Florida and Doug Collins of Georgia said on Monday that they had interacted, at the Conservative Political Action Conference, with a person who had tested positive for the virus and would isolate themselves voluntarily. Also putting himself into isolation was Mark Meadows, the president's newly designated White House chief of staff, who tested negative for the coronavirus after coming into contact with the same person.
The president's spokeswoman said Mr. Trump would not be tested because he had no symptoms and no prolonged close contact with confirmed patients.
Two other Republicans, Senator Ted Cruz of Texas and Representative Paul Gosar of Arizona, said on Sunday they would self-quarantine after coming into contact with the same conference attendee.
Mr. Gaetz boarded Air Force One with Mr. Trump on Monday before announcing that he had been tested. A flamboyant ally of the president, he turned heads last week when he wore a gas mask on the House floor before a vote on an emergency virus-related spending bill.
Mr. Collins interacted directly with Mr. Trump on Friday, shaking the president's hand and standing directly behind him as he toured the Centers for Disease Control and Prevention in Atlanta.
New York now has 142 cases, including the official in charge of its airports.
New York has 142 confirmed cases, Gov. Andrew M. Cuomo said on Monday, and one of them is the executive director of the Port Authority of New York and New Jersey, Rick Cotton.
The cluster of cases in Westchester County has grown to 98 cases, Mr. Cuomo said. Nineteen cases are in New York City, 18 are on Long Island (all but one in Nassau County), and four are in Rockland County. Three cases are farther upstate: one in Ulster County and two in Saratoga.
In New Jersey, where 11 cases have been confirmed, Gov. Philip D. Murphy declared a state of emergency and a public health emergency on Monday, effective immediately.
Mr. Cotton is one of the most prominent public officials in the United States to have contracted the virus. The agency he leads operates the metropolitan area's three major airports, as well as numerous other transportation facilities including bridges and tunnels, bus terminals and seaports.
Washington State, the state hardest hit by the virus, is holding its 2020 primary on Tuesday March 20. It votes by mail, which eliminates most concerns about viral transmission.
Looking ahead to November, Congress should right now be considering federal legislation that would address potential voting trouble, said Rick Hasen, an election law expert at the University of California-Irvine's law school. "The closer we to get to the election, the harder it's going to be to come up with rules that look fair," he said.
Public health officials have said adults over 60 are most at risk and should avoid crowds. Joseph R. Biden Jr. is 77, Bernie Sanders is 78 and Mr. Trump is 73.
Mr. Sanders, asked by the CNN host Jake Tapper whether the three candidates should all limit their travel and avoid crowds, replied: "In the best of all possible worlds, maybe. But right now, we're running as hard as we can."
As of March 9, there are 78 confirmed cases of Covid-19 in Canada, according to Health Canada. British Columbia announced the first death in Canada related to Covid-19 on March 9: a man from a North Vancouver care home who was confirmed to have the virus a week before he died.
Provincial governments in Quebec and Alberta have both reported new cases of coronavirus to the National Microbiology Laboratory for further testings. These are both presumptive positive samples, but are yet to be officially confirmed.
To date, Ontario reported the highest amount of cases with 35, while British Columbia trailed behind with 32. Alberta reported seven in total while Quebec confirmed its fourth Monday.
Iran has the worst scenario in the Gulf region. At least 2,476 have so far tested positive in the Gulf region, Iran is hard hit with 2,336 registered cases and 77 deaths, including a close adviser of Supreme Leader Ayatollah Ali Khamenei who died after falling ill from the virus.
Authorities in Iran have closed down schools and universities and cancelled a series of art, film and sports events in a bid to stem the outbreak. They also designated at least 230 hospitals across the country to treat infections.
Khamenei on Tuesday said all public institutions, including the armed forces, need to do their best to support the health ministry in the fight against the virus. Some 300,000 health ministry employees are working to stem the spread of the virus.
Six World Health Organization employees arrived in Tehran on a plane carrying 7.5 tonnes of medical gear, including protective gloves, face masks and respirators.
Germany, France and Britain have promised to also fly urgent medical supplies to Iran to help the country combat the Covid-19 outbreak.
Saudi Arabia on Monday registered its first infection, a man who arrived from Iran via Bahrain.
UAE has registered 27 cases. In the UAE, which has registered 27 cases, this month's electronic music Ultra festival at Abu Dhabi's 25,000-capacity Du arena, as we well K-pop concert Music Bank at Dubai's 17,000-capacity Coca Cola Arena have both been cancelled.
Festival organisers cited travel restrictions imposed by some countries and airlines due to the rapidly spreading virus in its reasoning for cancelling the two-day festival.
Music Bank organisers cited the spread of the epidemic in South Korea.
The Art Dubai exhibition said this year's event - scheduled to be held this month - will be postponed over concerns of "the on-going global health implications" of the coronavirus.
Conferences, concerts and sporting events are a large draw-card for foreign visitors to the UAE, which has banned all flights to and from Iran over the outbreak.
Dubai's flagship international art fair Art Dubai, scheduled for this month, has been postponed. A women's forum in Abu Dhabi was postponed while a yoga festival in Abu Dhabi and a Hindu Holi festival in Dubai were cancelled.
The opening round of the 2020 World Triathlon Series scheduled in Abu Dhabi this weekend has also been postponed.
In Africa, ten countries Algeria, Burkina Faso, South Africa, Senegal, Tunisia, Togo, Egypt, Cameroon, Nigeria and Morocco have reported nearly 100 coronavirus cases, the World Health Organization said on Tuesday, March 10.
Burkina Faso reported two cases of coronavirus, the WHO said Tuesday.
The WHO says the patients are a couple, one of whom recently returned from France, where health authorities are battling to control the spread of the virus. The pair are under quarantine in the country.
Burkina Faso is the sixth country in Sub Saharan Africa to report positive cases of the virus.
In South Africa, the health minister announced on Monday that four more people have tested positive for the virus, bringing the total number of cases to seven there.
All of the new infections are from the same group of ten people who returned from vacation in northern Italy in early March, the minister said. The group of ten were already in self-isolation.
Most of the cases in Egypt were found among passengers and crew members aboard a Nile cruise ship coming from southern Egyptian city of Aswan to Luxor, Egypt state-run Ahram Online reported.
Egypt's Ministry of Health announced on Sunday that a German citizen was the first death from the virus in the country, according to Ahram Online.
Panic buying in Nigeria
In Nigeria, the second patient contracted the illness after they came into contact with an Italian citizen who had traveled to Africa's most populous country last month, according to the country's health ministry.
The 44-year-old Italian man visited two states before he was diagnosed with the virus in late February. He remains in isolation in a stable condition, officials said.
Health officials have been working against the clock to trace all those who came into contact with him. Those that have been traced will remain in isolation while tests are conducted, the country's National Centre for Disease Control (NCDC) said.
There has been panic buying and hiking of prices since news of the first case in Nigeria broke. In some places, hand sanitizers are being sold for more than 10 times the normal price.
The World Health Organization (WHO) has called on "all countries to continue efforts that have been effective in limiting the number of cases and slowing the spread of the virus."
In a statement, the WHO said: "Allowing uncontrolled spread should not be a choice of any government, as it will harm not only the citizens of that country but affect other countries as well."