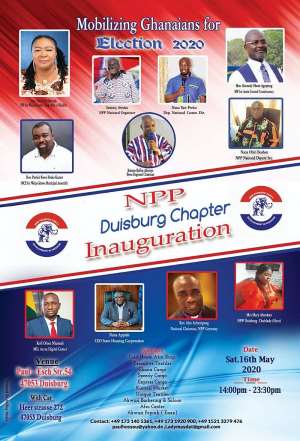 On behalf of the executive body of New Patriotic Party Duisburg Chapter, will like to inform Ghanaians in Europe and those who will be visiting Germany in the middle of May, are all officially invited to the inauguration NPP Duisburg chapter Germany.
The above mention program is scheduled for, 16 May 2020, from 14:00 pm-23:30 pm at Paul-Esch Strasse 54, 47053 Duisburg in NRW State Germany.
In attendance are delegates from Ghana, Hon. Kennedy Agyapong, MP, Hon. Tina Gifty Mensah, Dep. Minister of Health, Sammy Awuku, National Organiser, Nana Obiri Boahen, National Deputy Sec., Nana Yaw Preko Dep. National Communication Director, Kwame Baffoe Abronye, Bono Regional Chairman, Patrick Kwesi Brako Kumor MCE for Weija-Gbawe, Kofi Ofosu Nkansah, MD Accra Digital Centre and Nana Appiah, CEO State Housing Corporation.
In attendance, in Germany Rev. Alex Acheampong Chairman NPP Germany will lead the Germany national delegation, whiles Mrs. Mary Ahenkan NPP Duisburg Chairlady will lead the Duisburg chapter and its executive to host the program.
The program will also be used to mobilize funds and support to win massive for the upcoming election 2020
We look forward to receiving everyone and together we will increase our effort for victory, for our great party.
Sign
Mavis Awo Dapaah
SEC. NEW PATRIOTIC PARTY DUISBURG CHAPTER GERMANY
+491794634314
Ajene Abongo Mashood Jacob
Communication Director NPP Duisburg Chapter