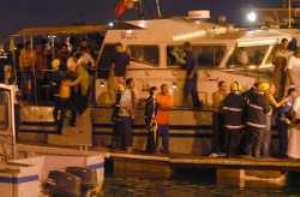 Rescue teams braved ferocious winds on Thursday searching for 26 crew members missing after a bulk carrier ferrying iron ore sank in rough seas off South Africa's eastern coast.
Six of 33 crew members on the Greek-owned Alexandros T were rescued on Wednesday night shortly after the vessel went down off Port Alfred after taking on water in strong winds, rescue officials said.
On Thursday, rescuers in a South African military plane spotted a seventh man in the water near the scene of the sinking 285 nautical miles offshore and directed a ship to the spot.
"We recovered one more survivor today. He was on a life craft pinpointed by the South African aircraft from the air," Andre Botes, head of the search-and-rescue team told Reuters.
"He is very cold but otherwise unharmed."
The Alexandros T was transporting 155,000 metric tons of iron ore loaded in Brazil and destined for China, a spokesman for its managers said.
"From what we understand, it started to list to one side and started to break up in half before sinking," Paul Killeen, deputy sea rescue commander at nearby Port Elizabeth, told Reuters by telephone.
Killeen said there were strong winds when the ship sank at about 10 p.m. (2000 GMT) on Wednesday.
According to records on the U.S. Coast Guard's Web site, the Alexandros T was held at Norfolk, Virginia, in 2003 for security deficiencies including "numerous leaking and damaged fire hoses throughout the vessel."
The 171,875 dead weight-tonnage vessel was built in 1989 and is registered under the management of Overseas Marine Enterprises Inc in Saint Vincent and the Grenadines, according to Norway-based independent maritime consulting foundation DNV.
The company had no immediate comment on the possible cause of the ship's sinking.
Mark Hellenberg, a rescue coordinator with the Maritime Rescue Coordination Centre, said the Alexandros T had sent a distress signal at around 9 p.m. local time (1900 GMT).
A nearby ship, the Fortune Express, was directed to the scene by maritime officials and found the Alexandros T. sinking fast and managed to rescue the six crew.
"The rest of the crew appear to have been forced into the sea," Hellenberg said.
Nicholas Brown, a spokesman for the ship's owners, said 24 of the crew were Filipino. Others were 4 Greeks, 4 Romanians and a Ukrainian.
Fierce winds and turbulent seas were still a major obstacle to the rescue effort on Thursday. A plane carrying a South African TV news crew to the scene was forced to turn back, an SABC official told Reuters.
A South African military plane was scrambled to the scene to join nearby ships in the rescue effort. A Canadian rescue helicopter in the vicinity was placed on alert.
Killen was hopeful at least some of the missing would be rescued.
"I believe there is a good chance we will find some of them if not all alive," he said.