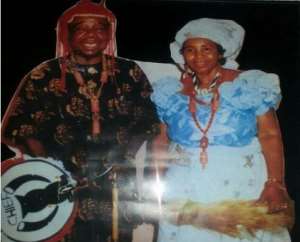 Chief Sir Benson & Chief Lady Janet
It was the December my father and mother celebrated the golden jubilee anniversary of their wedding, 25 years ago in 1995. But Papa was ill and because of his ill health, there was only a low key remembrance of their wedding anniversary and family prayers, nothing elaborate.
The health condition of my father, Chief Sir Benson Asinugo had deteriorated and become a thing of great concern to us, his children, by the first few months into 1996. He kept complaining of general weakness that affected his ability to walk without aid.
By this time, he had been to several specialist hospitals in Imo State and to Enugu University Teaching Hospital where he had been hospitalized. But by April, he decided his children should take him back to the village and arrange for a physiotherapist who would visit and treat him at home three times a week, on Monday, Wednesday and Friday.
And we did just that.
At home, my father was neither progressing nor deteriorating in health. He just sat in bed day after day, reading newspapers and listening to some soft music. He loved gospel music a lot and often played the piano at church. And if he needed to ease himself, any available male member of the family would escort him to use the toilet. No one was exactly sure what my father suffered from. But we could all see clearly that he was experiencing excruciating pains. His condition took its toll on us because we could no longer laugh and chat and feel happy as a family, like we used to do before he took ill. But we knew we had to feel his pain somehow and we were all in to sacrifice our happiness for it. That was part of being family after-all, being there for relations in good times and in bad times.
As time went by, my mother packed her stuff from the city and came back to the village to stay with her husband. She was the only one whose cooking he enjoyed. The rest of us, as far he was concerned, were bad cooks. My father never ate food prepared by any other hand except that of his wife. No one took him up on that though, not any of his three daughters who were wonderful cooks in their own right. We all simply agreed it was his prerogative to choose whose food he would eat. And no one bothered him on that account.
Wednesday 1st May 1996 was Workers' Day. Outside my residence in Owerri, Imo State Capital, there were jubilations. There was a general atmosphere of easiness even though the times were very hard under General Sani Abacha's draconian rule. That morning, my mother visited me. After a few pleasantries, she said she wanted me to come to the village the following day, Thursday, so that we could discuss like mother and son. I said I would try and make it. But the key starter of my Volvo 244 GL saloon car had a problem I was going to fix that Thursday. If I was able to fix it, I would be in the village Thursday evening. Otherwise, it would be on Friday morning. We agreed on that, and she took her leave and went home.
Some people who saw her that Wednesday said she went from house to house greeting neighbours and telling them goodbye. Some of them were surprised by the nature of her greeting, some were embarrassed. They felt strongly that something was wrong somewhere. But no one knew what was wrong or from where. And no one told me about these observations until weeks later.
I was able to rectify my car on Thursday, but instead of going to the village I decided to keep up an appointment I had with my local government council chairman, Dr. Chidi Ibezim, with whom I had arranged for a contract to enable me augment my salary in the state newspaper where I was the Features Editor. After my discussion with him, I went to see my uncle, my mother's younger brother who was the Anglican Bishop of Orlu Diocese.
I really didn't know why I felt like seeing the bishop. But somehow that I could not explain, the urge to meet with him was compelling. I didn't see the Bishop but I met his wife who prepared a meal for me and the sister of my brother-in-law's wife I was giving a ride back to Owerri. After we had eaten dinner and it was getting late, I decided to go back to Owerri and to see my mother first thing on Friday.
I woke up very early on Friday morning and was about to jump into the bath when my phone rang. It was my immediate younger brother. He asked me to come over to his residence in Works Layout. I asked if all was well. He didn't say anything, only that I should hurry to his residence. Something had gone wrong. But he refused to tell me what. I jumped into my car and again it didn't start. The key starter had gone bad again. I pocketed my car key, hailed down a motorcycle transport and was soon on my way to my brother's house.
When I got there, I saw my brothers and cousins all in a sad mood with their hands cupped on their cheeks. I frantically asked what was wrong. Had our father left us? That was the only reasonable thing to think in the circumstance. No one spoke for a while. Then, my cousin, Ben started crying and said our mother had left us. I wasn't sure I heard him well. So, I asked him "our mother or our father?" and he reaffirmed "our mother". I nearly swooned. I sat by the steps leading up to my brother's sitting room. My mind raced hundreds of miles in that one minute.
Question after question filled the little space in my mind. I was thinking. My mother visited me only yesterday. There was no sign of illness. She was in perfect health or so it seemed, at least to me. How could she have left us so soon? Why did she have to go? I just didn't get it. They said she had a cardiac arrest on Thursday night and was rushed to the hospital but could not make it. I wondered. My mother never had a history of any form of heart problem. Until today, I am still wondering what actually happened to my poor mother.
She had already been checked into a local mortuary on the night she left us. The problem then was how to tell her sick husband that his wife of fifty years had gone for higher services beyond. We didn't have to break his fragile heart with such massively sad news. So we approached the Bishop and told him to tell Papa the sad news by himself. We were confident he would know how best to break the news to Papa without jolting him. On Saturday morning I went to meet the Bishop and we drove down to the village.
A terrible accident had happened to a family earlier that week. A bus conveying among other passengers six medical doctors from one family was going for a traditional wedding. The bus collided with a tanker and all six doctors lost their lives in the accident. Six medical doctors from one family dying in one day!
The bishop told my father the story and my father was shocked. "What is happening to the world"? He queried. And then the bishop broke the news of Mama's transition!
For a few minutes my father could not speak. He was fond of calling his wife "enyi ukwum" literarily meaning "my best friend". He then asked the bishop if his best friend had left him. The bishop said yes, she had gone to serve the Lord in a higher capacity.
My father heaved a very heavy and long sigh, turned to me and said, "my son: go and dig two graves at once". The next day, Sunday the 5th of May 1996, my father gave up the ghost. So, I buried my father and my mother on the same day on 8 June 1996.
After their memorial service a year later the family remembered their life and death by referring to the couple as 'tube and tyre'. If the tube bursts, the tyre must burst with it. And if the tyre bursts, the tube must burst with it. It sounded amusing but deep inside us, we had only respect for any couple who would live and die like that, whose love with each other not even death can break.
It seems to me that Chief Sir Benson (Aha Eji Aga Mba 1 of Amauzari) and Chief Lady Janet (Udo Eji Aga Mba of Amauzari) were the first couple to popularize this double burial of husband and wife in Igboland 24 years ago. Since then, I have watched three more such burials. All three served my father as house helps.
The burial of Nnamdi Kanu's father and mother on Valentine's Day 2020 was not only historical. It was another such burial.
Chief Asinugo is a London-based journalist, author of 'The Presidential Years from Dr. Jonathan to Gen. Buhari (Volumes 1 & 2) and publisher of Imo State Business Link Magazine (Website: www.imostateblm.com)