A Humble Request From The Minister Of Information, Kojo Oppong Nkrumah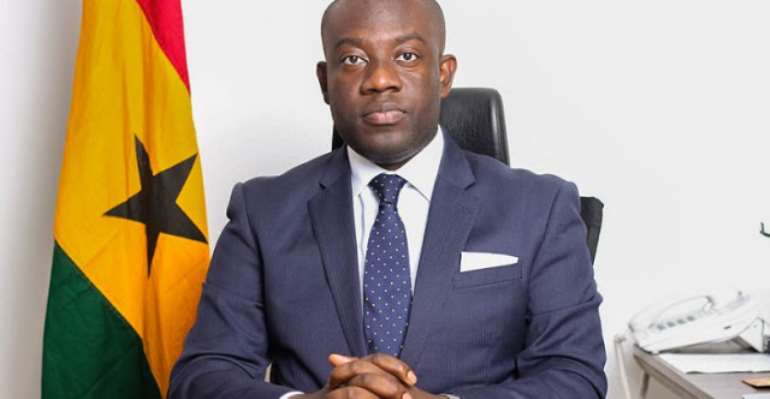 Dear Minister of Information, Mr. Kojo Oppong Nkrumah, if you will agree with me, you are among one of the Akufo Addo's ministers I have never criticized or verbally attacked in any way. This is because I respect and admire the way you solve issues in the country.
In life, nobody is perfect but sometimes the way someone can handle problems in a mature way gives hope that our country will be able to reach new spiritual levels, no matter the difficulty if daily affairs are well planned and handled effectively. That is you.
You are very humble, slow to provocation and careful about your utterances. This is what matters if one wants to be recognized as a good minister, it's not always your educational background or what you have achieved in life.
You seldom appear in the newspaper but any time you did, I like to read about what your message is about. This time is about cautioning the ex-Ghanaian leader, John Mahama, to stop criticizing the ambulances delivered a few days ago by the NPP administration.
I firmly stand behind you and finds it satisfying to tell John Mahama that: "Any investment in healthcare infrastructure or in pre-hospital emergency care is good news for Ghanaians and nobody should be deliberately 'criticizing' it."
This is a piece of evidence that you care about the developments in Ghana's healthcare system for the benefit of everyone including the common Ghanaians. However, this is what I don't understand, Mr. Nkrumah, and therefore, will be very happy if you can explain to Ghanaians.
Being the minister of information, you are aware that the ex-government left some projects, including health and educational uncompleted. The projects are for Ghana, not for the NDC, therefore, if you really care about developments in Ghana's healthcare system, why your government wouldn't like to complete those projects?
Mr. Nkrumah, you told Mahama that: "the former President is being hypocritical especially when he commissioned projects such as the acquisition of borehole drillers and distribution of headpans to head porters during his administration."
Please, do you see the same hypocrisy in your administration for abandoning almost all health projects initiated by ex-President John Mahama, which worth 1.5 billion dollars, according to the Member of Parliament for North Tongu constituency, Mr. Samuel Okudzeto Ablakwa?
Mr. Nkrumah, even though I know that many people don't consider truth and honesty as important elements no more in this modern world that many believe lies in the hands of the devil, yet, I believe you may try hard sometimes to be honest in what you do.
Ghana is a divided nation because a section of the public support the truth, while others depend on lies, the reason there is always constant unrest in the country. If truly Ghana is a sincere nation, the population should have demanded answers from Akufo Addo over the projects he left uncompleted.
As a reasonable man, turn it the other way round, would your government be happy if after a number of years the NPP in power loses the election and suddenly NDC wins, abandoning all the projects which belong to Ghana uncompleted because they were started by the NPP?
Mr. Nkrumah, this unprofessional act doesn't only make sense, it also portrays your administration as a bad government. Such a thing wouldn't have taken place in any developed country to secure that leader another victory into the office for the second time.
However, Ghana is an African country and the mentality of the people is quite different, but because of such an inability thinking possessed by some African leaders, they are never given the respect and recognition they deserve.
We shouldn't be angry if Trump calls us a 'Shithole nation,' because this is one of the political blunders that places us into that category.
Again, would you or Ghanaians be angry with the former Ghanaian leader, John Mahama if he asks Akufo Addo: You'll carry sick patients with your ambulances into abandoned hospitals?
It seems the Ghanaian government forgets that whatever taking place is being watched by the developed world or the foreign countries that embassies are in our country, even though they never interfere in our politics. They know who is the good, the bad and the worst Ghanaian leader.
This is the second time, I have to end my article in this tone, Mr. Nkrumah. Try your possible best to persuade Nana Akufo Addo to take over the uncompleted projects immediately, that step alone will make the current leader one of the best Ghanaian leaders after Kwame Nkrumah.
This is my humble request, thank you.