Thinking Aloud: Why Did Mandela Change Suddenly?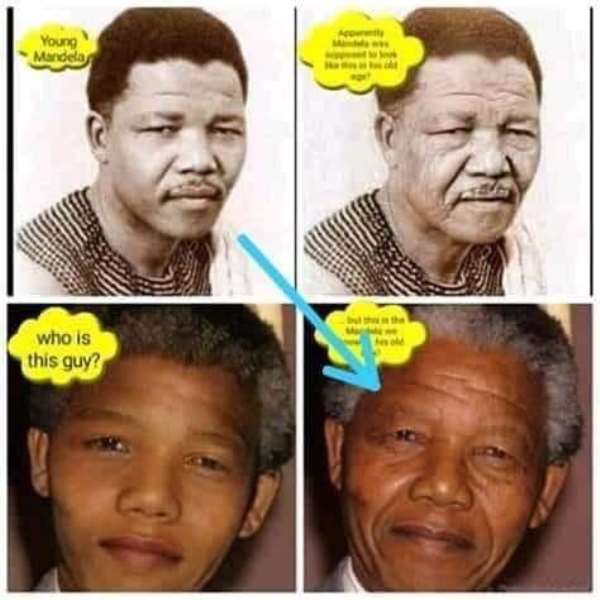 Growing up, hearing about the beautiful history behind the South African hero, Nelson Rolihlahla Madiba Mandela, I'd fondly loved him and wished I met him before he died. It's rather unfortunate that my dream didn't see the daylight, "Madiba" was called to glory before he could welcome me to his home.
I joined all Mandela lovers around the globe to mourn the beautiful soldier I never met in person.
In my Revolution writings I feature Mandela's name and place him alongside the greats like Kwame Nkrumah, Sankara, Mugabe, Gaddafi, ...........name them. They who dreamt and achieved greatness for Africa.
But, with the advent of new media, and advancement in technology, what I'm led to see and read about the childhood to the adulthood of Madiba, I'm finding it difficult to believe it that it's still my hero, mentor, Madiba I saw crowned president of South Africa. Placing the youth rebellious Madiba picture and lifestyle in the Black South African struggle days to the few years he was supposed to be released from a 27 years imprisonment, and became president, begs for millions of unanswered questions.
Did we have a clone, replica President Mandela at the helm?
Would Mandela indeed be bought and denounce the Africanism culture of frowning on men marrying men and women marrying women?
Would Mandela look on unconcerned as the indigenous South Africans were made slaves in their own land and lose possession of their bequeathed resources?
Why was Mandela "forced" to divorce his equally firebrand wife Winnie days after his release from detention?
Soldiers, fellow warriors at the warfront to save our Holy Africa, I'm having sleepless nights finding answers to these numerous questions.
Let's be on our guard. All is not rosy as we see it. Vestiges of colonialism has not lost its stranglehold on our necks.
If we smirk at the idea of UNITING as the broomsticks are, our history as Africans would be erased in our time.
Let's not fear to voice out because of threats of economic sanctions.
Let's not keep mute because of threats of assassination.
Let's not keep quiet. Yes, we can't keep quiet soldiers. We don't own our personality anymore. We don't own our culture anymore. We don't own our history anymore.
The AWAKENED Soldiers as we are now, there's a hefty task on our shoulders to undertake.
We'll be losers only if we throw in the towel and bow out.