Open Letter To The President: Please Release The Ambulances To The Health Facilities Urgently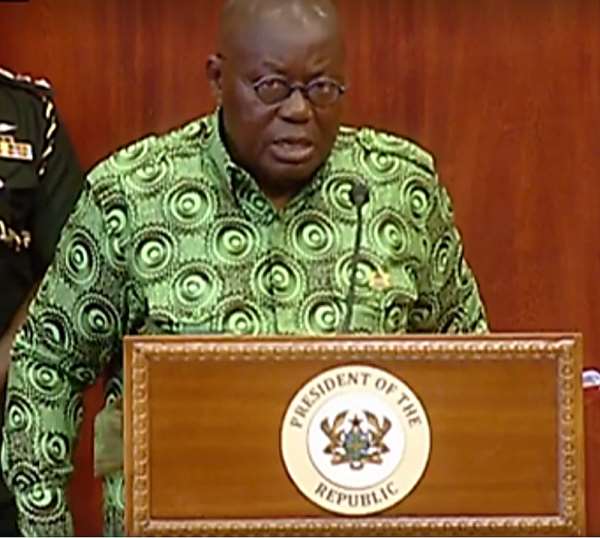 President Nana Addo Dankwa Akuffo-Addo
Dear Sir,
I greet you in the name of the Lord Jesus Christ, the son of the Living God. This is my first letter to you since you became the father of the nation and the Commander- in- Chief of the Ghana Armed Forces. I hope the letter gets to you, uncle. Perhaps I will write another one to you later.
In this current letter, permit me to address you with various cordial or affectionate titles that come to mind. This way, I will feel free to speak to you as a son does to a father or as if we have a consanguineous relationship.
Uncle Nana Addo, the other day, you had an amiable interaction with the journalists to brief the nation on certain issues of national concern through those journalists. Admirably, you were well composed and full of humour in addressing them. They quizzed you on several issues and you answered them. However, I found one of your answers to them a bit unpleasant and I want to talk to you about it through this open letter. That unpleasant issue relates to your decision that procured ambulances that were delivered to you and parked at state house should not be allocated to health facilities until you take delivery of the rest of the vehicles. When I heard your answer, I shouted oh how? And I am sure the ogling public is equally taken aback upon hearing your resolve on the matter. Forgive me if I sound a bit opinionated. Let me add that your initiative of procuring the ambulances is commendable so let us not soil it by over delaying the distribution of the vehicles.
Owura Nana Addo, you would recall that on that fateful Saturday, 7th January, 2017, you encouraged us in your inaugural address that we your nephews and nieces should be vigilant and act as citizens and not as spectators. We understood this your good counsel to mean that you do not want us to sit on the fence when it comes to nation building hence we should feel free and draw your attention to issues that concern us. We also took your counsel to mean that whenever we need resources such as ambulances to deliver quality healthcare to the people and you have the ambulances but you were delaying in giving them to us, we should write to you and as a father who superintends over the nation Ghana. And in response, you will consider and accede to our requests.
Opanyin, it is upon the strength of your inaugural advice ut supra that I want to discuss my views with you regarding the ambulances you are not giving to us even though you have them. Wofa, your decision not to release the ambulances until you have the expected total number is unfriendly to the suffering pregnant women who make it to the hospitals on motorbikes, on bicycles or by walking long distances, being carried on a piece of cloth across a river or being carried on tractor or a pushing truck.
These types of means of transport worsens the excruciating abdominal pains the pregnant women endure. Aunty Berky our First Lady can paint the picture to you better than I can do because she is a mother who ever went through that natural ordeal ordained by God as a punishment to Eve after she was driven from the Garden of Eden. Daa, it is in Genesis 3:16.
Dada, I hope you will not misconstrue my views to mean that as a nephew, I am against you or challenging your decisions with disrespect. Please remember this persistently- that some people are not with you or do not support your decision does not necessarily mean they are against you. Again, they may be very close to you or support your decision but may rather be your nemesis. You remember Brutus in the Shakespearean Julius Caesar? Brutus was as close as Caesar's pant. I also want to believe that you had read and learnt some lessons from Hans Christian Andersen's 1837 tale entitled "The Emperor's New Clothes." I recommend that you equally inform my nephews and nieces who did not read that educative tale previously, should do so.
So back to the real issue with my hammer on the head of the nail, uncle. As you are no doubt aware, an ambulance is not an ordinary vehicle but rather an emergency vehicle for transporting patients with ease for continuation of medical care. As such, an ambulance has some important lifesaving equipment on board to sustain the patient until he or she gets to the receiving health facility. That vehicle is therefore different from the hearse that is used to convey dead bodies. Some of your citizens mistakenly refer to the hearse as an ambulance. Ahaa wofa, there is always one ambulance in your presidential convoy. I see it any time you are driven passed me on the road. I know you know why you keep it in your convoy. The hospitals need them urgently for the same purpose.
My dear uncle Nana Addo, as a politician and the number one civil servant, I know most of your decisions have political aspects or undercurrents but those same decisions equally have humanity-supportive aspects. I think you should sometimes let the humanity-supportive aspects of your decisions take precedence over the political aspects since politics is a tool meant to serve humanity. Daa, there is no bigger religion or profession than humanity itself.
Oman Panyin Nana Addo, it will be difficult to quantify the number of lives we lose a day due to inaccessibility of an ambulance. As a result of those preventable deaths occurring due to lack of or woefully inadequate ambulances, many children become orphaned and many spouses become widows and widowers. Do you remember that you are working so hard to reduce maternal and neonatal deaths in the country? If you do, then why hoard the ambulances? A maggot infested fish must be exposed to fire so let the patients use the ambulances.
Sir, the other day I heard some of your other nephews and nieces (my cousins) supporting your ambulance hoarding decision and saying that patients die even when the ambulances are available. Uncle, do not listen to them. I am sure they are thinking that ambulances are the same as hearses so there are many fleets of them. Verily, verily I tell you, those my cousins may be closer to you than me and I am so far away from you geographically but they may rather end up being your nemesis or Achilles heel so do not listen to them in this matter. Please allocate the ambulances you have now, to the health facilities.
Your Excellency, Which is better? A poisonous snake is meandering towards your nephew and you have one stick in hand that can kill the snake or drive it away but you are expecting more sticks to be well reinforced. Will you wait for the other sticks until the poisonous snake takes a bite at your dear nephew? I know you love we your nephews so you would not hesitate to use the stick you have in your hand as a weapon to either kill the snake or drive it away. Sir, this scenario depicts the ambulances you said you would not release to us now. Again, a natural death of your nephew or niece that is not blamed on you as the cause for not releasing the life-saving vehicles is better than a preventable death that could have been forestalled if you had allocated the ambulances timely to the hospitals. Even God created the world, using the principle of incrementalism. That is to say, that God thought us to do things bit by bit and not to wait until we have all the required resources at ago.
Daa Nana Addo Dankwa Akuffo-Addo, Wofa, Commander-in-Chief, Mr. Prseident, I appeal to you passionately to release the ambulances to the hospitals. Daa, you know that elsewhere, the ambulances pick patients even from homes. Even though we do not advance to that level yet as a country, we should use what we have in the interim. The ambulances are used to transport the sick. The sick may be men of straw or important personalities. Because we are not omniscient like God, we cannot tell whom the ambulances will save. It may even end up being used to save some of those my cousins who are encouraging and cheering you up not to release the ambulances until you secure the rest from the supplier. If you can do this for me, I would love it and cherish you the more as a man who walks the talks. He said we should not be spectators but citizens so when we speak to him, he listens to us. This will be bold remark we your proud nephews and nieces will make.
Amega, Let me finally whisper something to you about those my cousins. Do you remember that there was a cholera epidemic in some parts of Ghana in 2014? It was those same cousins of mine supporting your decision not to give us the ambulances now, who delayed or failed in giving us the needed resources on time. You know what happened? Most of the hospitals turned the wooden OPD benches into hospital beds to save lives. Those hard woods ooo, uncle. You would not believe what happened. I went to La General Hospital one morning in 2014 to visit a patient. Upon arrival, one cousin's mother-in-law was brought as a cholera patient. I mean the mother-in –law of my cousins cheering you up now. Because my cousins were not and are still not men of straw, they demanded that the hospital authorities should give protocol care to their mother-law. However, the overwhelming and compelling situation made their mother-in-law sleep on the OPD bench like just like any other patient. Had they done the needful, would they have been embarrassed this way?
Torgbe, take a meticulous note finally that those my cousins cheering and supporting your delay in allocating the ambulances can be found everywhere. They are in the NPP and they are in the NDC. They tend to describe a black colour as near black just to please you. Just read in between the lines. To this end, I wish you a happy yuletide, Mr. President. Be expectant that I may pass by for local rice prepared by aunty Berky because you told us in Ho few weeks ago on farmers' day that she has been cooking local rice for you. Until then, Asante Sana from your nephew and citizen. Please release those ambulances urgently !!!
Philip Afeti Korto
Email: [email protected]