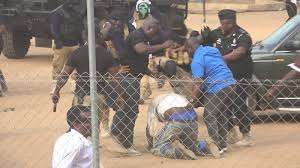 Ghana enacted anti-political vigilantism law in 2019. This law aims to put an end to militia-styled vigilante politics that have bedeviled the country's elections since the return to the practice of multiparty democracy in 1992. Vigilante politics in Ghana's electoral process often ranges from intimidating perceived supporters of opponents from casting ballot through snatching ballot boxes to stuffing ballot boxes with unauthorized materials and disrupting ballot counting, tallying and declaration. All these illegal interventions are aimed to maximize the winning chances of the sponsored political party and/or candidate. This electoral insecurity precipitates low voter turn-out, leads to wanton violence and causes destruction to election materials. It eventually undermines election integrity and legitimacy of elective authority.
The governing New Patriotic Party and main opposition National Democratic Congress as political parties with known links to militia-styled vigilante groups differently stated groups affiliated to them have disbanded. The whereabout and plight of individual members of the disbanded groups have however remained largely unknown to the populace. Whether and how the 2020 polls will be kept away from the harm of political vigilantism and its associated menacing violence has since become the concern of many.
In this write-up, I argue that this anxiety is plausible for several reasons. The enactment of the law has not been accompanied by modifications of the political, economic and security conditions underlying the formation and patronage of vigilante groups. The formation, operation and patronage of militia-styled vigilante groups has been linked to youth unemployment, state-capture politics and politicized security architecture of the country. Lack of jobs for the youth is believed to drive young people to form, join and/or operate militia-styled vigilante groups. They are patronized by different people to provide varied types of security services, including guarding land and landed properties and serving as VIP escorts for chiefs, religious leaders and businesspeople. Majority of Ghana's militia-styled vigilante groups would therefore operate out of politics. As such, they can be mobilized and patronized by political parties when the need arises.
Ghana's winner-takes-all and losers-lose-everything electoral system and the two-party system it has since imposed is regarded as a key condition which gives rise to political patronage of vigilante groups. The first-past-the-post for the legislature enables a simple majority winner to become a legislator. The executive presidency is also pegged at 50%+1 vote threshold. It however gives unchecked discretional powers to governing parties to control the state and dispense its lucrative resources. This motivates political parties to attempt to outbid each other. In the process, they resort to patronizing militia-styled vigilante groups to intimidate supporters of opposing candidates and maximize winning chances of their candidates.
This motivation finds expression in the politicized set-up of the internal security services. In this set-up, presidents appoint strategic leadership of the security agencies, especially the police service. Governing party elites and appointees subsequently preside over national, regional and district security meetings. This gives governing parties maximum authority to temper with strategic decisions and operational tactics of the police. This can include how the police record and investigate complaints, keep evidence for prosecution and execute court rulings involving vigilante groups linked to political parties and/or politically exposed persons.
And because direct penalties for political parties as ultimate beneficiaries of vigilante politics have been lacking in the law, political parties can still patronize vigilante groups to maximize their winning margins and deploy incumbency powers to temper with their prosecution. A recent vigilante-styled violence that characterized a bye-election at Ayawaso West Wuogon constituency in the Greater Accra Region encourages this type of concerns.
The lethal weapons deployed in this incident compelled state police officers stationed to provide security for the polls to run for their own safety. The Inspector-General of the police hardly ordered the arrest and prosecution of the operatives. Many of the operatives were later traced to vigilante groups linked to the governing party.
This incident preceded the passage of the anti-vigilantism law; the operatives still concealed their faces in masqueraded masks and worn non-state security uniforms. Though this practice contradicts normal state security protocols, they admitted having been deployed by the national security ministry.
The government's approach to a report of its own commission of inquiry which investigated the above incident also exposed an apparent lack of political will to enforce the anti-vigilante law. While retrospective application of a law is always frown upon, existing laws could have been applied to enhance the anti-vigilante law. The government however rejected close to 60% of the recommendations of the report. The government particularly refused to commence a criminal prosecution for an operative who slapped opposition party legislator during the violence. The report considered the slap an assault and accordingly advocated for its criminal prosecution. The government however dismissed it as an act of self-defense. This set the culprit free.
This type of attitudes obviously weakens the deterrent power of the anti-vigilante law. It only reinforces the view that governing parties have been unwilling to prosecute militia-styled groups whose works somehow help them to attain political power. This can also be taken as incentive to join vigilante groups linked to governing parties ahead of the 2020 polls.
Issues of recruitments into the police, prison and immigration services recently refueled these anxieties. While the aforementioned security services clarified that they were only taking in backlog of 2017/2018 applications, questions of why the public was not notified prior to the intake remains unsatisfactorily answered. The exercise was perceived to be discriminatory as it did not give applicants who changed their contact details over the said period a chance of inclusion. But quite importantly, a prior public notification could have enabled the public to report applicants who might have misconducted themselves since 2017 but were unknown to the security services.
These grievances, and opposition party's allegation that the incumbent party has been secretly packing the security services with its affiliated vigilante groups, aiming to deploy them to disrupt the 2020 polls combine to precipitate a low trust in the national election security task force. Voters can become quite worried when state uniformed police officers appear at polling stations on election day, especially when they arrive in private vehicles as frequently happened previously.
These developing trends already suggest political party vigilantism in Ghana's elections may not stop because of a criminal law and might as well resurge to violently disrupt the 2020 polls. The examples commonly speak to political parties also bearing direct responsibilities as ultimate beneficiaries of vigilante politics, a sustained public discussion about the whereabout of the disbanded groups and capping incumbency discretional powers related to elections ahead of the 2020 polls.
PhD Researcher, Centre for Research on Peace and Development, KU Leuven, Belgium & Head of Programs, Africa Center for Security and Counter Terrorism, Accra, Ghana