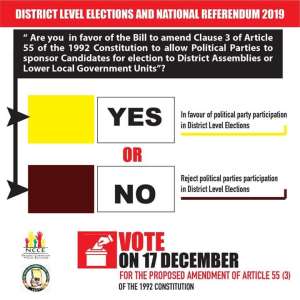 Our affinity as a people to the wording of our constitution is legendary, and it's the bane of our progress, particularly those of us here in Ghana/Africa.
We only debate on political partisan lines to the neglect of what benefits us, build us, save the vulnerable..... and lead us to the envisaged *'Promised Land'.*
The dictates, the nomenclature of the constitution with its all ambiguities, and as interpreted on partisan political lines, let's ask ourselves, not electing our MMDCES on political lines as embraced by all progressive societies, have we benefitted anyway?
Has the status quo built the needed facilities deserving of our status as a country?
The objections raised by the National Democratic Congress (NDC) on the option of a *YES* vote (electing MMDCES on political party lines) is not hinged on the benefits Ghanaians stand to gain, but the interpretation of the wording of the constitution as it suits the party's electoral fortunes.
The law courts are there to challenge that, and it should have been pursued before now, or are not barred to start now.
The ordinary Ghanaian needs to be told what he or she stands to gain if we elect our MMDCES on political party lines vis-à-vis the vice versa.
The former, electing on political party lines, what I stand for, judging on competitive nature of our polity will facilitate our rebuilding process.
The power will be given to the people, right choices would be made, and there wouldn't be again "Tweaa DCEs".
You remember that man?
If not for he been nominated for the DCE position, why would he talk authoritatively like that to a citizen, a Ghanaian who challenges his (Tweaa DCE's) rantings at a state gathering?
My Revolutionary views and visions, as worthy of embracing by the Economic Freedom Fighters Ghana (EFFGH), campaigning for a Yes vote in the upcoming referendum is ideal and sacrosanct for the Ghana we dream for.
Our focus should be on what we stand to benefit as a people, even if it takes amending the constitution to meet that.
Written by: Charles Yeboah (Sir Lord)
Contact/WhatsApp: +233249542111
Email: [email protected]