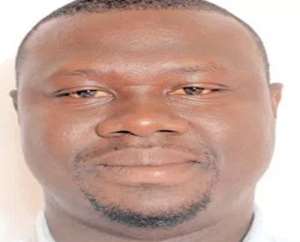 I just returned from my holy village in the North where I attended the 40-day prayer rite of the last of my great grandfathers. The ceremony was graced mostly by family and friends of the deceased. Of course, we never expected his enemies, the known ones, to show their faces at his funeral.
One topic that dominated discussions among family and friends after the ceremony was the fresh "family and friends government" debate started by Sammy Gyamfi and his ilk. Many kept wondering if I was a true friend of the Nana Dee government. They argued that per Sammy Gyamfi's theory, I wouldn't be the 'Bob-No-Rank' they were seeing if I were a true friend of the Nana Dee government. In other words, the theory is very weak because it is standing on very wobbly legs.
The debate rages on and my 'konkonsaic' mouth could not help but join the debate. I initially didn't want to join because I didn't see it as a matter worth discussing in my column. But the numerous mails from ardent readers of this column hoping to hear my views on the topic made me revise my notes.
I'm neither a kidnapper nor an advocate of kidnapping. But I fully support the stance of Mr. Kidnapper of Zu-za fame on the issue of family and friends in government. His "no contribution, no chop" theory very aptly explains his stance because "monkey no go work for baboon to chop."
We were all in this country when Ken Ofori Atta singlehandedly obtained a loan facility of GH¢2,290,631.36 from Prudential Bank to fund Nana Dee's 2012 campaign. When the matter became public knowledge, Ken said he was personally liable for any obligation that arose from the transaction and eventually paid off the loan and the accrued interest. He also contributed financially and in kind to the 2016 campaign and the subsequent victory.
All that while, we did not hear any comment from Sammy Gyamfi and his ilk on the sacrifices Ken was making. We did not hear them complain that Ken was sacrificing too much for his party's candidate who happened to be his kith and kin. Perhaps, Sammy Gyamfi was then too young to understand happenings on the political scene!
Same could be said of Gabby Asare-Otchere Darko and others. If Gabby had done nothing at all for Nana Dee's candidature, I know he received a severe beating from John Kudalor's zombies during the ill-fated "Let My Vote Count" demonstration. One could see the pain in his eyes as he showed the marks on his back to the media. It was during the same demonstration that the late Agyakumah lost his eye, which eventually sent him to 'samanfoland'.
Ken, Gabby and other family and friends sacrificed to put Nana Dee on the presidential throne because they believed in him. And I see nothing wrong if they have the requisite qualification to serve in whatever capacity the President deems fit. After all, they are natives of this land and not Eskimos.
Come to think of it; is it not better to have qualified family friends in government than have a government that wastes scarce cowries on confused and clueless family and friends? In case you've forgotten, the Ogwanfunu government did not mind wasting cowries on Akua Donkor to attend the Senchi economic forum and sending her to Obroniland.
Certainly, I will prefer a government of family and friends that will manage the economy well to a government that will mess it up. I will on any day choose a 'family and friends' government that will stabilize the nation's currency over a government that will make it run like Usain Bolt. I will prefer a 'family and friends' government that will use the country's bauxite reserve for the benefit of all to a government that will give 70% of the bauxite reserve to his family.
Truth be told, the 'family and friends' government debate is a fruitless one because no president will want to work with his political opponents and enemies. Indeed, it would be a foolhardy gesture if a president ever appointed his political opponents and enemies into his government. Can you imagine General Ntontom, Madam Hannah 'Sexy Old Fool' Bissiw and some 'sharp-teethed babies' holding key positions in the Nana Dee government? SABOTAGE would be the order of the day!
So you see; President Nana Dee is simply working with people he can trust. As for Sammy Gyamfi and his ilk, they should know that if they close their eyes to the facts, they will learn through accidents.
See you next week for another interesting konkonsa Deo volente!