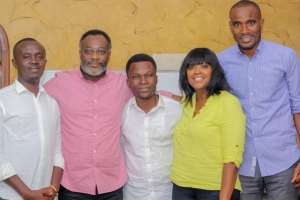 Jesus Christ, made it blatantly clear during one of his lecture with Apostle Peter and the other disciples that "I will build MY church and the Gate of Hell cannot prevail against it", that suggest to me that if the church is allowed to be built by Christ than these myriads of doctrines with no traceable evidence of impact then the challenges we are facing today should either be minimal or just be a storm in a tea cup. Jesus has already made it known to the church that if we allow him build His church then the gate of Hell cannot prevail. But what do we see today? It is not even the gate of hell prevailing against the church but rather churches against churches.
We have seen a pastor telling another pastor not to listen to another pastor's sermon because of hatred. A man of God will come on a radio station to preach the Gospel and tell the administrators of the radio station not to allow another man of God a slot on the radio. A pastor preventing another pastor from opening a church close to his church in the name of "you will steal my members". We claim to be working for the same God yet fight against one another. We read in the news and see evangelists fighting over a preaching slot in the markets square where both believers and unbelievers gather for transaction. Churches come together to fake miracles just to raise funds from a needful and a helpless congregation. When we want to go for soul winning we just mumble a few scriptures from Malachi but if we want to do fund raising we bring a professional prophet and we have lacked the boldness to preach about the times because we ourselves are not prepared for the times.
A drunkard will walk into a drinking bar without money yet he will eat, drink freely and watch Manchester and Arsenal match on-top, a Christian brother will enter a church frustrated and come back devastated or even worst-off by another Christian brother or the pastor. Who are we deceiving? When a frustrated fellow goes to a fetish priest or a herbalist for help and the herbalist in question realizes that he can't help this fellow, he refers the fellow to another herbalist who can help yet a pastor will prefer a member dies in his hands than referring him to another man of God whose grace could help. Am I against the church? Never, I am part of the church and I know many churches are doing very good kingdom works and must be commended but this is just a caution to the remnant to stop this childish and immature outburst of ignorance, the kingdom was intelligently designed by God to operate solely on love for one another not love for God alone. If your love is towards God alone, you are not a Christian. Your fellow man must be a partaker of the love you claim to have.
Imagine if the early church had prayed for Saul to die when he was persecuting the church? Who would have written the epistles? Instead of gathering our members to pray that souls be saved and escape hell and the upcoming wrath of God on sinners, we gather to pray against other men of God because we think they are our enemies and the reason for the church not growing, failed generation indeed. And we mentor people under this template of leadership so members grow up to see ministers as competitors instead of a complement to each other. We have imported charismatic witchcraft into the church and we call it doctrine. Listen, the only thing Jesus cursed in the bible was a fig tree yet we come on TV and take pride in the fall of men. It is upon this premise that I say the enemy of the church is the church. Satan is comfortably watching DSTV with his demons and marking time whiles the church is here fighting one another.
So can't we have a church that can celebrate another denomination that is not ours? Can't we have a church where our youth can go out and minister to the needy and help other church grow their ministries? Can't we have pastors who will genuinely raise men without wishing them ill? A pastor serves a senior man of God for mentorship and leaves honorably and straightway becomes an enemy to the senior man of God in the name of disloyalty, aaarh! The church must change, there have to be a church shift as a matter of urgency.
Paul said in 1st Corinthians 12:12 that "For just as the body is one and has many members, and all the members of the body, though many, ARE ONE BODY, SO IT IS WITH CHRIST". In other words, we are not enemies. Hitherto, when the society faces challenges they look up to the church as a way of life and solution but today if the society faces challenges we see the church as part of the challenges. Things must change because the hope of the world is still the CHURCH. Let us arise and pray for the church because the hope of the church is still the church and the hope of the world is still the church.
I end with an excerpt from Kofi Kinata's things fall apart Akan Song: " Mese Atemuda Paa! Ada Nyame Beba Physical. Se w'an- Consider Paa Dea, Anhwe Na Heaven W'anya Nyimpa" meaning "On the Judgement Day! The day God will appear physically and doesn't put certain considerable clauses in place, He may not have human beings in heaven". Fathers, senior ministers and colleagues in ministry! Please we are not enemies, let us not leave our wondered soldiers for the devil and let us not rejoice over the fall of another man in the vine. Love Conquers All
PRAYER: Lord Jesus! Grant us grace in demonstrating pragmatic love and consideration in the body, where we are weak grant us strength and replace our vulnerabilities with your strength. In Jesus' name.
R. Duafah [email protected] (CHANGEMAKER'S CHAPEL INT'L)