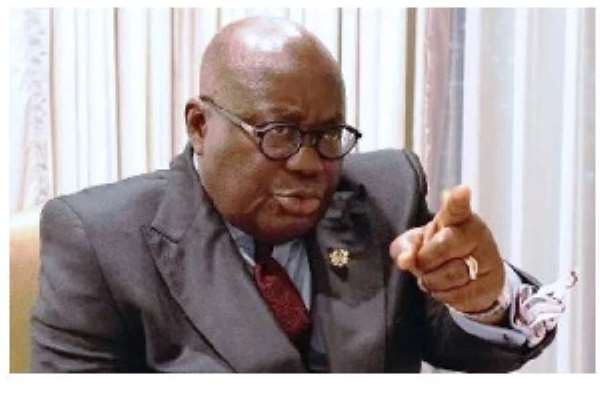 Fellow Ghanaians, permit me to say as blatantly as possible with all resources of logic at my command and with a deeper sense of responsibility that, it is only in our clime where politics comes before commonsense. And the love and surge for political power by every foul means have been usually championed and placed above the love of our dear country. The same unfortunate reality that gives political power seekers, publicity hunters, and other parasitic entities of their kind the courage to loot us hiding behind the gimmicks of political parties by engaging in all manner of evil to get power, irrespective of what that sort of daredevil approach can cost the nation.
You see, our elders say if you refuse to escort or free the slave to go to toilet, then you must prepare to clean the mess of the slave's "pooh". Ghana has never been so interesting like at this juncture of our political experimentation under President Akufu Addo. The government has since become a huge home for many looters and fraudsters under the guise of fixing, in hurry, the nation's challenges, both inherited and created ones. So painful.
It was Leo Tolstoy who said that before you embark upon the battle of revenge you must dig two graves. And in our African street parlance, we advise and caution against digging one's enemy's hole too deep, so that if one happens to also fall in it he or she will be able to escape!
Probably, the NPP dug the hugest "hole" ever in the chequered political history of Ghana in order to sink the NDC which boomeranged them big time. In the advice to Abraham Lincoln by Henry Sturge in the movie "Abraham Lincoln, Vampire Hunter": real power comes from not hate but truth!
The intractable, and seemingly insurmountable problems that have bedevilled the NPP administration and no solution seems to have been in sight, is a self afflicted and inflicted.
From kidnappings to tragic missteps in decision-making; Lack of prioritization to misapplication of public funds; A ticking time bomb nature of unemployment to grand corruption never heard of by our political ancestors, including an epileptic nepotism; and the general octopus of hardship in the fraudulently growing economy of Dr. Bawumia with a single digit of inflation rate that is only phantom felt by friends and family members of President Akufu Addo, and so on, and so forth, are enough a sleeping pill to make the President sleep at a grand international summit like the Africa-Russia Summit.
The challenges are growing leaps and bounds day-in-day-out, and God seems to have distanced Himself away from us. Why? Because Providence never builds up a man who destroys his fellow man in order to live.
Let's not mince words in the least. Indeed, politics is a "game of candy crash" and mostly considered as food for the "Political Adults" and never a reserve for kids even if they are in oversized pampers. But the dog-eat-dog and derring-do way we practice our democracy and politics in general in Ghana here, is accursed. That's why no leader can make progress in this country. Period.
The sickening state of our beloved country's problems under the current administration are becoming unbecoming. It appears the government has been cursed. The problems come in battalions. Nevertheless, the approach of government has left much to be desired.
In fact, the similitude of the New Patriotic Party government is that of a man who uses all his last GH¢10 to buy a lollipop because of the presence of a beautiful woman he is intending to approach. Yet, he has not eaten and must also cover a long distance to get back home in a storm. President Akufu Addo is the only man I know who is selling his head to buy a cap.
Despite the proliferation and surfacing of fresh national problems, there are a great deal of challenges crafted and midwifed by the ruling government itself. Why will the ruling party that claims to be more than competent do that to itself, we don't know.
Could it be a curse or karma?
If fellow Ghanaians may recall, in the aftermath of both the 2008 and 2012 general elections, one of the most chanted mantras of the then opposition NPP was "we will make the NDC government ungovernable". Many sympathizers were rumored to have really shelved their businesses because of the impact the businesses were capable of making in the NDC government of late Prof. Mills and later Mahama. Meanwhile, they were supposed to be the Patriots. While in opposition, the NPP fanned the flames of Dumsor and wished the State never get solution unless and until they were handed the mantle. They maligned, vilified, demonized, and "incompetentized" the John and John administration until Prof. Mills passed on when he could no longer bear the brutal sabotage of the opposition NPP.
Today, this group of people are in power. Why would they have the peace to govern?
You may call it politics, where the stronger bull pushes another bull in order to get access to the riverbank to be able to drink water. Exactly what happens in the murky waters of Ghanaian politics where politicians tell easily falsifiable lies to destroy one another.
But like history that remembers battles and forgets the blood, every "Hmm!" of every pushed "cow" will never go unretaliated. Every sigh sighed because of the "politics of if you can't find them, poison their footsteps" will come back to haunt and hunt their perpetrators and perpetuators.
The NPP is only causing a massive financial loss to the State. Whatever undertakings they have undertaken shall not prosper for they spilled the "blood" of other men to get there.
And even if the "other men" (NDC) don't have what it takes to revenge, it is God that brings every oppressor to account! The NPP have been brought to account by God with the slideshow of scandals they are presiding over.
So, fellow Ghanaians, the current government is just ranting. There's nothing they can really do dramatically in changing the life of the ordinary Ghanaian positively apart from adding debts to our national debt stock in order to feed their elephant size government.
The earlier you kick them out of power, the better!
Until we stop tearing each other's throats for political power, no development for Ghana. The same thing happened to the National Democratic Congress, NDC.
This is just the beginning of our backwardness and Wahala unless we change our way of politicking.
Long Live Ghana,
God Bless us all.
The Writer, Iddrisu Abdul Hakeem, is a MasterCard Foundation Scholar (Alumnus) @ KNUST.
CONTACTS: 0261669954 OR 0557762967