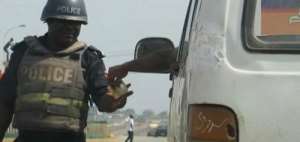 It is my firm belief that if we are to reach a state in our mindset that will enable us to achieve our national aspirations, it must be an intentional and deliberate decision to eschew selfish tendencies by replacing it with an attitude of a prouder and confident Ghana for the future generations to come.
One evening during the month of July, I pulled up at Kotoka International Airport at Terminal 3 Departure Hall to see my wife off on a workshop assignment in Rwanda. Within two minutes an Airport Guide came and told me that I was not to park where I was, and my vehicle was immediately clamped.
I was told I had to pay to pay a certain amount of money and be receipted before I could have my vehicle returned to me. There was no warning sign indicating that parking was not allowed and in any case I had only pulled up to remove my wife's luggage and to share a short departure message with her.
With a stern face I made this known to him but, he would not listen. The short story is, he made me drive to the parking lot and he extorted the amount of 80 Ghana cedis from me. Upon my immediate arrival within the parking lot, and positioning my car well, he got down and within seconds was lost. I looked around to see where he passed but he was gone and nowhere to be found.
As I struggled to take a step in my numbness, I knew this was very wrong. Soliloquizing I returned to Terminal 3 Departure Hall to see if I could locate him. There he was! And this time around he had arrested a taxi driver, joined his car obviously on his way to the same parking lot to have money extorted.
It immediately dawned on me, as others collaborated a view that instead of the recruited staff being visible at their post to direct users of the facility as to where to park, they would rather hide and appear from nowhere catching unsuspecting drivers out.
Another thing that ran through my mind was how this façade will affect Ghana's brand and image. The so much talked about Terminal 3 by foreigners who use the facility will find themselves victim to the same extortionate fate.
I went to the customer post and narrated my ordeal to them and subsequently filled in a complaint form. The lady at the Customer Point further interrogated me and asked if I could make the gentleman out. I responded in the affirmative, we went out and behold the guy had returned to his post.
He was queried about why he took the money. Murmuring and struggling to provide a coherent answer, he was ordered to return the money and I willingly took back my money!
I pursued the case further and I was told he had been suspended for one month by his management, a case I could not verify. I sought for proof of this and requested a copy of the said suspension letter or else I would take it further. But then later I dropped the case because of a Facebook post by my pastor that read: "Grace and Truth is through Christ; in your bid to correct error, don't forget Grace"
However, that was not all. Another time I had gone to the 37 DVLA Office one morning to collect my renewed Driving License and a gentleman at his post who served me burst out "sir, today I will drink tea oo." I looked hard at him but did not respond.
I thought this was not right; it was the moment of truth of bad customer service to me. After being served, I immediately went to see his Boss and reported him.
He was called by his boss and after agreeing that he was at fault, he apologized to me. In my mind such a person could easily be compromised on his line of duty and there are many of such.
I'm not about to share my National Service and the fraud story that associated with it and how that ended. That is for another day!
And on to the police story. Last Thursday, I together with two others being the Executives of Telecommunication workers' Union of Ghana, (TWAG) had a meeting with a government appointee to discuss some issues of concern to our association.
After crossing the traffic light off the Graphic Road at the junction straight towards Ministries and the other to the Ghana Cocoa Board, a police officer pulled up within some 15 seconds and said he would arrest me for jumping a red light and immediately started quoting L.I 2180. The amber light was on as I was crossing but immediately saw light had turned red but at that point it would not have been safe to stop . However, the moment at which he approached me I had just picked my mobile phone to get a direction.
He ordered me to the MTTD office. On reaching, he asked for and ceased my Driving License and stated that I was going to be processed for court.
I was not about to engage in an argument with him. I pleaded and pleaded but I soon remembered that this was not a language they knew. He then told me he was not going to put a finger on an amount and that I should go to the car and return. I did not understand his point at first but within seconds I picked up that he wanted money!
As I contemplated about either allowing myself to go through the process of being processed by the law in court or yielding to the intervention I returned to the car and came back. It kept sounding even as I fought it, I was being reminded of the stress, delays and the intentional human intervention blocks that were put in place to sabotage me and I say this from the reports of many Ghanaian's that have experienced the same with the system.
My principles were drown and as I got his gesture, I grudgingly opened my wallet and returned. He was now at the counter and as I approached there I saw at least one more policeman. Judging from the open transaction in the presence of his colleague, I saw that this was a normal and probable regular occurrence. After parting with GH 60.00 I had my driving license back.
I then remembered an article I authored "Fighting Corruption in Ghana: the Christian and the Integrity Value Proposition." There and then, I knew that I had, compromised my own values and principles. But did I have an option? And if I did, could that have been a foolhardy step?
This is not to pontificate of any saintly trait, but I kept questioning if my complicit role was avoidable at all. And as my night's sleep would not take me, I surrendered at 1am to pen this article so that we may ponder over this.
What I shudder to come to terms with - in this our Ghana ,is why policies and well intentioned programs that are put in place to solve a problem live in their wake room for some people to manipulate the system for their, 'create, loot and share tendencies. This is giving rife to the ever-growing corruption in our public spaces.
Ebenezer Annang
A community Advocate