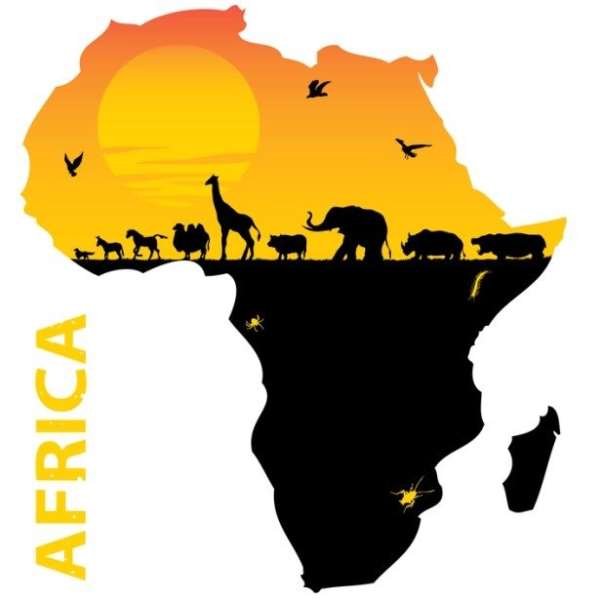 The curtain is drawn. The Red Sea has parted and we have crossed to the other side. A new era has begun. Out of obscurity we emerge. Do you perceive it? Do you understand it? Are you willing to seize it? "Listen! It's the voice of someone shouting, "Clear the way through the wilderness for the LORD! Make a straight highway through the wasteland for our God!" Isaiah 40:3.
What will you commit to through these forty years ahead in the wilderness of rebuilding staring you in the face? Would you embrace and support the Moses', Aarons and Miriams?
Why did it have to happen at all? Was it marked by Providence? Were we weighed in the balances and given over to be trampled? Why did you allow it God? Centuries of rampage. Centuries of enslavement. Centuries of ignominies! "For my thoughts are not your thoughts, neither are your ways my ways, declares the Lord. For as the heavens are higher than the earth, so are my ways higher than your ways and my thoughts than your thoughts" Isaiah 55:8-9."
Is 400 years just a number? Or there is prophetic significance embedded in it? "Then the Lord said to Abram, 'Know for certain that your offspring will be sojourners in a land that is not theirs and will be servants there, and they will be afflicted for 400 years' Genesis 15:13. But we are not Jews you might say. However, God can reproduce parallels to preserve a people He intends to use to bring glory to his name. The Abrahamic covenant was to be a blessing to all nations: "For everything that was written in the past was written for our instruction, so that through endurance and the encouragement of the Scriptures, we might have hope" Romans 15: 4; and "These things happened to them as examples and were written down as warnings for us, on whom the culmination of the ages has come" 1 Corinthians 10:11.
The time allotted you in these last days has arrived, people of Africa and all of African descent: "And he made from one man every nation of mankind to live on all the face of the earth, having determined allotted periods and the boundaries of their dwelling place, that they should seek God, and perhaps feel their way toward him and find him "Acts 17:26-27b. Are you aware of the divine timetable and its seasons?
You knew my name Yahweh from ancient times but your great knowledge and power puffed you up: "Advance, O horses, and rage, O chariots! Let the warriors go out: men of Cush and Put who handle the shield, men of Lud, skilled in handling the bow" Jeremiah 46:9.
Your hearts led you astray: "Ah, land of whirring wings beyond the rivers of Cush, sending ambassadors by the Nile in vessels of papyrus on the waters! Go, you swift messengers, to a nation tall and smooth, to a people feared near and far, a nation mighty and conquering, whose land the rivers divide" Isaiah 18:1-2 NRSV.
Your sophistry in idolatry was a burden: "Those who cling to worthless idols forfeit the grace that could be theirs" Jonah 2:8. You wove cords of customs so deeply antagonistic to my Truth. You resisted Me just as Cush the Benjamite resisted David my chosen king, Psalm 7. Why did you
stagger, messengers of hope from the Kingdom of Aksum? Why did you trade truth for heresies kingdoms of the north? Why did you silence the truth by your dark arts you dwellers of the kingdom of Ghana? "When I came, why was there no one? When I called, why was there no one to answer? Isaiah 50:2a. "If you, even you, had only known on this day what would bring you peace—but now it is hidden from your eyes" Luke 19:42. Unprepared, you unlocked the passageway for conquest that led to a complicated train of conflicts of tragic depths and dimensions. A conflict eviscerated of the Africanness within the African. And it is precisely this unresolved tension that strengthened the drama of the passageway that persisted for so long: "You Cushites, too, will be slain by my sword" Zephaniah 2:12.
The strength of your knowledge and skills were distributed among the rising strong. You lost it all save the dregs. I turned my face away from you. I gave you up to your own perverse schemes, and to quarrel, and you and your land became an object of contempt and pity until you would have renounced your superstitions and protests to serve Yahweh on his terms: "And anguish will come upon Cush." Why? ― "to frighten Cush out of her complacency" Ezekiel 30:9 and to the discipleship of Christ, embraced and professed. Who can say when, I, God, have not said: "Envoys will come from Egypt; Cush (Africa) will submit herself to God" Psalm 68:31.
I judged you for your good: "Yet when we are judged by the Lord, we are being disciplined so that we will not be condemned along with the world" 1 Corinthians 11:32. It was a judgement of restoration scheduled for an appointed time: "At that time gifts will be brought to the Lord Almighty from a people tall and smooth-skinned, from a people feared far and wide, an aggressive nation of strange speech, whose land is divided by rivers—the gifts will be brought to Mount Zion, the place of the Name of the Lord Almighty" Isaiah 18:7.
I was determined to make sure when your allotted time arrives in these last days you would be ready. It was a TRIAL OF PURPOSE: "Thus says the Lord God: "Behold, I will lift up my hand to the nations and raise my signal to the peoples; and they shall bring your sons in their arms, and your daughters shall be carried on their shoulders. Kings shall be your foster fathers, and their queens your nursing mothers. With their faces to the ground they shall bow down to you, and lick the dust of your feet. Then you will know that I am the Lord; those who wait for me shall not be put to shame" Isaiah 49:22-23.
I say to your oppressors: "I was angry with my people, I profaned my heritage; I gave them into your hand, you showed them no mercy; on the aged you made your yoke exceedingly heavy. You said, "I shall be mistress forever," so that you did not lay these things to heart or remember their end. Now therefore hear this, you lover of pleasures, who sit securely, who say in your heart, "I am, and there is no one besides me; I shall not sit as a widow or know the loss of children"— both these things shall come upon you in a moment, in one day: the loss of children and widowhood shall come upon you in full measure, in spite of your many sorceries and the great power of your enchantments" Isaiah 47:5-9.
You shall once again be a place of refuge, hope, and salvation, Africa, descendants of Cush. As in ancient times I will use you when all those who think they count disqualify themselves. You are my trump card. But it will be all new, not like in ancient times where I used only a few of your people to accomplish my purposes for my Chosen People, like Moses' Cushite wife, or Jehudi, or Ebed-Melech or your envoys who brought gifts to King Hezekiah: Numbers 12:1; Jeremiah 36:14, 21, 23; Jeremiah 38:7-10; 39; 2 Chronicles 32:23;
I am raising Africa along with all its Afroscapes around the world. You shall again feed the world in the coming famine. Not like in the days of Abraham or Jacob when they moved to Egypt for
corn. No, not a famine of bread but a famine of the true Word of salvation; the agency maintaining and spreading the true worship of God in Christ. For the knowledge of Yahweh and His Christ is filling up the land of Africa where the Messiah's people had previously escaped to, enslaved, and then sheltered: "Out of Egypt I called my son" Hosea 11:1. Your time of visitation has arrived. The time has arrived for the fulfillment of the prophecy in its most comprehensive scope. "From beyond the rivers of Cush my worshipers, my scattered people, will bring me offerings" Zephaniah 3:10.
The proverb "Can the Cushite change his skin?" Jeremiah 13:23 is entering its redemptive phase and claiming its original and intended purpose, which will be so obvious and clear to all. Just as your dark skin is immediately noticeable, no one can and will be able to deny the things I am going to do through you. You will be as distinguished as a people because no one can mistake you for another.
You shall not treat your oppressors the way they treated you. You shall prove yourselves a true visage of the character of dark-skinned people set apart by unusual deeds of justice: "Give justice to the poor and the orphan; uphold the rights of the oppressed and the destitute. Rescue the poor and helpless; deliver them from the grasp of evil people" Psalm 82:3-4 NLT.
You are my trump card, Africa. Israel had thought you were insignificant then, but I corrected them: "Are you not like the people of Ethiopia to Me, O children of Israel?" says the LORD." Even Bible commentaries vilified you. I am dismayed at their ignorance and arrogance. Yet I have reserved you as a distinct advantage at this opportune time.
The wise fail, the religious are deceived, and the wealthy exploit: "But God chose what is foolish in the world to shame the wise; God chose what is weak in the world to shame the strong; God chose what is low and despised in the world, even things that are not, to bring to nothing things that are, so that no human being might boast in the presence of God" 1 Corinthians 1:26–29.
You will announce the urgency of the end times with the consummate skill of passionate storytellers, with drama and spirit, the preserve of the great prophets of old, like the prophet Zephaniah whose grandmother was Cushite. A Cushite man reported the death of Absalom to David's sorrow, but in these last days you will proclaim the Good News of Christ's death to God's good pleasure, the hope and joy for the lost. You are entrusted with the reading of my prophetical warnings to the leaders of the world as Jehudi, the great grandson of Cushi the Ethiopian, did for King Jehoiakim: "Thy kingdom come, O God, thy rule, O Christ, begin; break with thine iron rod the tyrannies of sin." Even though they may cast it into the fires of unbelief and rebellion, its kindling flames will burn with convictions in their hearts as faithful witnesses. You are my Ebed- Melechs. You will rescue my humble prophets from the cistern of obscurity to broadcast my will and plans to the world.
I am dispensing a spirit of unity among your people. No more would you hear it said: the Africans are divided. But now you will say: We are united. We are kin. We are a people of one destiny, one future guided by the divine hand of Yahweh. And the world will agree. "How beautiful are the feet of those who bring good news!" Romans 10:15.
The 400 years of ignominy have ended. Arouse yourselves from your complacency. Tell my appointed leaders to arise. Hide them no more by your strange appetites. Untie the cords of affinity among your nations. Repopulate it with a united healthy voice. Tribes of Africa, allocate ancient feuds to where they belong: the past―"Lift up your heads, you gates. Lift up, you ancient doors, and the King of Glory will come in" Psalm 24:9-19.
Your hallmark: territorial integrity extended to the minutest of tribes and unity in the diversity of languages. The world will marvel at the simplicity of such complexity.
Step up all people of African descent. Peel away the layers of forgetfulness. Dismantle the tales of untruths. Mend the unforgiving gaps in your past. Deep inside your thoughts and memories, deep inside your will and emotions lie embedded your Africanness refined in the baptism of fire. You are on the cusp of a new era.
Look in front of you. There is the Cloud of My presence. Look behind you. Your past has been drowned in the sea of oppression. The Pillar of Fire following you has sealed your future and made it more certain. "See, I have written your name on the palms of my hands. Always in my mind is a picture of Jerusalem's (Africa's) walls in ruins" Isaiah 49:16 NLT. My MANA will sustain your strength during the rebuilding of your ruins. Drink wisdom from my ROCK these forty years ahead in the wilderness of rebuilding. Wake up! Stand up, Africa! The future is on your side. Mercy and grace wait with open arms. For Yahweh has come to help you in His acceptable time!