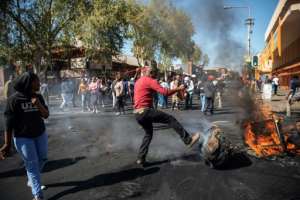 Angry protesters looted alleged foreign-owned shops in Johannesburg in a new wave of violence. By Michele Spatari (AFP)
I hope I may be forgiven for asking that those who take it upon themselves to describe the gruesome experiences of the apartheid era remember one thing: that it is utopian to try to ascertain in what ways one kind of inhuman behavior differs from another kind of inhuman behavior. I have no desire to add to the problems of the world, but I should simply like to ask Mr. Ramaphosa, whether he does not think that to the African, xenophobic attacks on the Nigerian immigrant and the unjustifiable murder of young Zimbabwean immigrants are imperceptible?
Who would have thought that a nation that went through a very dark history of oppression under the white imperialists shall in a few years down the line subject his fellow black man to similar barbaric acts of repression and inhumane treatment?
Fortunately, the late Algerian freedom fighter Frantz Omar Fanon comes to our rescue when he reveals that the outward manifestation of xenophobia is only a symptom of a "deeper psychological and mental defect." He shares the view that communities that have been subjected to severe forms oppression and economic exclusion are prone to "resort to violence" in championing what commonly should be addressed in a civilized manner.
The xenophobic attacks in South Africa I dare say is a reflection of fear of competition coupled with a people conditioned to blame their economic woes on others among other things. Unfortunately the black immigrant in South Africa becomes the scapegoat for buried hatred and suppressed anger towards a system of economic exclusion that dates back to the apartheid era.
When I turned on my television set last night, and saw that in South Africa the black man literally roasts his fellow African alive, I said to myself, "we have been lied to" the "xenophobic madness" still lives on in South Africa.
No matter how sharp a grievance or how deep a hurt, there is no justification for killing innocent people and destroying their properties. Those irresponsible acts of violence, which cannot have any justification whatsoever, are to be fully condemned in the strongest possible terms. The madness must stop!
By Gideon Sarpong, Email: [email protected]