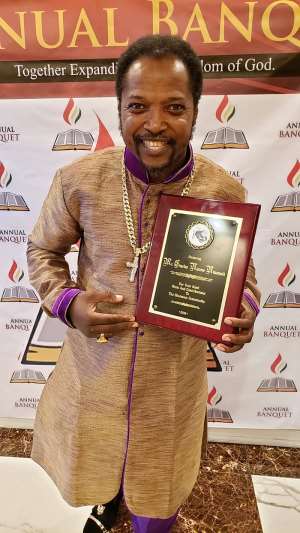 On Saturday, September 1, 2019, The Ghanaian Ministers' Fellowship in New York honored Ghana's own and the U.S. based Mr Charles Nimmo Ntiamoah-Mensah (Mr CNN).
This is the second award in two months given to the Founder/CEO of 3G Media Inc.in recognition of his hard work and contributions to promote the best of Ghanaian achievements at home and abroad in art, music, sports, community, and business.
Before accepting the award,the humble servant, also known as the "Don and Godfather of Ghana Media, USA" could not but thank his Lord for the showers of blessings. He knelt down and lied on the floor for few minutes in appreciation.
Other Honorees included; Dr.Kofi Boateng, Keymama, Eddie Somuah, Bishop Adu Gyamfi and others. Mr. CNN was accompanied to receive the award by some members of his 3G Media team; Ms - Michaeline Una R.P.H., President of Mr. CNN/3G Fan Club and Ms Stacy Amewoyi, a Writer and Philanthropist who is also the Brand Ambassador for Mr. CNN/3G Magazine.
Mr CNN, an alumnus of OKESS and Drexel University, Philadelphia got his start in Media doing photojournalism for Ghanaweb.com nearly two decades ago. Gaining international recognition quickly before smartphones turned everyone into an amateur photographer. He parlayed the photos into interviews, and then into the now well-received 3G Magazine, a quarterly that he publishes. He has featured all four living presidents of Ghana – Rawlings, Kufuor, Mahama, and Akufo-Addo, plus the Asantehene and two living former Presidents; G W Bush and Obama.
He is also the Founder/Executive Producer of the Annual 3G Awards which have been occasions to showcase the leaders of Ghana, Africa, and America in entertainment, culture, sports, business, and community. Big and trending names in Ghana look forward to attending the 3G Awards and being feted. This year's event has been scheduled on November 23rd in New York.
Mr. CNN has been dutifully present at so many events in New York City that most believe that he resides in New York and not in Philadelphia, where he lives with his wife; Rosemond and children; Kendra, Emmanuella and Angel.
He and his family also run a one stop shop called Rosette Multi-Service and Food Market serving the African community.
The Ghanaian Pastors Fellowship consists of Pastors/Overseers of Ghanaian and African Churches in New York. The purpose of the Banquet was to raise funds to purchase a building for the fellowship. This to help the Ghanaian Community in New York State for multi-services including; Immigration, Counseling, Continuing Education, Family support and many more. They encourage all leaders of churches to join and support the community.
The Ntiamoah-Mensah Family, The Board, entire 3G Media team and network worldwide offer special thanks to the President and the entire members Ghanaian Pastor's Fellowship in New York for such an honor.
Source: 3G Media Group