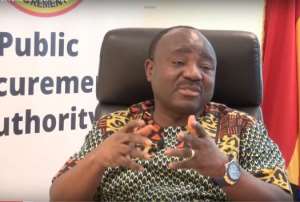 Adjenim Boateng Adjei
Nobody asked him to implicate himself to Mr. Manasseh Azure Awuni, the former Multimedia investigative reporter who recently resigned from that privately-owned flagship network over the question of whether the Akufo-Addo-led government of the New Patriotic Party (NPP) was engaged in the training of militia operatives, at the same time that it was urging the leaders of the main opposition National Democratic Congress (NDC) to get rid of their vigilante forces. What I learned from this episode is that Mr. Awuni is loath to the idea of being faulted for having conducted a warty or less than perfectly professional investigations. Even so, his ability to so deftly and suavely snag then President John Dramani Mahama in his payola racket involving an American-made Ford Expedition Suburban Utility Vehicle alleged to be valued at some $ 100,000 (USD), long after the fact, left absolutely no doubt in the minds of many anti-corruption-minded ordinary Ghanaian citizens that the young investigative journalist is a significant force to reckon with on the Ghanaian media landscape.
If, indeed, Mr. Adjenim Boateng Adjei, the Chief Executive Officer (CEO) of the Public Procurement Authority (PPA), made the sort of admissions widely reported to have been captured on Mr. Awuni's "Contracts for Sale" filmic documentary exposé, then it goes without saying that the PPA-CEO may be addressing the wrong audience in the wake of his timely suspension by President Addo Dankwa Akufo-Addo, following the broadcast of the aforesaid documentary. He is inadvisably addressing the wrong audience because it is the Office of the Special Prosecutor, the Office of the Attorney-General and the Chairman of the Commission on Human Rights and Administrative Justice (CHRAJ) with whom Mr. Adjei ought to be grieving whatever lapses or breaches of the Procurement Law that he may be found to have violated or legally pursued. Blaming members of the general public for making his life miserable and/or ungovernable is totally misguided, especially since the PPA's CEO appears to have racked up a criminal record, involving causing financial loss to the State to the allegedly whopping tune of GHȻ 72 million, going back to 2001 or 2003, or thereabouts, depending on who is narrating this allegation.
Back then, Mr. Adjei is alleged to have been marked down or recommended for dismissal by a Committee of Enquiry then headed by the late Justice Nicholas Yaw Boafo Adade. I have already remarked in a previous column that with this kind of criminal record, Mr. Adjenim Boateng Adjei ought not to have been recommended for the PPA job, much less substantively appointed to the same. It is also rather brazen for Mr. Adjei to be publicly calling the decision and judgment of President Akufo-Addo to suspend him into question. He ought not to be receiving any paycheck or salary while his evidently suspicious conduct as CEO of the PPA is still under investigation, until he has been thoroughly cleared of any wrongdoing. And then he could be permitted to retroactively draw all of his missed paychecks.
Indeed, if he were a wise man, Mr. Adjei would rather have his lawyer or lawyers make most of the public speaking on the subject on his behalf because he may very likely incriminate himself. It is also rather insulting for Mr. Adjei to imply that an experienced and an astute legal light and a very successful trial lawyer of the caliber of Nana Akufo-Addo may have arrived at his decision to promptly suspend the PPA's CEO purely on the basis of caprice or ignorance of the law. Even if he is found to have only been unduly taking advantage of some loopholes in the Procurement Law that any CEO of integrity would be expected to think twice before resorting to doing or not to be doing at all, Mr. Adjei could still be held liable for woefully lacking the requisite common sense and professional responsibility and integrity that come with his job description and be promptly relieved of his duties to make way for a more levelheaded, progressive and impartial candidate.
Official corruption under the watch of President Akufo-Addo ought to effectively become a political cultural norm of the Dumsor past, especially if the President's "Ghana Beyond Aid" policy agenda is to be auspiciously realized in the offing.
*Visit my blog at: kwameokoampaahoofe.wordpress.com Ghanaffairs
By Kwame Okoampa-Ahoofe, Jr., PhD
English Department, SUNY-Nassau
Garden City, New York
August 29, 2019
E-mail: [email protected]