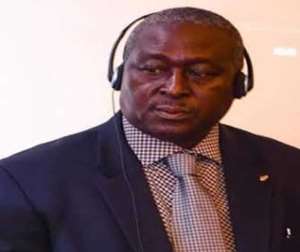 Of course, the print media are my first lines of news source, followed closely by Omanhene Kwabena Asante's Adom FM, NET-2 TV, Peace FM Kokrokoo, and Paul Adom-Octhere Live. There may be thousands of media outlets all over, but the afore-referenced ones often serve as the main sources of information or news for some of us in diaspora.
Besides the media outlets listed above, there is one "interesting" FM station session found on the YouTube that caught my attention the first time over the weekend on August 9, 2019. The outlet is Power FM 97.9. The radio's segment that got my attention was the Inside Politics hosted by one Mugabe, apparently the name adopted from the deposed former Zimbabwean dictator Robert Mugabe.
What was intriguing or raised my curiosity was the programme—Inside Politics—special guest Mr. Alfred Abdullai Mahama (ABM) who is the older brother of the former President John D. Mahama. Like the Power FM 97.9 radio station, it was the first time the humble one has ever heard JDM has a brother two years his senior named Alfred Mahama. The former president's sibling whose name is familiar to many of us is Ibrahim Mahama. But during the interview the elder Mahama reveals that they are nineteen siblings in all and Ibrahim is even number seventeen, counting from one in that order.
Mr. Ibrahim Mahama's name came up in the interview because Mugabe the host and his special guest Mr. Alfred Mahama were sarcastically discussing President Akufo-Addo's Ghana Beyond Aid initiative. The ex-president's senior brother thinks Nana Addo cannot be taken seriously regarding the regime's attempt to do away with foreign aids when in the same vein the ruling NPP has terminated the sweet deal bauxite concession given to a local mining entrepreneur by the name Ibrahim Mahama.
Implicitly, ABM's point is no country can be self-reliant when its government prefers Chinese firms to indigenous Ghanaian companies. Plus, the current National Democratic Congress (NDC) flag bearer's older sibling doubts the fact that the Chinese are truly interested in spending about $2 billion in developing the Nyinahin bauxite contract. His justification for the skepticism is that the quantity of bauxite in that area may not worth the effort and investment of the Chinese; and that Nana Addo government is fully aware of this fact but doesn't want Ghanaians to know.
The question is, if the Nyinahin bauxite is of low grade quality or not in commercial quantity worth investing huge sums of one's money in, why the ex-president gave the Ghanaian property to his younger brother right before he left the presidency? Based on the interview, any naïve listener would be left to believe the NPP government is against genuine local economic investments. Regardless, one has to salute the Mahama folks because they're shrewd manipulators. In fact, these are some of the little, little, Mahama-NDC lies that the ruling NPP must watch out for, and respond as quickly and coherently as possible before they start festering communication maggots on the wounds of the gullible electorates.
My favorite part is when Mr. Mugabe asks Mr. Alfred Mahama in Ashanti (Asante) language that in view of the so-called "precedent set by the current administration about the family and friends government appointments, will his brother [JDM] also follow suit and appoint family members to match or surpass Nana Addo's record if NDC wins power in 2020?"
Listen to Mr. Alfred A. Mahama's response: "Mugabe, I will simplify this, if something was bad yesterday, it's still bad today, and as for us, none of us, and I will say it again, none of us [Mahama family] needs government appointment…never! We don't need government to survive, we don't need government appointments to project ourselves, to add to our CVs or to survive, we are always people in private sector…opportunities the political/policy throws is what we grab and make use of it." But, what brother Alfred ignores to tell us is throughout his entire life, at least, his brother JDM is who he is today because of government's positions.
At any rate, in a condescending follow-up question, the Power FM 97.9 host, obviously ex-President Mahama's poodle, pretends as if he is in the state of hypnosis by his guest's "humble" responses, wants to know "why it seems the Mahama family in general doesn't like rushing for wealth or are not as greedy as other families are, especially those in the public domain, but they're always selfless, unassuming in their demeanors?" Replying, Mr. Alfred Mahama philosophizes to the effect that all that well-grounded human beings need is to have modest amount of money/resources to enable them provide for themselves and their families, and if need be, help others in need; basically, that is the essence of life, according to Mr. Mahama, the senior.
Again, Host Mugabe probes some more: "So, you will not accept Agriculture Minister nor your junior brother Ibrahim Mahama will not take Finance Minister job should former President Mahama wins the 2020 election? Mr. Alfred Mahama quickly replied: "Never, I said none of us in my family wants ministerial position…may be the only role I will consider is a board membership or commission relating to commercial-scale rice production in the country because the importation has to stop…we have large tract of lands in the Katanga Valley and the Bamboi area near the lower basin of the Bui dam to grow rice to feed the entire nation with right management."
In fact, the interview/conversation keeps getting more comical as Mr. Mugabe again asks senior Alfred Mahama thus: "Do you guys worry, sometimes, when you hear Nana Addo and his people spread so much lies after lies about your brother (ex-President Mahama) that he is corrupt, incompetent, and all kinds of unpleasant descriptions about his superior public service?"
At this point, Mr. Alfred Mahama digs deep into his historical "knowledge" of Danquah-Busia-Dombo tradition this way: "Let me tell you something peculiar about the UP/NPP people, they never change in their lies and fake projection of the truth. Even if you were to split a twelve-yard cloth evenly with them, they will still turn around and say to you their cloth is the best in that it comes straight from the printing machine but yours does not; that is the kind of people they are. But, the truth, like a submerged cork in water, will re-emerges no matter how long it stays down there."
Enough of these Mahamas' fake contritions and pretenses; and yes, Mr. Alfred Abdullai Mahama, you're right on the inevitability of truth in all human life; but be rest assured Ghanaians will tell you and all your family the long-submerged truth once and for all in December 2020 that Ghana does not belong to you and your greedy siblings alone. By the way, let's pause for the NPP's quick rebuttal.
Bernard Asubonteng is US-based writer and a Ph.D. student in public policy.