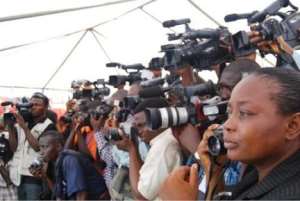 A good number of journalists continue to suffer from gunshots as they got out to work. Husbands and wives of journalists suffer greatly when their partners go out to work and never return home.
Leave journalists alone. Let them do their work.
Is the journalist important? Without the journalist, society will be deaf. Every ear deserves to hear. It is in line with this that even the deaf will complain that someone has gossiped about him. Someone must bring us news and who else if not the journalist? The journalist becomes of great importance when he/she sees to it that ill deeds of politicians are brought to daylight.
The journalist, a security agent: the journalist besides other functions also acts as a security agent. When the journalist whistles for the security agents to get hints of criminals in town, is the journalist not functioning as a security personnel? Before the police officer will know of any criminal act that has taken place, it is the journalist who makes him aware.
Continue to kill journalists and there wouldn't be anyone to protect you.
Empty your gun and stop killing journalists. Some people have made it a point to end journalism as career. They are making it so because they think that journalists are poking their noses into their affairs. Nonetheless, without journalists society will continue to live in darkness. There were journalists even at the era of the first Pharaoh of Egypt; though not bearing the name journalists. In our villages, there used to be "Gongon Beaters" and their duties among others were creating the awareness of what is happening in the village, sending and giving information to chiefs and community members respectively. Today, these same people continue to do the good work those people used to do thousands of years ago, only properly called journalists but having acquired proper training on the job. Why kill those who bring you news from far and near?
Who is the journalist to you?
What comes into your mind when you hear journalist?
In fact, your thinking about a journalist influences your attitude towards them. Have the right mindset about journalists and stop tormenting them.
The law and journalists: there should be laws to protect journalists not only laws that give them the room to operate. Save a journalist's life by protecting him/her from shooters.
Journalists can be your friends so don't see them as enemies.
Writer: Emmanuel Graham Nyameke