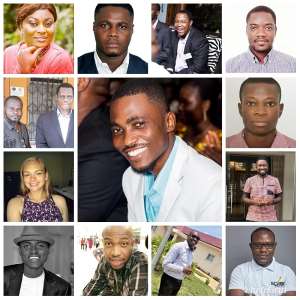 The Nkosuo Initiative (2019-2024) is a Local Economic Development project with a clear aim, "To strengthen, increase and diversify the income of rural dwellers at Trotor and surrounding communities." The first phase of the community-based project (2019-2021) has seen the cultivation and processing of vegetables, specifically, Ginger, Pepper, Turmeric and Cucumber into products for Ghana and its neighbouring countries.
This project is critical because over 200 smallholder cocoa farmers and their families within the project scope in the Eastern Region experience long periods of lack and want only few months after the cocoa season due to the absence of alternative livelihoods. The Nkosuo Initiative is not only providing innovative leadership, but also building the capacity of the locals, creating new jobs including non-farm options, and ensuring significant market linkages which will outlive the project lifespan. More so, the initiative is creating mentoring opportunities for children and youth and, ultimately building a buoyant local economy within these rural communities. The model is replicable.
With the absence of funding (or in anticipation of funding), some astute young professionals have committed themselves to the successful execution of this poverty alleviation intervention. The project has three main components – Agribusiness, Spatial Planning, and Mentorship. Below are the profiles of Key and Non-key Experts composing the Nkosuo Initiative Project Team.
Project Lead: Mr Joseph Dennis Nii Noi Quarcoo
Joseph Dennis Quarcoo is the visionary; a practicing Urban Planner with a Social Psychology background. He is a member of the Ghana Urbanization Think Tank as well as The Shalom Club, Ghana Chapter.
Mr. Quarcoo is a well-rounded professional with close to a decade of working experience with stints in academia, marketing communications and urban planning. He is currently at the Research, Policy and Development Division of the Land Use and Spatial Planning Authority (LUSPA), the Public Institution responsible for human settlement and spatial planning in Ghana. He was the only Ghanaian participant at the international training on "Policies, Strategies and Support Systems for Rural Revitalization" (Dec, 2017) at the Weitz Center for Sustainable Development, Rechovot, Israel from which the Nkosuo Initiative Project was born.
Dennis is a public leader and determined to impact his generation and beyond. He holds an MPhil in Social Psychology and a B.A in Psychology, both degrees awarded by the University of Ghana, Legon.
Assistant Project Manager: Kofi Kekeli Amedzro
Kofi Kekeli Amedzro is an Urban Development Planner who has been in both private and public service over the past six years. His interests in the field of urban planning spans from urban governance, urban resilience and sustainable development, infrastructure planning, urban (local) economic development among others. Kofi has been collaborating with international Development Partners, Ministries, Departments and Agencies on urban planning and sustainable development related issues. Currently, he is the chairman of the Big and Spatial Data work stream of the Ghana Sustainable Development Road Map Group of the Ghana Statistical Service.
Kofi holds an MSc in Urban Development Planning from the University College London (UCL) and an undergraduate degree in Human Settlement Planning from the Kwame Nkrumah University of Science and Technology (KNUST). He is in the final stages of becoming a Project Management Professional (PMP).
Administrative Lead: Bright Kwadwo Sowu
Bright Kwadwo Sowu is Head of Programmes and Deputy Executive Secretary for the Ghana Anti-Corruption Coalition (GACC); a cross-sectoral grouping of public, private and civil society organizations with a focus on promoting good governance and fighting corruption in Ghana. He is the lead staff on resource mobilization, programmes, and monitoring and evaluation.
Bright has previously worked with the European Union office in Ghana, Japan Embassy and the University of Ghana. At the latter institution, Bright managed the University's flagship summer programme - Ghana Field School. He worked with the Economic and Economic Cooperation Section of the Japan Embassy; assigned to private sector investment programmes. In his time with the European Union office, Bright managed the 'EU-Ghana Chamber of Commerce' and 'EU-Ghana Business Forum' initiatives, laying the foundation for what is now the European Business Organization (EBO-Ghana).
He holds an MPhil in Development Studies from the University of Cambridge, U.K. where he studied as a Commonwealth Scholar. He also holds an M.A in International Affairs and a B.A in Psychology, both degrees awarded by the University of Ghana and is a Mandela Washington Fellowship Alumnus, 2017.
KEY EXPERTS (KEs)
Agronomists/Agric Expert
Mr. Peter Owusu Ansah: Agronomists/Agric Expert
Peter Owusu-Ansah has twenty three (23) years working experience in Agricultural extension, agronomy and farm management. He currently works with the Ministry of Food and Agriculture as an Agricultural Extension agent in the Suhum Municipality. He has also worked with Non-governmental organisations like CBUD and currently with VSO under the cocoa-life project in the Suhum Municipality.
Peter has worked as policy, planning, monitoring and evaluation personnel in the Fanteakwa District. He has also had engagements with private firms like Osono Integrated Farms, Letap Fresh Vegetables, Marks Impex and Ashawa Farms on part-time basis as a farm manager. He holds a Diploma in Agricultural Extension from University of Cape-Coast and a certificate in General Agriculture from Ohawu Agricultural College.
Mr. Prince K. Boakye: Agronomists/Agric Expert
Prince Boakye is an agronomist who is passionate about agriculture. His career spans seven years, but enriched with deep knowledge and experience through growing of crops and agricultural education. Key among his beliefs is that in order for Agriculture to progress in Ghana, practitioners or farmers need the right knowledge and skills for optimum productivity and production.
Mr. Boakye holds an MPhil in Agricultural Extension from the University of Ghana. Prior to that, he had his first degree from the same university in BSc Agriculture (Postharvest Technology). Prince has his specialty in greenhouse vegetable production. Greenhouse agronomy is relatively young in Ghana, and as one of the pioneers, he is promulgating the need for greenhouses and how the technology could transform our vegetable sector. He has designed and spearheaded training programs for farmers and extension agents in all regions of Ghana, focusing on vegetable pests and diseases, fertilization, irrigation, agro-techniques, postharvest amongst others. Prince has received intensive training from Israel and Kenya and has been actively involved in growing in Ghana for many years, thus garnering local expertise. He is also a graduate of GhanaVeg training of trainers, organized by Wageningen University and offers support services to several vegetable farmers.
Currently, Prince is a senior agronomist and academic manager for the Greenhouse capacity building and training centre. He is also actively growing and researching into vegetable crops such as tomato, cucumber and pepper under different conditions. Areas of focus include seed varietal trials, optimizing climatic conditions, taking cognizance of the economic feasibility of any additional technology in cultivation.
Geographic Information Systems (GIS)
Eugene Nyansafo: GIS Expert
Eugene Nyansafo is a Senior Town Planning Officer with the Land Use and Spatial Planning Authority (LUSPA) head Office. He brings to the team 10 years working experience constituting 6 years at the District level and 4 years at the National level. His focus has been the use of Geographic Information Systems (GIS) to improve upon transparency and contribute to evidence-based decision making.
He is currently the Head of the GIS Unit of LUSPA where he is particularly responsible for the development of training modules towards capacity building of Physical Planning Officers at the District level.
Carl Sena Afenu: GIS Expert
Carl Sena Afenu is a Spatial Planner with specialization in Geographic Information Systems and Software Development. With a deliberate focus on his field, Carl has built his credentials over the past ten years in GIS and Mapping. He holds a MSc. in Applied Geoinformatics from the University of Twente in the Netherlands. He obtained his BSc. in Human Settlement Planning from the Kwame Nkrumah University of Science and Technology in Ghana. He is of the view that Ghana will only become a better place, if its' youth rise up to the task, and embrace the challenge of finding lasting solutions to our present and future huddles through innovation. He currently works with AngloGold Ashanti (Ghana) Limited.
Profile: PR/Marketing/Customer Relations
Kobina Ansah: Public Relations
Kobina Ansah is a playwright and columnist with The Mirror. The Biochemistry graduate has over a decade writing experience. He has a unique style of getting the attention of his audience and has had his works featured on prominent platforms both locally and internationally. He runs his start-ups, Scribe Communications and its subsidiary, Scribe Productions. His current play is THE BOY CALLED A GIRL which was staged at the National Theatre on July 20, 2019.
Godwin Asante Annoh: Marketing
Godwin Asante Annoh is a Territory Sales Manager at Guinness Ghana PLC a subsidiary of Diageo PLC, the world's leading wine and Spirits Company. He has over 6 years' experience leading multi-unit retail operations, teams, and processes across assigned territories to drive business and customer service success. He has supervised activations and marketing agencies and uncovered new business opportunities to driving innovative marketing/merchandising strategies and surpassing sales quotas. He excels at managing teams, coordinating comprehensive logistical issues, and stimulating superior levels of customer satisfaction and loyalty. He currently holds B.A in psychology from the University of Ghana.
Claudia Eyram Mensah: Customer Relations
Current trends reveal that clients demand high customer service standards. Delivering superior service with the aim to exceed customer expectations is what Claudia stands for. She has eight (8) years' experience in customer service delivery including experience in the airline industry. She has worked closely with international model Belinda Baidoo and renowned Afro Centric Designer Patrick Asante, two of the world's outstanding professionals in fashion as a photo and run way model. She holds firmly the belief that with a little confidence in one's self, mighty things can be achieved.
George Wilkinson: Digital Media Strategist
Over the past 6 years, George has built a credible track record developing successful media plans and managing campaigns for businesses of different sizes across various industries. He has a deep understanding of both traditional and online marketing, and mastery at creating a perfect mix to suit any campaign or client objective.
Mr. Wilkinson is currently the Media Planner and Buyer at Now Available Africa, working on a number of international brands such as Nestlé's Nescafe and Nido, Dream Oval's SlydePay, PZ Cussons, GIZ, Madza and a million-dollar behavioural change project of the Bill and Melinda Gates Foundation known as the SKY Girls Ghana. His skills include Media Strategy Development (Social, Digital & Traditional), Media Buying/Paid Social Advertising, Social and Digital Media Analytics and Reporting, and copy-writing.
NON-KEY EXPERTS (NKEs)
Destiny Ramirez is a third year Legal Studies student at the University of California, Berkeley. She is currently studying abroad at the University of Ghana for the spring 2019 semester. Destiny has experience volunteering with at-risk women and children all over California. Upon spending a day at Trotor Orphanage, she became involved with Nkosuo Initiative.
She holds that the project is a logical solution to several issues in Ghana. The plan directly benefits all parties involved, especially the young people at the Trotor Orphanage. By supporting us through partnership, we will contribute to the overall well-being of Trotor and surrounding communities as well as other areas in Africa.
Farming plays an important role in the surrounding community and by expanding this trade on a larger scale, there will be economic, social, and environmental benefits.
Bernard Adjei: Volunteer Coordinator
Bernard Adjei is a Pharmacist by profession. He works with Direct Pharmaceuticals as the superintendent pharmacist by rendering pharmaceutical care services to populace. He previously worked with Rock Chemist as the Medical Representative in charge of their specialty products. He frequently talks to youth groups about the dangers of drug abuse. He has been involved in a lot of community mobilization drives in different parts of five regions in Ghana. He holds a Bachelor of Pharmacy from Central University, Miotso and a Bachelor of Science in Psychology from the University of Ghana, Legon.
Kylie Jaspersen
Kylie Jaspersen is a graduate from New Life Christian School located in Olean, New York. She completed senior high in the year 2018 and is currently volunteering abroad in Ghana, Africa. Kylie started her year of service in August 2018 and will be ending it in summer of 2020. For her service, she is staying at the orphanage in the outskirts of Suhum where the Nkosuo Initiative project is taking place.
Kylie's mission is to empower those who cannot read in the orphanage. Through her stay in Trotor, she became involved with the Nkosuo Initiative.
She believes strongly that If the plan is sought out correctly, it will be a huge benefit to not only the people, but to the village as a whole. It will be an even bigger asset to the children and youth who make up the village by imparting important skills and qualities that will help them in their lives.
Catherine Biney
Catherine Biney is the Administrator of the Ghana Industrial Cassava Stakeholders Platform (GICSP), a Platform that seeks to bridge the gap between various cassava value chain actors within the country and beyond. Thus, the Platform is ensuring that livelihood of its members are improved drastically through assisting access to funds and market linkages. As the Administrator of GICSP, she sees to the daily activities and happenings on the Platform. She is an MBA Marketing Option Holder.
Catherine helps in facilitating trainings in the areas of proper farm book keeping records, packaging and marketing produces, field and factory trips, funding opportunities available, technical backstopping support as well as sharing information within the industry with members. She organizes meetings with stakeholders and members once every quarter. Previously, Catherine was the marketing manager for one of Ghana's biggest furniture retail shops, Orca Deco Ghana.
Profile: Project Finance
Prince Brebo Osei: Project Accountant
Prince Osei currently works with Lym Haus Solutions Limited as Finance Manager. He has managed a number of donor funded projects including BIMA micro insurance campaign funded by leapfrog and is currently managing a GIZ funded nationwide radio campaign on insurance.
Prior to this, Prince worked at Seloart Company Limited as an Accounts Officer on part-time basis, alongside schooling. He holds a Bachelor's degree from Wisconsin International University College- Ghana, with a First Class Honours in Business Studies (Accounting Option) after a 2-year Diploma in Accounting from the University of Professional Studies, Accra. He is currently preparing to sit for his final papers with the Institute of Chartered Accountants, Ghana, after which he will fully qualify as a Chartered Accountant.
Get interactive with Nkosuo Initiative on social media.