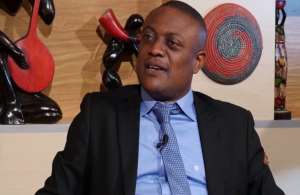 Recently, videos and recorded voice of the controversial Ghanaian lawyer, Dr. Maurice Ampaw, on the legality of oral sex, have gone viral on various social media platforms. The lawyer is heard to have publicly ridiculed, insulted and lambasted people who engage in oral sex, while calling for their arrest and prosecution for engaging in criminality. What is more worrying is his strange insistence that oral sex is a criminal offence and his calls for those who engage in the act to be arrested and prosecuted. In some of the media reports, the lawyer is heard to have publicly insulted, vilified and called for the arrest and prosecution of the respected Archbishop Dag Heward Mills, for endorsing oral sex amongst Christians. Specifically, Maurice Ampaw ridiculed the man of God as being "abnormal, perverted and not a right-thinking member of society" and so must be "delivered and arrested" for endorsing criminality. In this piece, I will endeavour to state the position of Ghanaian criminal law on the legality of oral sex.
UNNATURAL CARNAL KNOWLEDGE
Ghanaian criminal law suffers from vagueness as to what is legally acceptable sexual orientation. Many people believe that our criminal law favours heterosexual life. That is, sexual intercourse between a male and a female. The criminal law therefore favours sex per vaginam, and any other formula of sexual intercourse is considered as unnatural. The criminal law prohibits "unnatural carnal knowledge". According to section 104(2) of Act 29, unnatural carnal knowledge is sexual intercourse with a person in an unnatural manner or, with an animal. While the law fails to precisely define "unnatural carnal knowledge", it is judicially settled that "carnal knowledge" only occurs when there has been the least degree of penetration. Section 99 of Act 29 provides that carnal knowledge or unnatural carnal knowledge is complete on proof of the least degree of penetration. Therefore, unnatural carnal knowledge connotes penetrative (penile) sexual intercourse in an unnatural way.
Clearly, the section seeks to prevent sodomy (penile penetration of the anus) as well as bestiality (sexual intercourse with an animal). Certainly, acts such as oral sex, masturbation, fingering, or any form of lesbianism are not covered by the expression "unnatural carnal knowledge". It may be stretching the issue to absurd limits to say that the mere licking of the vagina or use of dildos for sexual gratification, constitutes sexual intercourse. A person cannot have sexual intercourse with the tongue or mouth. Licking of vagina is an act of foreplay or sexual gratification which is not prohibited by any penal legislation.
CRIMINAL OFFENCES DISTINGUISHED FROM OTHER WRONGS
The sphere of the criminal law is that it covers only acts that violate a statutory provision with a prescribed sanction for such violation. The characteristic feature of the criminal law is that, crime is a creature of statute. Every crime must be created by a statute in force. Crime cannot be presumed; neither can it be ascertained by intuition or guesswork. According to Article 19(11) of the Constitution, "No person shall be convicted of a criminal offence unless the offence is defined and the penalty for it is prescribed in a written law".
The unimpeachable import of this constitutional provision is that a crime is a creature of statute. This is expressed in the Latin maxim, nullum poena sine lege (there cannot be a crime without statute). Thus, there cannot be a criminal offence without a statute defining it. Acts such as homosexuality, lesbianism and oral sex are not criminal offences in Ghana, as none of them is defined and the penalty for it prescribed.
CONCLUSION
Even though "unnatural carnal knowledge" is admittedly vague, what is clear is that oral sex cannot be considered an "unnatural carnal knowledge". There is no law in Ghana that criminalises oral sex. Licking vagina may appear to be obnoxious, reprehensible and unacceptable to those who do not like it; but what is certain is that oral sex is not a crime in Ghana. As far as oral sex is concerned, the barometer for determining its appropriateness is conscience, not law. In our bid to educate the public on our laws, professionals in the field must not only be studious and accurate, but we must, as much as possible, be responsible, professional and temperate in our language. I believe that Maurice Ampaw was reckless and irresponsible in the way he expressed his views on the legality of oral sex, particularly his defamatory remarks about Archbishop Dag Heward Mills. Maurice should apologise to Ghanaians.
By Daniel Korang Esq.
Barrister & Solicitor