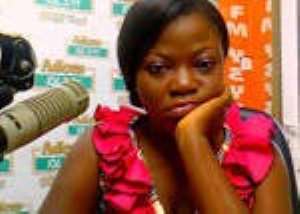 Afia Pokua
I've read it online an interview granted a media station by Afia Pokua a.k.a Vim Lady.
In the said interview, as I read it, the mentioned: "Vim Lady" stated that: "I'll date, or chiefly, marry a man that will challenge me, or cause me to think. And that my man should explain first why I should sit down should he order so" (sic).
After reading, I said to my page who had first read the story and sought my thoughts about it. This, Lemma (the page) asked because I sometimes listen to Afia Pokua on Adom FM for the midday news. I started doing so when I came back to the Goka Kingdom as a lord in the court of Vasco the Wise, the regent Duke of the Kingdom.
Even, in one of such interviews I read the Vim Lady granted, she narrated her ordeals, how she served as a made in a children's home as she pursued her education in the Senior High. She won my heart then, and not only Nana Osei Ampofo Agyei did I love listening to, but Vim Lady also entered in my diary of good journalists in the Republic. Talk of the now retired Teye Kitse of GBC fame, Tony Good and Agnes Minta on Radio B A R, Kwaku Baako Jnr, and Sampson Lardi; Afia Pokua was listed amongst these seasoned journalists.
But she lost her position yesterday. Or should I say: "she's about to lose it?" That would depend on her response to my counselling in this writeup.
Yesterday, the 4th of June, 2019, I read about this Afia Pokua saying: "men now fear proposing to me, and no woman will let his son marry a loud-mouth like myself" (sic).
Yes, Afia, no 'right-thinking' African man will marry a woman who should be given a reason before she responds to the husband's beck and call. Not even in the advanced countries where women are literally empowered would their men opt for a wife you say you'll be.
The good old Nana Ampadu sang about your type in his "Me poma yi resene me tenten". To wit: 'my staff is now taller than I do'. And for him the great highlife musician, he'll cut it short.
Is it as a result of "over knowing" (highly than usual, educated) that you want to "argue" with your husband before you take instructions from him?
Let me tell you, irrespective of a woman's education, beauty, or wealth, what women needs, is SECURITY. Security for yourself as a woman, your children, and your entire family. Security on all aspects - food, shelter, and even against your "enemies".
But the man who will, or can provide this is the respected man. The obeyed one. Not respected as it's in being bossy over the woman, but respected as it's in making him seem to be the head of the house.
It's time women empowerment is tutored well to our growing African woman. Affirmative Action, being empowered with all powers that be, you need a man. You wouldn't narrate it painfully to your listeners about men shunning you if you seriously don't care about that. You admitted that 'men now fear' you.
Is that something to be proud of?
Let people respect you, instead of fearing you.
Human beings run away from beasts, because they fear them.
Human beings are approached by their likes because they love and respect them.
Or, Afia, didn't you read it, that at her age, the learned Attorney General, Gloria Akuffo is still searching for a husband?
Is there something in there to learn? She (the A G) gave birth to her children out of wedlock, illegitimately with another woman's husband.
It's now that you're a budding youth, Vim, be a woman that could be a consort to a respected man before the sun withers your beautiful flower.
Your word is listened to by the youth. You got a following when you 'invented' Sugar Them to counter the follies of the Pepper Them movement. I was one of they that doffed our hats for you.
Don't be like the proverbial lizard that finishes its faeces with a black spot, erasing the attractive white colour.
You were on the path to be a good influence on the youth, murder not that with the path you're trekking now.
Your prince is on his way, but let not your utterances dwarf the good you can offer when the fallen walls of the Republic is erected beautifully again in yonder.
You've received an unsolicited for counselling from a courtier you've never met. Your acknowledgement of it will let the youth learn your ways, and the sky will be the limit. You'll be counted among the women that shatter the glass ceiling.
Written by: Charles Yeboah
Contact: 0249542111
Email: [email protected]