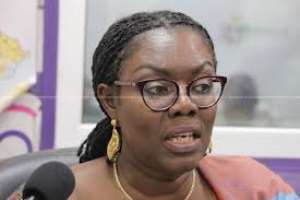 Ursula Owusu-Ekuful, Minister for Communications
The Minister for Communications, Mrs Ursula Owusu-Ekuful has been accused of being behind the actions being undertaken by the National Communications Authority (NCA) to close down the two radio stations.
The exercise, the Authority claims, the two pro-NDC stations have no authorization to operate following a ruling by the Electronic Communications Tribunal (ECT).
The two popular pro-NDC radio stations, Radio Gold and Radio XYZ were closed down last week until they obtained authorization.
According to the Minority Leader who is also a former Minister of Communications in the erstwhile NDC administration, the action by the NCA in closing down the pro-opposition radio stations without the proper notice, smacks of an attempt to use the NCA as a propaganda tool to silence political opponents.
"The action of the NCA would smack off an attempt to politically interfere in the matter and to use the regulator to get at political opponents. That is how it will be read widely giving the coincidence," the Minority Leader indicated.
Haruna Iddisu made this known on Joy FM's current affairs and news analysis show Newsfile on Saturday, hosted by Samson Lardy Ayeneni.
The former Minister indicated that because the regulation of the media remains fundamentally important to peaceful co-existence in the political space, as a former Minister, he clearly distinguished between policy and the regulatory roles of the Ministry.
Suggesting that the current Minister, Mrs. Ursula Owusu-Ekuful was failing in her actions at the helm of affairs.
"If you read Ursula Owusu as Minister; and for me, having been Minister for Communication, I endeavoured to distinguish between policy as a Minister and the Regulator at NCA," he suggested.
He described the exercise being carried out by the NCA as regulatory excesses of the regulator of Electronic Communications in Ghana, which he considers as an abuse of powers to emasculate the media, all in an attempt to silence opposition voice.
The Tamale South lawmaker said at the time he was a minister in 2012, all the radio stations had breached portions of the law but were not shut down because of the recognition of the role the media plays in the democratic space.
The Minority Leader who expressed disgust over the NCA action hinted that he will drag the Minister to demand answers on the latest activities of the regulator the moment Parliament resumes sitting.