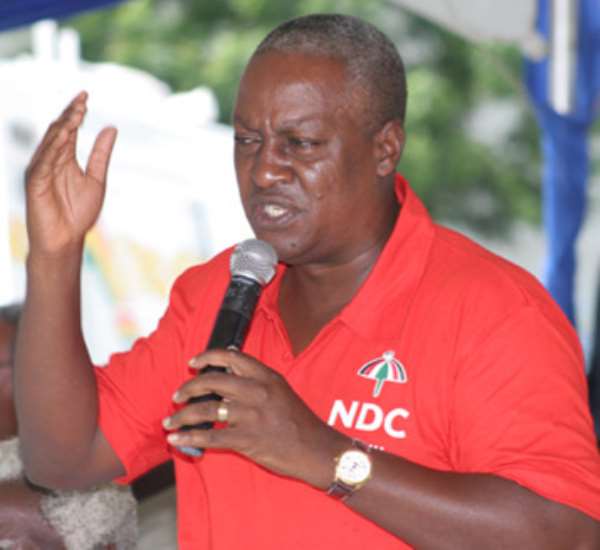 The incompetent one continues to please himself and his blind political followers. Sensing that, the people in the newly-created Regions would vote massively for the NPP in the next elections, Incompetent Mahama has promised to develop the six new Regions in the unlikely event he is voted into power again. Addressing delegates of the NDC in the Sefwi-Bekwai Constituency of the Western Region, Mr Mahama said; "The NDC is known for developing the country and promised to develop the Western North Region". This fake assurance is not the only one being given by the man who says in his book that, danger always lurks around every decision he makes.
The other time, he made a similar promise about President Akufo-Addo's Free SHS, where he vowed to review it. But Mr. John Mahama, how well did you develop you home Region, Northern in general and Bole, your hometown in particular during your wasteful tenure? Are they having the best of social and infrastructural facilities, that is, first class roads, schools, hospitals and good drinking water?
The Akan adage says; "Ko nsuo na obo ahina". If the visionary president, who has made the Free SHS and the creation of six new Regions, a reality cannot sustain and develop them, how would people who can't think far like you, do same?
You gave visas to guinea fowls to fly to Burkina Faso and planted trees during the drying season. In the end, SADA became a waste under your watch. So, how do you expect people to take you seriously, the Incompetent One? You were more interested in branding buses and distributing laptops to university girls for votes. You were so excited in taking bribe - Ford Expedition from Burkinabes and giving them contracts so where lied your passion and interest in developing any part of Ghana?
It is worthy to point out to you that, the good people of Ghana have seen the good works of His Excellency, President Akufo-Addo and his competent team. Graduate unemployment has been reduced significantly with the employment of 100,000 graduates under NABCO; the menace of street children has become a thing of the past as kids are now schooling free; taxes on utilities have been reduced to put more money in our pockets; food is in abundance; inflationary rate is at single digit; dumsor has been banished; and trainee allowances have been restored. All these have been done within two years.
It is time you gave the NPP a break to manage the affairs of this beloved country of ours for the next 40 years.
God bless Ghana!
God bless the NPP!!
God bless Prez Akufo-Addo!!!
Katakyie Kwame Opoku Agyemang - 0202471070/0547851100
Asante Bekwai-Asakyiri
"Vision, coupled with persistency, results in true success"