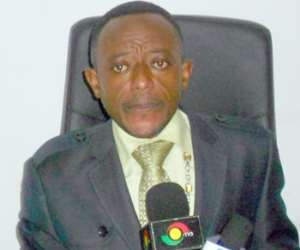 OWUSU BEMPAH
With Owusu Bempah, Ghana is in darkness and will continue to stay in darkness if he is not silenced. In an earlier article, "The Dark Age of Christianity in Ghana" it was mentioned that Mr Owusu Bempah is a false man of God and he has confirmed it by his recent irresponsible and reckless poor prophecies of death on various personalities.
Your Excellency, you have given Owusu so much confidence by your confidence in him. As a result, he thinks he could say anything with ease and unquestioned. Owusu Bempah has grown wings as a result of the sense of trust you have in him. Mr Owusu Bempah wakes up and proclaims what comes into his head and backs them with the name of God. He needs to be brought to order and you can do this for us since he listens to you.
Mr Owusu Bempah, let it sink with you that true prophets do not behave the way and manner you loosely behave. In fact, you need to get yourself educated. Read more about prophesy so that you would not prophesy as if it is like urine.
Why must you create an atmosphere of fear and panic with those your vain prophecies?
Why, do you feel happy causing people pain?
Why don't you pray about those prophesies you claim you get?
Owusu Bempah, your behaviour of late makes you qualify as a movie actor of SPIRIWOOD. But if you are indeed a true man of God, you won't be seeking fame through cheap prophesies formulated by you. In fact, most pastors of your kind are co-movie actors in SPIRIWOOD: the new movie industry with most pastors and prophets as actors and directors.
Mr President, could parliament pass a law to regulate the establishment of churches? If there have not been, could there be a law that requests that pastors should at least hold a first degree in Theology before they could establish a church? This and many other policies, when put in place, will control the rate at which churches are operating as businesses but not paying any tax. Pastors who have not had education in higher theological studies could be halted. Thank you, your Excellency, for spending a moment to hear me out.
Dear pastors who are movie actors, there are a lot of people in the hospitals seeking your assistance, where it would be needed most. Could you not make time to visit such people and give them life? Leave the stage and go to work Owusu Bempah and other so-called men of God and stop causing trouble in Ghana with your empty pronouncements.