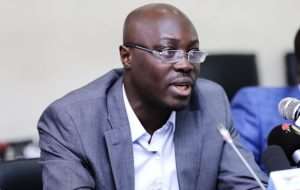 Minority in Parliament is demanding a presidential intervention to halt the consideration of the service agreement between the government and Zipline International Incorporated for drone delivery of medical supplies to underserved areas.
The final vote on the agreement was deferred last Monday with the minority describing it as a misplaced priority.
The Ghana Health Service at a press briefing on Tuesday justified the agreement, and described it as the most efficient emergency delivery system, but the Minority Spokesperson on Finance, Cassiel Ato Forson in a Citi News interview said the deal is a rip-off and must be withdrawn from the house.
"We've said it that this one, it is a rip off. If even everyone supports it, me Cassiel Ato Forson will not support it because I think it is a rip off. I think it is something the president must intervene in. The Vice President is leading this country unto a path of unrighteousness because obviously, we can use $27.8 million for something better," he said.
Parliament on Monday deferred the voting on the agreement to allow for some regulatory checks to be completed.
Drone deal misplaced priority
Minority Spokesperson on Health, Joseph Yieleh Chireh had earlier said the agreement was misplaced priority.
The Wa West MP indicated that the amount of money that will be spent on this project could have been used to provide healthcare services for persons in deprived communities.

Joseph Yileh Cireh
"The amount of money we are going to spend to deliver these items could have been used to provide access to many people in terms of healthcare of facilities. In any case what is the terrain of this country such that you will need drones? It is a misplaced priority .We have not reached a place yet in Ghana where technology drives everything.
"The challenges we have in our health system don't need drones. People are dying not because there are no drones to deliver the medical supplies.They are dying because the supplies aren't available in the first place.."
Meanwhile, the Ghana Health Service (GHS) has described the drone delivery of medical supplies as the most efficient and cost-effective means of reaching under-served areas in the country.
According to the Director General of the Ghana Health Service, Dr. Anthony Nsiah-Asare, the use of drone technology to deliver emergency services fits perfectly into government's plan of achieving access to Universal healthcare in the country.
The Vice Chair of Parliament's Health Select Committee, Nana Ayew Afriyie in an interview on Point Blank on Eyewitness News on Tuesday also justified the agreement, saying it will be important in tackling maternal mortality under the Sustainable Development Goals, which is a key priority area for Ghana.
Source: citinewsroom.com | Ghana