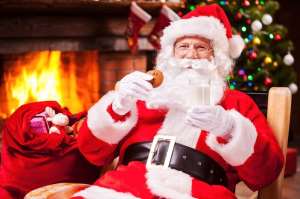 File Photo
Christmas is the season where multitudes of excited—or horrified children sit on a stranger's lap and tell him their wish list. A man in a goofy-looking outfit with a weird ho-ho-ho belly laugh and a white beard listens to kids in a chaotic environment. While parents and grandparents try to snap the perfect picture.
But, who is the man behind the white beard? Who are the cheerful elves? Who are the Christmas-time helpers? Many companies hire part-time employees to work as Santa and his helpers at malls, department stores, parades, or other events.
How do you know whether the Santa impersonator at your location is a child molester, a criminal, or a drug abuser? Many companies perform extensive background checks, including criminal record searches, sex offender database checks, and drug testing on seasonal worker. Why? In the past registered sex offenders hired on during the holiday season, unbeknownst. And companies do not want to endanger kids or get sued when a perverted Santa fondles a child.
A registered sex offender was sentenced to probation for dressing in a Santa Claus suit for photos with children at a holiday party, according to a 2017 article in the Chicago Tribune.
A Level 3 sex offender had been employed at the Magic Forest amusement park in New York and filled in as Santa Claus, according to a 2016 article in the Times Union.
A mall Santa in North Carolina was arrested for child pornography charges, according to a 2015 report on CBS17 News. www.cbs17.com/.
Should there be background checks on all Santas and his helpers? Protecting children from predators applies every day of the year. Pedophiles can be found where children abound.
Santa School, managed by Noerr Programs Corporation, provides Santas to 278 malls and shopping centers in the USA. Background checks are required. www.noerrprograms.com/.
The International Brotherhood of Real Bearded Santas reports "Our background check from ClearStar is a comprehensive national search that will satisfy any client in the upcoming holiday season. The background check includes a criminal search using a national criminal database which contains the FBI Most Wanted List, Sex Offender Registries, County criminal activity, Federal criminal activity and hundreds of other criminal reporting sources" is stated on the IBRBS website. www.ibrbsantas.org/.
How is a parent to know which Santa Claus is safe? Call the mall, store, or event planner and inquire about their screening policies.
An informed parent is a proactive parent. Santa safety is necessary.
Melissa Martin, Ph.D., is an author, columnist, educator, and therapist. She lives in U.S. www.melissamartinchildrensauthor.com .