2019 Budget; My Expectations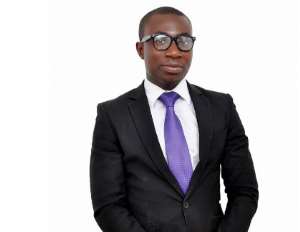 The Author
The Finance Minister Ken Ofori-Atta will present the 2019 budget to Ghana's parliament on Thursday, 15th November, 2018 in accordance with Article 179 of the 1992 Constitution. This paper seeks to make projections for the budget statement and economic policy and also propose policies to consolidate economic gains achieved so far.
It is important to take a brief look at the 2017 and 2018 budgets to appreciate how government policies have addressed Ghana's economic challenges. The 2017 budget which was themed; 'Sowing the Seeds for Growth and Jobs' set in motion key policy priority and flagship projects to restore and maintain macroeconomic stability, boost revenue streams, promote private sector led jobs and wealth creation. It also sought to boost agricultural production and productivity, quality education, job skills and entrepreneurship. The 'Asempa' budget more importantly scrapped 'nuisance' taxes and reviewed others to free capital to the private sector to boost growth.
The 2018 budget on the other hand titled 'Putting Ghana Back to Work' aimed to create jobs leading to prosperity and equal opportunities for all Ghanaians. This according to the budget was driven by investments in agriculture and agribusiness, strategic infrastructure, human capital and entrepreneurship and innovation programs. Some benchmarks have been achieved but government should keep investing in priority areas to consolidate the gains and reduce risks. The table below shows some macroeconomic indicators.
Some Macroeconomic Indicators
| | | | |
| --- | --- | --- | --- |
| | 2016 | 2017 | 2018 |
| GDP Growth | 3.7% | 8.1%* | Q 1- 6.8% |
| Fiscal deficit | 9.3% | 5.9% | 4.5%** |
| Inflation | 15.4% | 11.8% | Sept- 9.8% |
| Public Debt to GDP | 73.1% | 69.8% | 67%** |
| Monetary Policy Rate | 25.5% | 20% | Sept-17% |
Source: Finance Ministry, Bank of Ghana
*Rebased Estimate, **End of year projection.
Global Outlook
In the latest International Monetary Fund (IMF) World Economic Outlook Report, global growth is projected at 3.7% from an earlier 3.9% target as trade war between the two largest economies (USA and China) are far from ending. The World Bank on the other hand has revised growth for Sub-Saharan Africa to 2.7% from an earlier projection of 3.1% which is attributed to the less favourable external environment amid global trade risks. Hence, Ghana's GDP growth projection was revised downwards to 6.3% from 6.8% in 2018 by the Fund.
The external headwinds might not be over yet. The United States of America has reinstated sanctions on Iran after pulling out of the 2015 Joint Comprehensive Plan of Action (JCOP) also known as the Iran nuclear deal. In that same vein, possible economic sanctions on Saudi Arabia by the USA and other countries after Jamal Khashoggi's investigation will likely push crude oil prices higher. Furthermore, the trade war between US and China will continue to slow down global growth. Ghana will not be left out of the spillover effects of these global happenings as a net importer of crude oil. An increase in petroleum prices at the pump will likely cause an increase in inflation which is a key indicator for adjusting Monetary Policy Rate (MPR) which banks consider before offering credit.
Ghana and the IMF
Ghana's Extended Credit Facility (ECF) program is expected to be completed in April 2019 after a year of extension. On 3rd April, 2015, the Executive Board of the IMF approved a three-year arrangement under the ECF for Ghana in an amount equivalent to SDR 664.20 million (180 percent of quota or about US$918 million). The program aims to restore macroeconomic stability, debt sustainability and to foster a return to high growth and job creation, while protecting social spending. So far, US$764.1 million has been disbursed with the remainder tied to the subsequent review. Government must demonstrate fiscal discipline after a successful completion of the program. The real test for prudent economic management will be in 2020 (election year) after exiting the IMF program even as some government flagship programs currently heavily drain the national kitty.
Public Debt Dynamics
Government has hinted of floating a US$50 billion bond century bond for infrastructure development. I reiterate that, Ghana does not need century bond. The bottlenecks to infrastructure development in Africa in general and Ghana in particular include a weak legal, regulatory and institutional framework, poor infrastructure planning and project preparation and corruption. Government must be committed to the hard work of curbing procurement fraud, corruption and illicit financial flow to boost infrastructure development. More so, effective implementation of Public Private Partnership (PPP) schemes will unleash investment into infrastructure development.
Ghana does not need to issue a century bond and more importantly without a long term development plan. The 40-year development plan drafted by the National Development Planning Commission (NDPC) has not been implemented yet. At the back of policy discontinuity since Ghana's return to democratic rule in 1992, this will make it difficult to achieve the maximum gains from floating a century bond.
Banking Industry
In accordance with Section 28 (1) of the Banks and Specialised Deposit-Taking Institutions Act, 2016 (Act 930), the Bank of Ghana revised upward the minimum paid up capital for existing banks and new entrants from GH¢120 million to GH¢400 million from the effective date of 11th September, 2017. As the clock ticks to the December 2018 deadline, some banks might have their licences revoked if they are unable to raise the minimum capital. I expect government to announce specific plans to support local banks as already hinted by the central bank. Bank of Ghana's reforms should not only address minimum capital of banks but also implement banking reforms tailored to the economic needs of the country.
The Ministry of Water Resources, Works and Housing has indicated of pushing for a review in the Pensions Act to enable pension funds to be invested in housing deficit which is estimated at 2 million units. This is a laudable policy but might be hampered by the current Universal Banking licencing regime which has been in force since 2003. The Bank of Ghana in reforming the banking industry should reconsider the three-pillar banking model – development, merchant and commercial banking, which existed prior to the current licencing regime.
Flagship Programs
There is no doubt that the Free Senior High School policy is a good policy but the cost to the state and its sustainability must be revisited. I expect the 2019 budget to propose some viable and well-thought through avenues of raising additional funds for the program since crude oil is a non-renewal resource and its depletion is expected in a few decades to come. Linked to that is the infrastructure deficit in our second cycle institutions which has necessitated the double track system. According to the Education Ministry, government will need about US$ 1.5 billion to bridge that gap to reverse the double track system between five to seven years. I expect the 2019 to propose the alternative sources of financing for this investment.
Government should stay committed to its industrialisation program which includes One District, One Factory, One Village, One Dam, Stimulus package for distressed companies among others. I also expect the Infrastructure for Poverty Eradication (IPEP) program to kick start in 2019. Whiles the Planting for Food and Jobs should be tailored to import substitution industrialisation to address the huge food import bill to the state.
Conclusion
Ghana's economy is in transition with a bright future but it depends on the prudent economic policies implemented now. I don't expect an introduction of new taxes. The Ghana Revenue Authority (GRA) should ensure compliance of existing tax regimes and a comprehensive review of our tax exemption policy. I expect the 2019 Budget to consolidate the gains made so far and correct the structural economic imbalances.
To ensure fiscal consolidation in the medium to long-term, I humbly appeal for a bi-partisan discussion on the sustainability of policies such as the Nations Builders Corps (NABCO), payment of allowances to trainee nurses and teachers among others.
Emmanuel Amoah-Darkwah Ch.E