Speakers At B/A Rafac Advocate For Patronage In Locally Produced Goods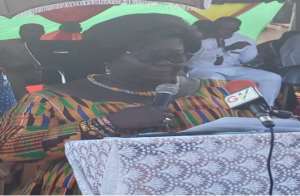 Various speakers at this year's Brong Ahafo regional Festival of Arts and Culture have joined the advocacy for Ghanaians to patronize made in Ghana goods to create employment and wealth for the nation.
Addressing Chiefs and people from various Traditional Councils in Techiman, the paramount Chief of the Techiman Traditional Area and President of the Techiman Traditional Council,Oseadeeyo Akumfi Ameyaw iv who chaired the function said the Arts and Culture sector has the potential to create a lot of jobs for the teeming unemployed youth. He however said this could only be realized if as Ghanaians "we patronize what we produce and create with our own minds and hands". He therefore appealed to various hotels and catering services to always prepare local dishes to create market for farmers in the country. Oseadeeyo therefore deemed the theme for the celebration "Empowering the Youth through Culture and Creative Arts for Employment" as appropriate given the abundance of natural resources, diverse human resources and talents that were available to the nation and the Brong Ahafo Region in particular.
On the creation of new regions, the paramount Chief entreated the people in the Ahafo and Bono East areas to come out in their numbers to vote "YES" massively to ensure the creation of the Ahafo and Bono East Regions.
Adding his voice for Ghanaians to patronize made in Ghana goods, the Municipal Chief Executive for Techiman in his welcome address to eat what we grow, wear our own clothes among others. According to Hon. Donyina that was the only as a country the President's vision of Ghana Beyond Aid could be achieved.
On the creation of the new regions, the Municipal Chief Executive praised the Chiefs in the region for the various roles they have played and continue to play to facilitate the creation of the two new regions adding that Nananom are the brain child of the regions and urged citizens in the affected areas not to let the toil of the chiefs be in vain.
The Executive Director on the National Commission on Culture, Mad Edna Janet Nyame on behalf of the Minister of Tourism, Culture and Creative Arts was full of paise for the Traditional Authorities, the Techiman Municipal Assembly and the Planning Committee for the colourful celebration of the festival and expressed the hope that the Brong Ahafo Region will emerge on top at the National Festival of Arts and Culture.
The Regional Festival of Arts and Culture which is a platform to showcase the tradition, Arts and culture was also meant to select a representative to represent the region at the National Festival of Arts and Culture to be hosted in Koforidua next month. The program, was attended by paramount Chiefs from the Goaso,Berekum,Bassa,Ntrotroso and Dwenem.