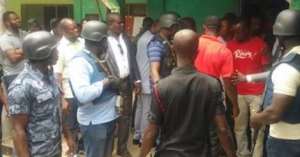 The New Patriotic Party chairman for the Tafo/Pankrono Constituency in the Ashanti Region has condemned the Delta Force for attacking the Member of Parliament (MP) of the area, Dr Anthony Akoto Osei.
At press conference Thursday at Old Tafo, the NPP Chairman for Tafo/Pankrono, Moses Kwame Donkor, said the attack by pro-NPP vigilante group was "reckless and unwarranted."
'We also condemn the unwarranted and reckless act on our general meeting by those who tag themselves as Delta Force in the constituency," he said.
He also entreated residents of the constituency to remain calm and continue to rally behind their MP and the NPP government to continue to roll out their positive policies to improve the country and the citizenry.
The Delta Force attacked the MP, who was holding a meeting with his constituents last week, for failing to give them jobs.
But according to Mr Donkor, the constituency has been transformed over the years, especially during the 20 months that the NPP administration had been in political office.
He stated that the wild allegations that the MP was not doing enough for the constituency, hence the near-attack on his life on Sunday by the Delta Force, is total false so the public should ignore it.
'Through NABCO, he has helped 350 people in the constituency to be employed, the MP has also helped 150 people to get into the Youth in Afforestation programme and 137 people are now in the Youth in Community Police.
'The MP has commissioned three mechanized boreholes at OKESS, Ahzaria and Usumania, all Senior High Schools (SHS) in the constituency', the Tafo/Pankrono NPP Constituency NPP chairman, indicated, attracting applause.
He added: 'he has constructed 10-seater toilet facilities at TAPASS JHS, OKESS and Ahenbronum Proper. He has renovated the Old Tafo Central Mosque and also built a new mosque at a place called 45 at Old Tafo.
'Our hard working MP has also transformed the Old Tafo football park, formerly known as Sakasaka into a modern mini stadium', noting that the MP has done more for the constituency since the NPP came into political office.
'He has made the development of the constituency his utmost priority ever since he became the MP for Tafo/Pankrono in 2004, but he has done more for the area ever since the NPP came to power in 2016 and we are grateful to him.'