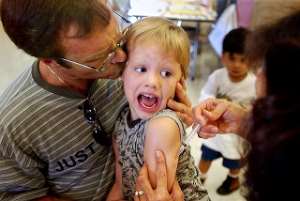 While the safety of vaccine remains a controversial issue action of the children speaks louder than words
On April 20, 2018, in response to an article, I published about childhood vaccination, I received a newsletter from UNICEF, Australia. The letter proclaims:
UNICEF is the world's leading organization working to protect and improve the lives of every child in over 190 countries.
Dear Professor Johan van Dongen,
We believe no child should die of a preventable disease. That's why UNICEF staff work all around the world to deliver vaccines to children in urgent need.
When you buy a Mother's Day vaccine pack, you'll receive a personalized card for Mum that shows the life-saving impact of your generous gift. Each pack contains polio and measles vaccines for 80 children, plus a special vaccine carrier to help us reach even the most remote places on earth.
Vaccination in France? Non merci!
This above-mentioned statement is the latest in a POLITICO special report on vaccines concerning the accomplishments, history, controversy and business challenges. Distrust in vaccines is a growing problem in Europe, especially in France.
Researchers say today's defiance in France highlights growing mistrust towards health authorities.
According to France's Health Minister Marisol Touraine, she got more than she bargained for when she promised a nationwide debate on the benefits and risks of vaccination this spring.
The French government is seeking to tackle parents' growing mistrust on the topic and to streamline vaccination rules that many consider confusing. But the public debate is slow to come and already under fire from those it was meant to appease.
"There's so much hypocrisy, it's like tossing us a bone, but we know that the debate will be completely biased," said Jacques Bessin, who leads a federation of patient groups that favor natural therapies and are skeptical of vaccines.
But Marisol Touraine replied; "The consultation will be open and fair, with "no taboo." But an official leading the Conférence Nationale de santé, a group representing patients and healthcare professionals, resigned with much fanfare, calling the whole enterprise a farce, in effect biased in favor of vaccine promotion.
So, Health Minister Marisol Touraine, do you want an open and fair discussion with no taboo? Then let us provide you with some scientific information.
First of all, demanding the end of mandatory vaccination, which in France applies for diphtheria, tetanus, and polio; vaccines for other diseases such as a whooping cough are only "recommended".
Health Minister you said the distinction is obsolete and gives the impression some vaccines are more important than others, when in fact the French government backs all of them.
But you have ruled out changing the system just yet, for fear it would cause vaccination rates to plummet further.
In fact, a number of hesitant parents complain they cannot give their kids just the three vaccinations required by French law, because of the only jobs available nowadays pack up to six shots, including against hepatitis B or meningitis.
Another French problem is a petition from Joyeux demanding a return to basic aluminum-free vaccines exclusively against diphtheria, tetanus, and polio has drawn more than a million signatures since it was launched a year ago.
And in one case that went all the way to France's supreme court, a couple was handed a suspended two-month jail sentence for refusing to immunize their kids on the grounds that a basic three-in-one vaccine was not available.
The public pressure is starting to pay off
Recently Marisol Touraine met with industry representatives and they agreed to better communicate with each other to ensure a more stable supply, and to address parents' requests for three-in-one vaccines.
"When we get these types of requests we try to satisfy them, but we only get about a couple hundred of them each year," said Lamoureux, of the LEEM pharma lobby. But Marisol Touraine and Dr. Lamourreux? A "three-in-one vaccine" is not available?
Catholic Bishops Discuss Vaccines
Yes we know, God does not support vaccines. Why should He? But still, Catholic Bishops at the Kenyan Conference in March and October 2014, discussed participation in a campaign for tetanus vaccination.
They discussed participation in vaccinations in a number of, and there we go again African hospitals. As always the project was organized by the WHO and UNICEF and concern vaccinations for Kenyan people aged between 14 and 49 years. Kenyans, black people, African guinea pigs, because by Hitlerian scientists considered them not human?
Before the persistent rumors that were circulating in Kenya, the Bishops Conference requested the Kenyan Minister of Health, James Wainaina Macharia, to confirm the vaccine's composition.
As the minister refused, the Bishops' Conference turned to the laboratory AgriQ Quest Ltd, to carry out the investigation. Experts could confirm that the vaccines contained 24 to 37.5% of βhCG, human chorionic gonadotropin, a hormone produced by the human embryo and placenta during pregnancy.
The fact is that a product containing this human hormone in the stated concentration is fully capable of sterilizing Kenyan persons that have been inoculated.
The Kenyan Health Minister rejected the results of the investigation and stated that it was impossible to introduce that hormone into the vaccines used.
The Kenyan parliamentary committee in charge of health issues then invited the Health Minister and the Kenyan Bishops at the Conference to present their respective findings.
Contrary to previous government declarations, it emerged that the authorities never verified the vaccines before using them.
Finally, the authorities presented ten samples with negative results whilst the Bishops Conference presented nine samples, of which three tested positive. Thus the health minister withdrew from the debate.
Monseigneur Paul Kariuki Njiru, the Bishop of Embu and President of the Health Commission of the Catholic Bishops Conference of Kenya, then turned to the media accusing the WHO, UNICEF and the Kenyan government of having intentionally inoculated βhCG in patients, without their knowledge, in order to sterilize them.
The tetanus vaccine is administered in three stages and a third of the dosage was contaminated with βhCG and the WHO has preferred to decline from responding in any way on this matter.
WHO/ UNICEF wolves wearing sheep clothes
The World Health Organization WHO and the United Nations Fund for Children UNICEF are not only accused in Kenya of having administered sterilizing products to patients making them believe that they were being vaccinated against tetanus, but scandals are also recorded in Mexico, Nicaragua and the Philippines.
Predicting the future isn't an easy task to perform, but let us tell you what's going to happen if you choose not to care. First, governments and their scientists together with the pharmaceutical establishment and the help of the Catholic church, go after the philosophical exemption.
Subsequently, they'll start infringing upon the religious exemption claiming things like, "religious objectors are not constitutionally exempt from vaccinations."
They'll tell you that you can get a religious exemption but you'll have to use the magic words and hope that the person who probably doesn't believe in God and knows nothing about your faith is having a good day. But in either way, they'll come after you and your kids in order to vaccinate them!
So dear parents, if your pastor says it's okay …, then it must be okay, right? But your pastor isn't Jesus and probably hasn't read the vaccine package inserts (http://www.immunize.org/fda/) or ingredients list, and he was probably told that God loves children who get measles more than vaccine-injured children.
Chances are though, like many Christians, your pastor hasn't even thought about it. And in Australia, the Government decided when children aren't vaccinated parents may loose there job and children are prohibited from school and faces punishments by law.
Nigerian Polio Vaccine Contaminated With Sterilizing Agents Scientist Finds
KADUNA, Nigeria, March 11, 2004; LifeSiteNews.com: " A UNICEF campaign to vaccinate Nigeria's youth against polio may have been a front for sterilizing the nation. Dr. Haruna Kaita, a pharmaceutical scientist and Dean of the Faculty of Pharmaceutical Sciences of Ahmadu Bello University in Zaria, took samples of the vaccine to labs in India for analysis.
Using WHO-recommended technologies like Gas Chromatography (GC) and Radio-Immuno assay, Dr. Kaita, upon analysis, found evidence of serious contamination. "Some of the things we discovered in the vaccines are harmful, toxic; some have direct effects on the human reproductive system," he said in an interview with Kaduna's Weekly Trust.
Polio outbreak leaves 17 children paralyzed in Syria
After a WHO spokesperson said; "Situation is very serious; kids infected from a specific type of vaccine in Syria", we immediately knew this was an understatement. This is not the first time WHO/UNICEF has been embroiled in a controversy over sterilizing agents in vaccines.
In 1995, LifeSiteNews reported that the Catholic Women's League of the Philippines won a court order halting a UNICEF anti-tetanus program because the vaccine had been laced with B-hCG, which when given it may permanently cause women to be unable to sustain a pregnancy.
The Supreme Court of the Philippines found the surreptitious sterilization program had already vaccinated three million women, aged 12 to 45. The b-hcg-laced vaccine was also found in at least four other developing countries.
Children die due to botched measles vaccinations in South Sudan
After a UNICEF vaccination campaign, the South Sudanese government said in an announcement; "Fifteen young children as young as 12 years old who were administered contaminated vaccines have died as a result of a botched measles vaccination campaign. All of the children who died were under the age of five, said the Health Ministry, which blamed the deaths on human error.
One syringe was used for all the children over four days, it said, and the vaccine was not stored properly – with children as young as 12 years old administering injections. The United Nations said the children died of "severe sepsis" and "toxicity" from the contaminated vaccine.
A measles vaccination campaign is targeting more than two million children across South Sudan, the world's youngest country and one of the poorest.
The highly contagious disease is yet another challenge facing the East African nation that already has been devastated by more than three years of civil war and a recently declared famine, as well as a cholera outbreak.
The deaths occurred in the town of Kapoeta in the south-east, South Sudan. There were plans to vaccinate all children in the area.
Another 32 children suffered fever, vomiting, and diarrhea but recovered, a joint statement by the WHO and the UN children's agency Unicef said.