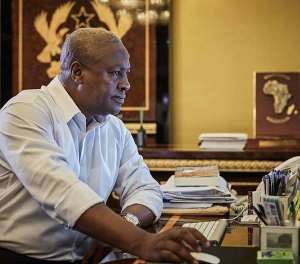 It is not possible for probability theory to only throw up bad leaders from a pool of good people. I know my mathematician friends would agree with me on this. If, ultimately, a nation gets the leadership it deserves then Ghana has, by and large, ended with clumsy, sub standard because some of its citizenry must itself be highly compromised and intellectually deficient. Former President John Mahama has raised the governance bar beyond the reach of the current President. The truth may indeed be bitter but then, it must still be told for the truth is the bitter medicine we must swallow to be cured of the malaria of our own conceit, delusions, and self-aggrandizement. One mistaken notion is the idea being propagated by the anti Mahama elements that whoever should lead the NDC in 2020 must be a fresh face. In fact, attractive as it might seem, no position could be more naive and unwarranted. None of those presently angling for power would appear to have the capacity to actually defeat Akufo Addo and in any case, the idea of trying someone else has already backfired on us with the monumental failure Akufo Addo himself, has miserably proven to be. Well, instead of gambling any further with the destiny of an entire nation, I would propose that we try what we have already tested before and therefore someone from whom we can be sure of what to expect. So come to think of it, why not John Dramani Mahama? Quite a few pundits had predicted that Ghanaians would come to rue their choice of Akufo Addo and his change we are all now desperate to change. I am not saying John is the cleanest politician on earth. Indeed, for all his shortcomings, it is becoming clearer by day that Former President Mahama is the best best President we have ever had in the fourth republic. John Mahama was ultimately a victim of heinous disinformation, shameful spin and dastardly lies told by the Npp and its allies. Former President Mahama alongside his boss, President Mills and Jerry Rawlings, are arguably the most normal Presidents to come to power in this country (fourth republic). Whereas, due to his untimely death, we may never know the ultimate pedigree of Prof Mills, history should always judge him kindly as one of the finest gentlemen to come to power anywhere in the world.
As for John Dramani Mahama, whatever the naysayers may say, he is already a colossus of world history having proved himself to be that rare breed of the African willing to yield to power without bloodshed. Thus, where we had Kufour whose strategy for retaining power was a do or die affair and then Akufo Addo whose reaction to losing an election was to wish upon this country such bloodshed that even baboons and dogs would have ended up being soaked in buckets of human blood, we find in the good natured John Mahama, the goodly and godly President whose of power was that "his ambition is not worth the life of any Ghanaian" to the extent that to prove the democrat in him and in order for peace to reign, he conceded an election no other Ghanaian leader is likely to have conceded
John Mahama has become an icon of Sub Sahara Africa and the front-runner for the Noble Prize for Peace whenever it comes to Africa again. While most Ghanaians are already salivating in anticipation of post Akufo Addo ear come 2020, we have as usual not really averted our minds to the feasibility of any of the current presidential hopefuls being able to upstage Akufo Addo. In fact, the fundamental problem of rescuing our country from the lying and clueless rabble of the broom-wielding New Pathetic Party ,NPP, is who to field against super incompetent Akufo Addo with a clear, viable and feasible likelihood of defeating him. I can assure my fellow countrymen including the sacked staffs of the collapsed banks, unemployed nurses, disappointed doctors, galamsayers etc that trusting any of those with their hats already in the ring to do the job is irresponsible wishfulness of the hugest order. Whatever might have been the fault of John Mahama, he must have thoroughly, painfully and indeed, regrettably learnt his lessons by now. Come 2020, we could therefore reasonably look forward to a rebooted President John Mahama with all his wonderful good points accentuated by the benefit of reflection on his faults corrected by the lessons of his defeat, last time around.
TO THOSE AGAINST HIS COMEBACK-
One prominent question on the lips of most Ghanaian youth is; "when is our tomorrow"? Over 60 percent of the continent's population is below the age of 35 according to africaranking.com this makes it the continent with the youngest people in the world. Research has shown that African countries would definitely fare better with young, like minded leaders who understand adequately the thought process. Ironically Africa has only few young leaders. Most of the seats of power are occupied by aged men and dictators who are unwilling to give the younger generation a chance. This is the Civil service Act of Ghana
Home Sections Expand All Print
CIVIL SERVICE ACT - 1993 (PNDCL 327)
Section - 71 - Compulsory retirement
(1) A person holding a Civil Service post shall in accordance with article 199 of the Constitution retire from the Service on reaching the age of sixty years.
(2) Subsection (1) does not prevent the appointment of a person who is more than sixty years of age on a limited engagement for two years at a time not exceeding five years in total.
Persons above 70 years are disqualified automatically from standing as candidates for our local level elections. (Assembly men). Those advising President Mahama to retire from active politics should forward this information to Nana Akufo Addo who is heading to his 80s.
Every leader needs to possess a high level of mental and physical energy. A popular proverb reads; uneasy lies the head that wears the crown'. The position of a leader requires hard work, brainstorming, staying up for lengthy, sometimes, late meetings, and sitting through long journeys; this can only be achieved by an energised mind not an artificially prepared minds. President Mugabe was pictured sleeping doting important meetings, the current president of Ghana has been pictured sleeping. He recently told Ghanaians he was misled by his Energy Minister in the Ameri renegotiation deal. Africa needs young vibrant leaders who can effectively discharge their responsibilities, in service to their nations, not old liabilities who need to be nudged occasionally during meetings. Fresh minds produce fresh ideas. Just how creative is the mind of a seventy-five old?
Like Cleveland, John Mahama will surely return to the Presidential house. The 2020 election is going to be a rematch between Mr John Mahama and Nana Akufo Addo. The panic reaction emanating from anti Mahama camps and bases of the opposition will not deter him from stepping forward to save the suffocating masses. This is the first time a defeated president is going to contest for reelection. Buhari will lose in Nigeria and Akufo Addo will say goodbye to Ghanaians in 2020'