Infrastructure For Factories Under 1D, 1F Being Facilitated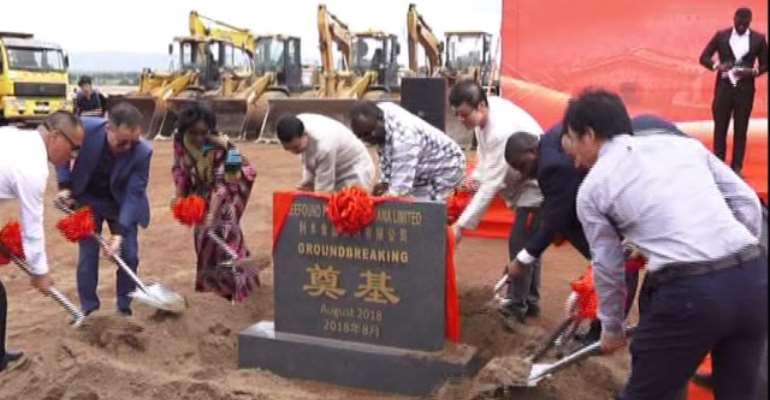 National coordinator for the 'One District One Factory', has assured that her office is poised to facilitate with various state agencies to ensure that there's adequate provision of basic infrastructure to industries that will be set up under the 1D1F policy.
Gifty Ohene Konadu noted that government is working assiduously to fix roads leading to some of these companies in order to attract more investors into the program.
She gave the assurance in an interview with JoyBusiness after breaking the grounds for construction to begin on a tomato paste factory at Afienya in the Ningo Prampram District.
She said aside from the incentives given by the office of the president; the government will ensure that the company gets the necessary support from the government for it to remain competitive.
"As a self-financing project, the government has taken the responsibility to facilitate its activities to ensure it is established properly to make it sustainable" he noted.
$3 million food processing factroy
The sod has been cut for the contruction of a $3-million food processing factory under the One District One Factory inititive at Afienya. Work on the factory , which rest on a 15-acre land is expected to be completed and operationalised by the end of this year.
The company will produce tomato paste, spices and other food ingredients.
It is estimated that the factory when completed, will produce three hundred containers of tomato paste for the local and sub-regional markets.
Tax holiday
Meanwhile, the government will soon lay before parliament, a bill seeking to give tax holidays to investors setting up factories under the one district one factory policy.
The bill among other objectives will support potential investors to be competitive in both local and the international market.
Deputy Minister for Trade and Industry, Robert Ahomka Lindsay disclosed at the groundbreaking ceremony for the first $3 million tomato factory under the policy.
"We will through the Ministry of Trade and Industry lay a bill in parliament for tax incentives for potential investors".
Funding challenges
Government's industrialization program is said to be facing some challenges with financial support from the various commercial banks in the country.
As part of measures to address the funding gap, the government has introduced several incentives including collaboration the banks for easy access to credit.
So far, the Ministry of Trade and Industry has approved 57 factories to be established in the Greater Accra region.
Leefound Company limited is the first factory to begin construction this year under the industrialization program as a self-financing project.
Mr. Ahomka Lindsay said the remaining factories will be supported by the government.