Nyamedua Herbal Foundation to organize free health screening ahead of the Ghana National Herbal Awar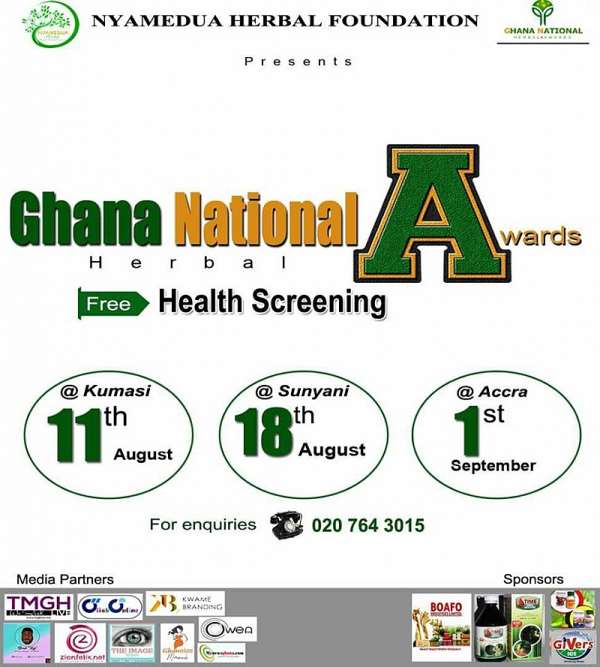 Nyamedua Herbal Foundation, organizers of The Ghana National Herbal Awards are set to hit the streets of Suyani, Kumasi, and Accra with a free health screening for all. The free screening which forms part of the organization's arrangements towards the awards night would give patrons the ability to get screened for various diseases like malaria, typhoid fever, blood pressure, diabetes and many other health problems. Nyamedua Herbal Foundation in its quest to provide standard health care to patrons of the free health screening would also provide free herbal medicines to patients who need medical attention.
The Ghana National Herbal Awards free health screening would take place in Kumasi on the 11th August 2018, Suyani on the 18th August 2018 and finally in Accra on the 1st September 2018.
The free health screening is sponsored by Boafo Herbal Center, Time Herbal Mixture, Givers Herbal Capsules and Givers Natural Mineral Water.
The Ghana National Awards is an annual awards programme that seeks to reward and give recognition to well deserving bodies and individuals in the Herbal Fraternity. The awards scheme originally started in 2017 with its maiden edition launched on the 6th January 2018 at Golden Tulip Hotel - Kumasi