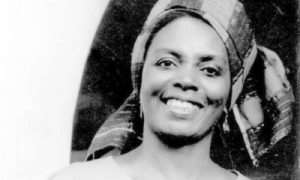 Search engine giant, Google is celebrating Ghanaian playwright and educationist, Efua Theodora Sutherland across the world today [June 27, 2018.
The cultural activist who is famously known for her works including the Marriage of Anansewa is being honored with a doodle in every country Google operates in.
This is to mark what would have been her 94th birthday.
Efua Sutherland, born in June 1924 at Cape Coast, was educated in England after her teacher training education at Mampong.

She returned to Ghana in 1951 as a teacher at Fijai Secondary School in the Western Region and later taught at the St. Monica's School.
Following Ghana's independence in 1957, she founded a writing association, Ghana Society of Writers (later the Association of Ghana Writers) to promote creative writing and storytelling in Ghana to promote local culture and tradition.
Her plays were often based on traditional stories but also borrowed from Western literature, transforming African folktale conventions into modern dramatic theatre techniques.
Her best-known plays are Edufa (1967), Foriwa (1967), and The Marriage of Anansewa (1975).
In 1958, Sutherland founded the Ghana Experimental Theatre, which was based at the Ghana Drama Studio built by Sutherland and launched by President Kwame Nkrumah in 1963 with Joe de Graft as its first director.

The Drama Studio became a training ground for a range of theatre practitioners from all over Africa.
In 1962 she joined the staff of the new School of Music and Drama, headed by J. H. Kwabena Nketia.
In 1963, when she took on the role of Research Associate at the Institute of African Studies, the University of Ghana she brought along with her the Ghana Drama Studio which became an off-campus training space, called the University of Ghana Drama Studio.
Sutherland, in addition to her field research and teaching in African Dramatic Forms, was a core member of the team which conceptualized and established the School of Performing Arts.
Also concerned with traditional storytelling and developing community theatre, she founded the Kodzidan (Story House) in Ekumfi-Atwia, Central Region, which was recognized worldwide as a pioneering model in theatre for development.
Sutherland mentored and was in turn inspired by, many of Ghana's accomplished writers, including Ama Ata Aidoo, Kofi Anyidoho, and Meshack Asare.
In the early 1970s, she co-founded the publishing company Afram Publications, which was incorporated in 1973, and in March 1974 began operating from her private studio in "Araba Mansa", her compound at Dzorwulu, Accra. Sutherland remained involved in Afram's editorial work until her death in 1996 at age 71.