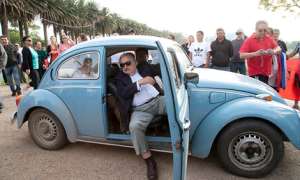 José Mujica in his Volkswagen Beetle. Photo credit: Natacha Pisarenko/AP
'Corruption is an English word I first heard when I was in my mother's womb until I was born.' At sixty-one, I still hear of the word. This actually means that there is no African leader who has a magic wand to get rid of corruption and there will never be any journalist capable of reducing or eliminating this disease from Ghana or any Africa country because the root of corruption is too deep to be uprooted.
Firstly, what inspire people to be pastors, police officers and politicians in Africa? Only a few that hate crime would say, I want to teach these criminals a lesson, therefore, I would like to be a police officer, to spread the gospel because of Jesus, finally to be a politician to take care of the suffering Africans.
In my opinion about 90% of people choose the careers of police, pastors and politicians because of corruption. Many consider the three careers as a lucrative business in Africa, to generate money at the expense of the suffering, poor people.
Corruption exists in many ways, including bribery. It causes economic burden, public debt, unemployment and crime, therefore, it's the responsibility of everyone to fight against it, not journalists alone.
But in Africa it seems fighting against such an incurable disease doesn't work because of the mode of payments and how money circulates in the system through the hands of individuals.
We have witnessed the going or stepping down of an African leader accused of corruption, then comes a new leader pledging to fight corruption but after a year or even less, Africans find themselves swimming in the same pool of corruption without any change.
Even in Europe where there are sophisticated electronic system which deals with monetary affairs, in the year 2014, the European Commission still revealed in a report that corruption in Europe is costing the Union at least 120 billion Euros a year.
Africa can be free from corruption if any leader has the heart of the former President of Uruguay, Jose Mujica. Mr. Mujica, a farmer, former agriculture minister and senator became president with all his assets, including a VW Beetle car.
His presidential salary per month was £8,000, but he donates most of that to the ruling leftist coalition and a public housing programme. He stayed at his own home built with his wife and refused to move to the presidential residence.
In his life time as the president, Mujica served as the 40th leader of Uruguay from 2010 to 2015, and used his only beloved VW Beetle till the time he stepped down.
Which African leader can follow the footsteps of such a man? Until, the arrival of Jesus Christ we can never find such an African leader and since no one knows when Jesus will come, corruption will continue unabated.