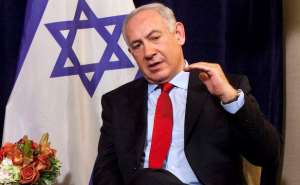 "For I will take you out of the nations; I will gather you from all the countries and bring you back to your own land." (Ezekiel 36:24)
Happy 70th Birthday Israel!
Today is Yom Ha'Atzmaut (Independence Day) ! The day many will believe in God through Jesus Christ. Shalom!!!!!!!
Jude Thaddeus, join in on the celebrations throughout Jerusalem, Tel Aviv, the Galilee, and the Biblical Settlements as we celebrate Israel's 70th Birthday!
Since sunset last night, this day has been filled with concerts, street parties, barbecues, festive prayers at the Western Wall, and lots of flag waving throughout the country.
On this day, 70 years ago, Israel miraculously became an independent nation in fulfillment of many Bible prophecies.
"Do not be afraid for I am with you: I will bring your children from the east and gather you from the west. I will say to the north, 'Give them up!' and to the south, 'Do not hold them back.' Bring my sons from afar and my daughters from the ends of the earth." (Isaiah 43:6)
Despite many nations denying or questioning the legitimacy of this Jewish state, and despite constant challenges, Israel not only continues to exist, it's thriving!
What's more, its advances in technology, science and agriculture continue to be a major source of blessing to the world.
And let us not forget that the Holy Bible came from our Biblical Homeland. The Scriptures nurture and bless all peoples throughout the world.
This also is in fulfillment of Bible prophecy:
"Abraham will surely become a great and powerful nation, and all the nations will be blessed through him." (Genesis 18:18, 12:3 ).
Israel's 70th birthday is cause for YOU and all Bible Believers to celebrate.
The modern state of Israel is undeniable evidence that God's Word is true. Its survival demonstrates God's faithfulness, love, and mercy.
The existence of this tiny state is also an indication that God is about to pour out His Ruach HaKodesh (Holy Spirit) for the end-time spiritual restoration of His people, as prophesied by Ezekiel. (Ezekiel 36:24–36)
Please join with us, Jude Thaddeus and your readers , in praising the God of Israel for His Saving Power and in wishing Israel a Very Happy and Blessed 70th Birthday.
"He has remembered His love and faithfulness to Israel; all the ends of the earth have seen the salvation of our God." (Psalm 98:3)