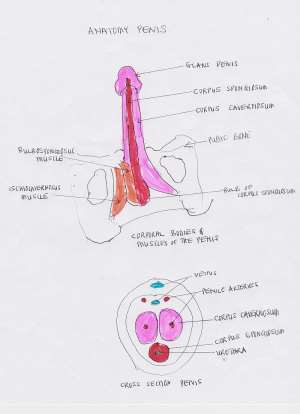 Erectile dysfunction is the inability to maintain erection, adequately, for sexual performance.
The incidence of ED increases with age. More than 1:10 adult males have ED.
8% of 40year old men have ED and so are the 40% of men over 60 years of age.
It takes 3-4 years for the average person with ED, to seek medical advice.
NEURO-ANATOMICAL-PHYSIOLOGY OF THE PENIS
The penis is made up of 3 erectile tubular structures: the paired corpora cavernosa and the inferior lying corpus spongiosum, through which the urethra passes and these are covered by skin and subcutaneous tissue.
INNERVATION
Three nerve systems innervate the penis: supra-spinal and 2 spinal nerve centers.
1.) The nerves from the higher centers in the brain: cerebral cortex, limbic system and the hypothalamus, which pass through the spinal cord to the blood vessels within the tubular erectile structures.
These supra spinal centers do have both Excitatory and Inhibitory control over the spinal centers.
All the psychogenic erections, and psychogenic erectile dysfunctions originate from these higher centers.
No psychogenic erections occur in patients with spinal cord injuries above the 9th thoracic vertebra
Nerves from the spinal centers include the autonomic and Somatic nerve systems
2.) The Autonomic system (parasympathetic promotes, sympathetic activity blocks erections)
a.) parasympathetic system stimulation leads to the neurovascular changes that results in penile erections, and
b.) sympathetic system maintains penile flaccidity and controls the emissions of fluid from prostate, epididymis, seminal vesicles, as well as detumescence.
3.) Somatic nerves: This is responsible for spontaneous erections, including those occurring during REM sleep.
Sensory stimulation of the genitals, generate a reflex arc with the sacral erectile center, at the level of sacrum (S2-S4). Motor nerves from this center emerge, through the pudendal nerves, to stimulate the muscles at the base of the penis.
a.) The Ischiocavernosus muscles, contracts to produce, rigid-erections and this occurs, several times during sleep and in the early morning (Nocturnal Penile Tumescence NTP, and Early Morning tumescence EMT) and the
b.) The Bulbocavernosus muscle contracts rhythmically, to help with ejaculations.
Spontaneous tumescence usually coincides with REM sleep, when pro-erectile, parasympathetic activity predominates.
HEMODYNAMICS OF ERECTION
The autonomic nervous system controls the tone of vessels supplying blood to the penile erectile tissues.
Flaccid state: The predominant sympathetic tone, allows only a small amount of arterial blood flow, (for nutritive purpose) to the penile erectile tissues
Erectile State: The predominant parasympathetic tone, causes dilatation of the arteries and arterioles to increase blood flow, and a blockage of venous outflow, to allow the penile erectile tissues to become engorged with blood. A further pressure with contractions of the ischiocavernosus muscles, leads to rigid erections.
Detumescence: Sympathetic nerves predominance, leads to the reopening of venous channels and restoration of full venous outflow capacity.
NB: Blood flow to the erectile tissues of the penis, depends on
1.) the patency of the penile arteries and
2.) an Intact nerve supply, to the structures of the penis.
CAUSES OF ERECTILE DYSFUNCTION.
ED may be caused by one of many Organic and Psychologic factors. Below are clues to help to determine the etiologies.
CLUES TO PSYCHOGENIC ETIOLOGY OF ERECTILE DYSFUNCTION
Sudden onset
Normal erection with masturbation
Normal spontaneous nocturnal and early morning erections
Relationship problems exist: performance anxiety, intimacy problems
May be associated with Significant life events or Psychological trauma.
Persons have underlying Anxiety, Depression, Fear and Guilt
CLUES TO AN ORGANIC ETIOLOGY OF ERECTILE DYSFUNCTION
Gradual onset
Reduced or absent spontaneous erections, including nocturnal and early morning tumescence
No erections with masturbation
Increasing Age: As one gets older, erections get slower and weaker
HOW FIT ARE YOU FOR SEXUAL INTERCOURSE?
Sexual activity is a moderate intensity exercise, which requires energy. Men expend 100kCal, women 76kCal during sexual activity. The amount of energy required for sex equates to mowing a small lawn, or climbing 2 flights of stairs. If you can't do either, then you are not fit enough for sex.
ED AND CORONARY ARTERY DISEASE
Atherosclerosis (clogging of blood vessel with cholesterol plaques) causes narrowing of blood vessels, leading to blood flow problems. The blood vessels to the penis are much smaller in sizes, and are affected by atherosclerosis earlier than the coronary arteries (arteries feeding the heart).
ED, actually shares the many risk factors with atherosclerosis and ED can be the first presentation of cardiovascular disease. The average time between onset of ED and first cardiac event is 3.5 years. The adage is "A man with ED and no heart problems is considered a heart disease patient, until proven otherwise".
Atherosclerosis decreases penile blood flow and leads to erectile dysfunctions
RISK FACTORS FOR ATHEROSCLEROSIS ASSOCIATED ED
a.) Diabetes. (28% of diabetics have ED, compared with 9.6% of general population)
b.) High blood pressure
c.) High cholesterol
d.) Obesity
e.) Sedentary life
f.) Tobacco use, other Substance abuse (restrict blood flow to penile vessels
PSYCHOGENIC CAUSES OF ED
This may be related to one of 2 ways.
Excessive sympathetic nervous system activities as seen in Stress/PTSD, Anxiety, Loss of attraction, Relationship difficulties, Psychosis and Depression
Another possible mechanism is the exaggeration of the normal inhibitory control of the spinal erection center by the brain.
PSYCHOGENIC RISK FACTORS FOR ED
Psychotropic drugs: Alcohol, Opiates, Cocaine, Tobacco, Amphetamines
Alcohol is a depressant that can dampen mood, decrease sexual desire and erections.
Stress (may be money, job related or marriage issues)
Performance Anxiety (previous ED experience, could lead to fear of sexual failure)
Depression
Relationship problems due to stress, poor communication or other concerns
Post-Traumatic Stress Disorder
OTHER RISK FACTORS FOR ED
Medications: blood pressure, antidepressants, may cause ED as a side effect
Hormonal problems: Hyperthyroidism, Hypogonadism, Hyperprolactinemia
Trauma and injuries to nerves and arteries that control erections: usually related to Prostatectomy
Pelvic irradiation
Long distance cycling is a risk factor, as it causes vasculogenic and neurogenic changes
Neurological Impairments: Stroke, Parkinson's Dementia, Multiple sclerosis, Quadriplegia
COPD (cigarette smoking)
Sleep apnea (leads to autonomic nerve dysfunction)
Zinc deficiency, (lower testosterone levels)
Sickle cell anemia, (related to recurrent ischemic priapism)
Thyroid diseases (low sex drive)
COMPLICATIONS FROM ERECTILE DYSFUNCTION
Patients are usually devastated by ED (or the implications of ED).
Relationships change within 6 months of a sexual dysfunction.
Embarrassment and lower self esteem
GUILT. Guilty of not satisfying his partner
Inability to get partner pregnant
Patients with ED are at risk for coronary heart disease(CHD).
ED is a marker of early atherosclerosis.
ED has been associated with Stroke, Peripheral artery disease, diabetes and chronic kidney disease
PREVENTION OF ERECTILE DYSFUNCTION.
For the average person, ED is an early predictor of having a stroke or heart attack in the near future,
Avoid and manage any conditions that promote Atherosclerosis. This means controlling
Diabetes
High blood pressure
High bad cholesterol and
Adopt the following Lifestyle modifications:
a.) If you are Obese, a weight loss to achieve a BMI of less than 30, can improve ED
b.) Avoid Saturated Fats and Trans fats containing foods. Replace them with fruits and vegetables
C.) If you smoke or abuse drugs, stop their use
d.) Exercise regularly: 45-60 minutes of fast walks, and other aerobic exercises
e.) Regular checkup and screening for chronic medical conditions.
PSYCHOLOGICAL ISSUES:
For those with anxiety, Depression, Stress, and other psychological issues:
Get help with behavioral counseling and management of the mental health issues
MEDICAL TREATMENT FOR ED
Medications help to increase penile blood flow
1.) Phosphodiesterase 5 inhibitors: (Sildenafil, vardenafil and tadalafil). They increase penile blood flow and maintain erection
Start these medications at lower dose, and gradually increasing the dose based on response and side effects.
These medications lower blood pressure, so one cannot take them when taking Nitrates like nitroglycerine and some antihypertensive medications.
2.) Prostaglandin E1(PGE1). This is a naturally produced vasodilator that is more efficacious at producing erections. The medication comes in a pill form that is inserted into the urethra or a self-injectable form which is injected into the cavernous system along the sides of the penis. Painful erections, are their main side effect.
SUMMARY
ED predicts future Cardiac and Cerebrovascular events, including stroke and heart attacks. It takes the average person, 3-4 years to seek medical help, the time delay, might coincide with time of occurrence of a heart attack or stroke. Seeking early medical advice and interventions helps.
Doctors could monitor patients with ED, by assessing their vascular risk, and preventing or adequately treating the coronary heart disease risk factors like hypertension, sleep apnea, obesity, and dyslipidemia. Early medical intervention, helps a lot.