But Your Boys and Girls Voted for the Bloated Budget, Chairman Rawlings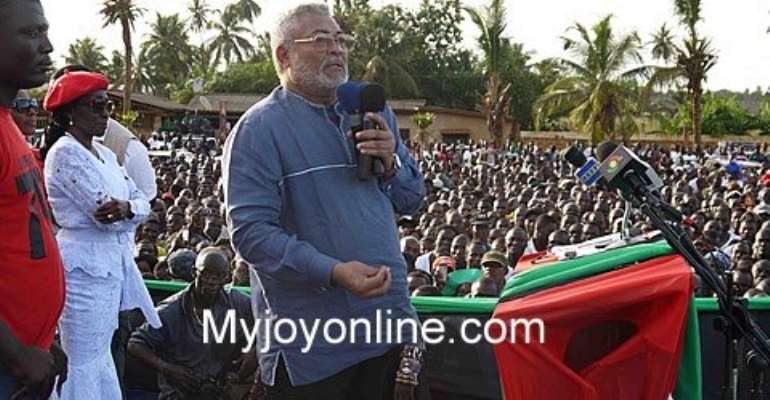 There is a maxim among the Akan that: "One does not go collecting water from a scupper after a torrential downpour." That was precisely what former President Jerry John Rawlings did in Ho, when he reportedly lambasted the Minister for Special Development Initiatives (SDI), Ms. Mavis Hawa Koomson, for allegedly presenting a "bloated" budgetary request for parliamentary approval (See "Rawlings Fires Government Over Bloated Budgets [sic]" MyJoyOnline.com / Modernghana.com 1/1/18).
As I have already noted in several columns on the subject, the former President's criticism is grossly misguided and inexcusably hypocritical, in view of the fact that, by my rough estimation, at least 50-percent, very likely more, of the main opposition National Democratic Congress' parliamentarians voted to approve the GH₵ 800,000 website development budgetary request presented to the Full-House by the SDI Minister. Thus, if any wing or branch of Government is prone to rank corruption, as the NDC's founding-father claims, that branch or sector of Government includes more than half of the NDC's parliamentary minority.
If, indeed, Mr. Rawlings had been preaching and rigorously practicing accountability, transparency and responsible leadership and governance to and with his ideological and political mentees, quite the reverse would have occurred when Ms. Koomson appeared before the Full-House of Parliament. After all, there have been several instances in the recent past in which a proposal or budgetary request presented to Parliament for approval was promptly and roundly met with rejection for failing to meet certain requirements, criteria and/or stipulations. A typical case in point was the initial proposal for the establishment of the Office of the Independent Special Public Prosecutor.
At any rate, it needs to be promptly pointed out, at least according to Mr. Osei Kyei Mensah-Bonsu, the Parliamentary Majority Leader, that the GH₵ 800,000 figure being bandied about did not appear in the original budgetary statement presented to the august House by Ms. Koomson. There is a quite credible speculative story doing the rounds, that the foregoing figure must have been altered or surreptitiously changed on the sly by a Mahama civil service appointee with access to the computer used to generate the budgetary statement, a copy of which was then quickly dispatched to some mischief-making NDC parliamentary point men and used to make the, so far, efficiently functioning Akufo-Addo Administration look bad and corrupt.
It is also rather laughable to hear Chairman Rawlings warn that if the apparent bloating of the SDI Ministry's budget was not brought to a prompt and constructive and conclusive resolution, the spate of official corruption in the country is bound to exponentially "escalate." Now, I find this to be insufferably absurd, in view of the fact that not very long ago, Mr. Rawlings was busy pontifically lecturing Ghanaians about the fact of then-President Mahama's being unsurpassably corrupt. Back then, according to Chairman Rawlings, "The men in uniform that I summarily executed, in the wake of the June 4th Revolution, were ten times less corrupt" than the Mahama Posse.
Indeed, to be frank with the dear reader, I wouldn't encourage budgetary bloating under any circumstance; what I cannot, however, abide is the brazen self-righteous hypocrisy being exhibited by the key operatives of the National Democratic Congress. But it also bears reminding ourselves that budgetary statements are routinely drawn bearing in mind the rate of inflation over the temporal span of the operation of such budgets. I also resent the rankly patronizing attitude of Chairman Rawlings towards President Akufo-Addo, a man with far more meaningful professional and political experience than can be said of the retired Ghana Airforce's mercenary Flight-Lieutenant, and at least 5 years the latter's senior.
Ultimately, inasmuch as budgetary bloating could easily lead to wasteful spending and rank corruption, nevertheless, what needs to capture our attention and sense of vigilance, more than anything else, is the strict monitoring and auditing of the various cabinet portfolios and civil and public service institutions.
*Visit my blog at: kwameokoampaahoofe.wordpress.com Ghanaffairs
By Kwame Okoampa-Ahoofe, Jr., Ph.D.
English Department, SUNY-Nassau
Garden City, New York
January 1, 2018
E-mail: [email protected]