Building Better Society For The Next Generation: We Need Paradigm Shift!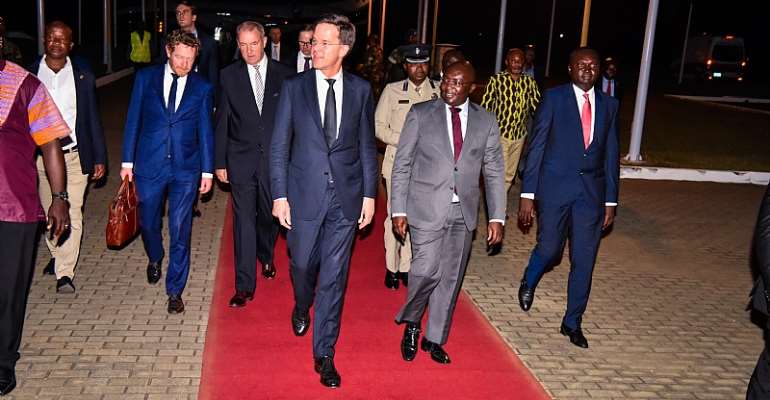 The president, H. E. Nana Addo Dankwa Akuffo-Addo has reiterated that his government's commitment to fighting corruption will be made evident in 2018 when the office of special prosecutor fully takes effect.
Me: We do not need special prosecutor before we fight corruption! What we need is our conscience that being at the helm, and taking what should belong to the masses is wrong!
Going forward, let us admit that we had failed it in our generation/time. We are all guilty! What we should identify first, is that we have a problem and make efforts to revolutionize the system for a society better than ours in the generation coming. Now let's target the new generation coming, the young ones at the primary school, from the home to the kindergarten to secondary school.
Let's inculcate in them the need to choose one's country above all, the need to say no to stealing what does not belong to you, let's reorient them in all spheres. In that way, they grow up to be different, they grow up knowing the consequent repercussions of taking what belongs to the masses. Proverbs 22:6 states, "Train up a child in the way he should go: and when he is old, he will not depart from it".
Three critical measures will be needed in going forward, firstly identifying that we got a problem and making concrete efforts to correcting and leaving a better society for the next generation coming:
1. Curriculum Restructuring: We need to restructure our curriculum at the basic school level till university to achieve this. Subjects and courses that imbibe in individuals nationalism, collectivism, good morals, teaching kids the consequences and penalties of stealing state's assets, teaching them consequences of corruption, why they should not take bribes and what will happen if they do, showing them evidence of what money leaked through bribery and corruption could do for the greater populace, the need for us lucky and privileged ones to be compassionate towards the less privileged, the need to be carriers of the burdens of the society we find themselves, the need to avoid littering the environment and maintaining clean environment, the consequences thereof when we litter indiscriminately, the need to respect time, the need to be diligent in all your ways and in all Nation first!
2. The Media: The media will be needed much as they are watched and read by children a lot. The radio stations, TV shows, graphic, newspapers, advertisements, etc. Just as the vigorous and vociferous nature we used for the "end galamsey" campaign, let the media make a concerted effort, and use same force and energy to educate the people about the dangers and repercussions of bribery and corruption and the ripple effects on a nation, as well as the consequences suffered by culprits and victims caught in the act. Let adverts, short plays on dangers of bribery and corruption be aired in the form of cartoons for kids to watch.
Let TV discussions, entertainment, movies, plays all centered on conveying a special purposeful message of building a better society fair and just for all. Our music in this regard should be ones that sell a particular message, not only the ones we dance to them! Songs like "kakai" and "one corner" do not make sense in this purpose. Likewise, movies like "kumkum Bhagyia".
In short, our music and movies should be ones that portray our culture and imbibe in people and individuals nationalism! Our discussions and debates on TV and radios should no longer be NPP left NDC right, rather a harmonious effort and together front on national issues on corruption. In short, let's see we got a problem and revolutionize the system for better society in the next generation! For we had failed!
3. New Crop of Leaders: Another way of recognizing we got a problem and making concerted
efforts to solving the problem and leaving a better society for the generation coming. Not business
as usual, real concerted and purposeful highly determined efforts at reclaiming and restoring the
degraded system will be the need for new breed of highly selfless leaders. Some sacrifices will
have to be made in achieving this, going forward. What we would have to do is to make politics
very less attractive to attract the real selfless ones into it.
We would need people very patriotic, who will put the interest of the people and the nation they represent first, and people who will not only swear on the Bible or the Quran, but be willing and prepared to even die for the masses.
People who will be brave enough to swear on the gods at shrines to protect our assets and the
people they serve! These would also require highly committed and selfless people who will be willing to slash their salaries for the sake of their love to serve the masses!
A revolution where there would no longer be exgratia, no free fuel for ministers of state, no free
accommodation, no free cars, et al. An MP or minister of state will be paid his/her salaries like any
other civil servant and use his own money/pay and allowances to cater/fund for his/her own rent,
electricity, water, fuel, food, etc. In fact, let them live on 'normal salaries', let them take public
transport some, buy fuel, among others from their own pockets so they feel what the
masses/citizens they represent actually feel! After all, we elected them to come serve us and I think
they should not live extravagant lives to the detriment of the poor who elected them to better their
lives!
We need not put an MP or minister in V8 and flashy cars, when the very people they represent languish in abject poverty, when their water is still polluted, when they cannot enjoy regular flow of water in their pipes, when they cannot enjoy regular and constant supply of electricity, when there are kids who school under trees, when there are several kids who live in villages far away from and need to walk several kilometers to school, when the cities are engulfed in filth, when there are several brilliant students who finish high schools and cannot make it to the university,
when there are some kids and patients who fall sick and need to come beg the public before they raise money for their ailments, when our roads are poor, when our hospitals are poorly resourced and ill equipped, when farmers are poorly supported to produce more, when our farms are still dependent on rain-fed, just to mention but a few!
We indeed need to recognize we got a problem and make concerted efforts to solving them! And to achieve this better society, which is fair and just for all in the years ahead and the next generation coming, we cannot afford to fail them and we cannot achieve this lying on bed and with business as usual!
This article was written by Albert Kobina Mensah. He is PhD fellow at Ruhr University Bochum in Germany. His research areas include remediation of degraded and contaminated gold mine soils and water; water resources; and environmental impact assessment and policies.
He is also a senior research fellow at ILAPI Ghana and an advocate of better society. He has a number of scientific publications in academic journals; and also writes on social issues and need for good governance and leadership in Ghana.