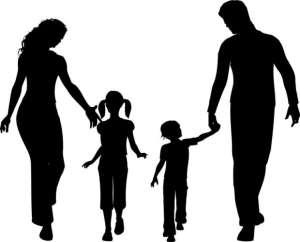 CHILDREN, OBEY your parents in the Lord [as His representatives], for this is just and right. Honor (esteem and value as precious) your father and your mother–this is the first commandment with a promise–[Exod. 20:12.] That all may be well with you and that you may live long on the earth.
Ephesians 6:1-3 AMP
Our life journeys are unique, and we can all agree that we are not 100% in control of our lives. All of us found ourselves in our families and with the parents that we have. As a baby you cannot have a say about who your parents will be or how you will be born. It still remains a fact that each one of us had one father and one mother. These are the parents we are supposed to honour.
What does it mean to honour your father and mother ? It is to be respectful in word, in deeds and in attitude. It is to esteem their position. To honour is to 'to revere, to respect, to prize, and to value'. Honour is does not mean to agree but it is to give respect not only for merit but also for rank.
God values honouring parents enough to include it in the Ten Commandments (Exodus 20:12) and again in the New Testament (Ephesians 6:1-3). Surprisingly 'honour thy father and thy mother' is the only command in Scripture that promises the blessing of long life as a reward. The Bible also promises a curse to those who disobey the commandment.
To honour parents who are still alive makes sense, but we are supposed to honour our parents even if they are deceased. Honouring good parents is easy, but honouring bad parents is difficult. The secret is that honouring your parents is not agreeing with them. It is to respect their position. There is a blessing in it, a blessing that you can get and change the direction of your life. Do you possess this blessing? Do you need this blessing?
Parental Figures
Now let's hold on as we bring another dimension to parenting. What if you did not have your own parent, and you had parental a figure? I believe that God has ordained that parental figure to be your parent. So your parental blessing did not end with your parents. It is still there.
The main challenge is when your parental figure is not a perfect person. However the words of your parental figure can either bring you a blessing or curse. To add on to that your words towards them can either bring you a blessing or curse. Whichever way you will be affected. Why? Because they started on this journey long time ago when you were still a baby. They have been sowing a lot in you. No one can deny it. It is now your turn to reciprocate.
It may sound unfair, but if you look closely in the eyes of God, it is an opportunity. An opportunity for you to be blessed. If you play your part, you will be blessed whether the parental figure is good or bad. Focus on your side of the deal. Maximise your side of the deal, and you will reap accordingly.
You will gain nothing from struggling with your parents. You will always lose because they had a head start on you. They started this before your birth. You are too late.
'Ceremonial' Parents
'Ceremonial' Parents are parents used on a formal occasion or at a ceremony. Some of them will not take any responsibility to raise the child. Beware of opportunistic ceremonial parents who come out at the last minute. They disappeared from your life until they hear that you are at the university. They come out just in time to collect lobola. First, they tell you how the person who raised you is bad or has been bad to your real parents (if they are deceased). They arm you with strife with the aim of winning the potential success that you now possess. If you look closely, you will see that they were not there when you needed them most. They never stood with you when you were sick or hungry. They never changed your nappy or shed a tear for you and with you.
So what do we do opportunistic ceremonial parents? Should we get rid of them? The key word here is ceremonial. However they are not the real deal. They did not get dirty raising you. Put them in the right position. Give them a ceremonial position, but do not neglect those who really got dirty sacrificing for you.
How to Get the Parental Blessing
If a person paid the cost of raising you, that person has a parental stake on you. That person deserves to be treated as if he or she is your own parent. You have an opportunity to unlock a blessing in your life.
If there is a person who took you as his or her child, changed your nappies daily, carried you on her back each day, gave you the mother's (or father's ) love, gave you the mother (or father) you did not have and gave you the mother's (or father's ) blessing, that person has your parental blessing. Mistreating, taking for granted and disrespecting such persons violates the Devine order and shuts doors in your life, stopping the blessing flow.
To realign things, you should reciprocate that love by honouring them as your parents. This is the key to complete your parental blessing circle. Take them as your real parents. If you do this, you will unlock a blessing that has been missing in your life. Find ways to do it. If you touch their heart, you touch your real parents heart. It will release that blessing. Remember this is the only parent you ever experienced.
Regard (treat with honor, due obedience, and courtesy) your father and mother, that your days may be long in the land the Lord your God gives you. - Exodus 20:12 AMP
Think carefully about these words. If they resonate with your heart, take the advice
Have a great day.
If you enjoyed this article, share it with your most favourite friends!
Please share your thoughts, ideas and comments below!
© Copyright 2016 by It's My Footprint, www.itsmyfootprint.com .
Taka Sande, www.takasande.com is an author, an entrepreneur and development activist. He has a passion for making a difference by influencing and adding value to people's lives. He is the founder of the blog It's My Footprint, http://www.itsmyfootprint.com /.